Shit and Champagne Saturday April 12

Saturday, April 12, 2014 from 8:00 PM to 10:00 PM (PDT)
Event Details
You've seen D'Arcy Drollinger as Samantha Jones in Sex and the City Live!, as Rachel Green in Friends Live!, as Lindsay Lohan in Project: Lohan; but you've never seen anything like Champagne! 
D'Arcy Drollinger is back with the smash New York hit, Shit & Champagne! 
When the the largest sex, drug and back-to-school clothing ring in the country kills your fiancé and your sister, and the cops stand idly by and doing nothing, there's only one thing left to do… Dance! D'Arcy Drollinger's tribute to female empowerment and the low-budget exploitation films of the 1970's delivers 80 minutes of high-kicking, ass-whooping comedy.
Shit & Champagne stars D'Arcy Drollinger (Sex and the City Live!, Project: Lohan), Matthew Martin (The Golden Girls, Baby Jane?), Rotimi Agbabiaka (F.A.G.G.O.T.S. The Musical, San Francisco Mime Troupe), Steven LeMay (Friends Live!, Roseanne), Nancy French (Friends Live!, Pearls Over Shanghai) and Seton Brown.  Directed by D'Arcy Drollinger & Laurie Bushman.
 _
"Funny, fast-moving and furious!  It's Showgirls meets Kill Bill."
          Mark O'Donnell , Playwright– Hairspray the Musical

"Exciting and refreshing to see people being ridiculous again."
       Everett Quinton - The Ridiculous Theatrical Company

"Drollinger's star power single-handedly carries the show - he's simply a force of nature."
      Tray Butler - HX Magazine

"In the true spirit of Ridiculous Theater, Shit & Champagne is a scatological, totally hilarious comedy."
      Tom Murrin - Paper Magazine

"When the curtains opened to reveal a blonde-wigged (with roots), ditzy, gutter-mouthed drag queen just brimming with personailty and cheesy dance moves, I leapt to my feet with my hands in the air shouting "That bitch stole my act!"
      Lady Bunny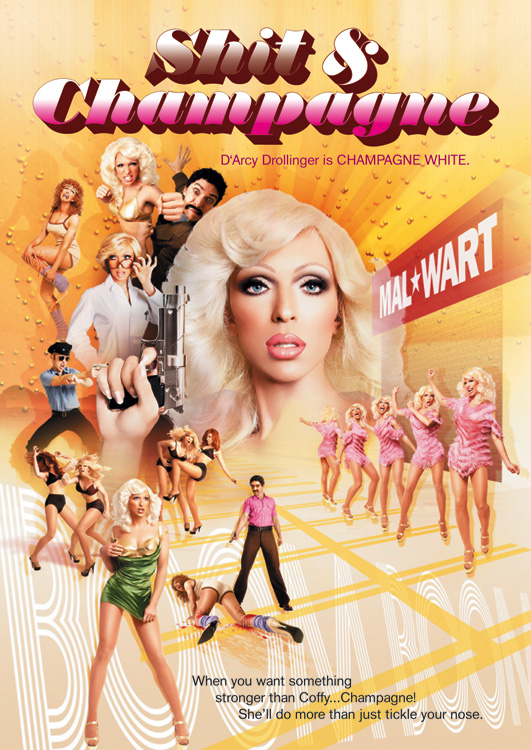 When & Where

rebel
1760 Market St
San Francisco, CA 94102


Saturday, April 12, 2014 from 8:00 PM to 10:00 PM (PDT)
Add to my calendar