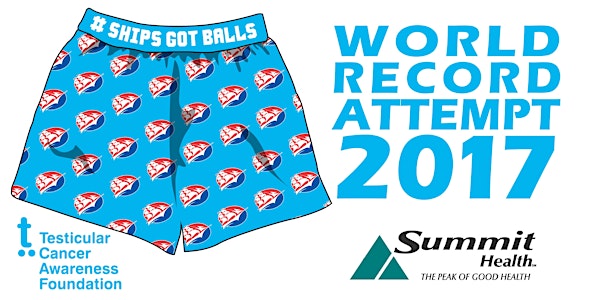 Ship's Got Balls: World Record Attempt 2017
When and where
Location
Shippensburg University CUB MPR 408 Lancaster Drive Shippensburg, PA 17257
Description
THANK YOU FOR YOUR INTEREST IN ATTENDING SHIP'S GOT BALLS: WORLD RECORD ATTEMPT 2017!
Ships Got Balls: World Record Attempt 2017 is a Testicular Cancer awareness event reminding males at Shippensburg University and in the surrounding communities to perform monthly Testicular Self-Exams. This event is a WORLD RECORD ATTEMPT for the Largest Simultaneous Self-Check for Testicular Cancer. The attempt will be at Shippensburg University on Monday, November 6, 2017 from 7:00 PM - 9:00 PM.
The first half of the event will be a fundraiser organized by the Interfraternity Council called, 'Shave the Date' to raise awareness for mens health during November.
The attempt is designed to bring awareness and knowledge about Testicular Cancer to college students and to the surrounding communities. This type of cancer seems to be uncomfortable for men to discuss and there is no reason for that! Instead, we are all going to stand together and make an impact together! THERE WILL BE NO NUDITY AT EVENT.
Testicular Cancer is the most common type of cancer in males ages 15 - 44 yeard old. It is also 99% curable if detected early which is why it is so important to discuss this topic with college students.
FIRST 200 PEOPLE TO REGISTER WILL RECIEVE A FREE WRISTBAND!!!
Schedule
7:00 PM - 8:00 PM
'Shave the Date' fundraiser hosted by Interfraternity Council (IFC)

Shippensburg University Cheerleading Team performance

Survivor Speaker: Justin Birckbichler, Shippensburg University Graduate 2013
8:00 PM - 9:00 PM
ATTEMPT room opens

Opening remarks by Jason Greenspan

ATTEMPT led by certified Urologist
The event is organized by Jason Greenspan, a senior marketing major at Shippensburg University. Jason is a Board Member/Ambassador of the Testicular Cancer Awareness Foundation. They have partnered with Shippensburg University, many of the university's on-campus organizations, and local businesses to make this event a huge success!
To donate to the Testicular Cancer Awareness Foundation in regards to this event, please visit: https://www.crowdrise.com/shipsgotballs
For more information about Testicular Cancer, please visit www.TestesCancer.org
Justin Birckbichler




Testicular Cancer Survivor/Shippensburg University Graduate 2013

Jason Greenspan

Testicular Cancer Awareness Foundation

Board Member/Ambassador

Bruce Levy

Shippensburg Area Senior High School

Retired Principal