Chatham Marconi Maritime Center welcomes Capt. James Fitzpatrick and Capt. Kurt DeCicco to its virtual Speaker Series
About this event
With the advent of satellites, ship to ship and ship to shore marine communication underwent a dramatic change. The traditional role of radio at sea and the Radio Officer position was replaced with a more automated system wherein a skilled radio officer maintaining a 24 x 7 watch was not required. The Global Maritime Distress and Safety System (GMDSS) is an international set of safety procedures, equipment and safety protocols, based on a combination of satellite and terrestrial radio, used to increase safety at sea by preventing unanswered distress calls and response delays when distress occurs.
Captains James Fitzpatrick and Kurt DeCicco will explain how ships communicate in today's world, the technologies used, and the education, licensing and rigor that prepare ships' officers to keep ships safe at sea.
About our speakers:
James Fitzpatrick, EdD, is a professor of marine communication, simulation and electronics courses in the department of Marine Transportation at Massachusetts Maritime Academy. He is also a United States Navy Ship Handling Instructor. He has been in maritime education since 1984 and has taught as well as designed courses for Mass Maritime and the US Navy. Before his teaching career, he sailed on numerous foreign and domestic ships including carrying military cargo in support of the Gulf war campaigns. He has a USCG Unlimited Master license. He holds FCC licenses including GMDSS Radio Operator, General Radiotelephone Operator: Ship Radar Endorsement and an Amateur Radio Operator, Advanced Class.
Jim graduated from the from United States Merchant Marine Academy with a degree in Marine Transportation. He went on to earn a Master's of Business Administration from Adelphia University, a Master of Arts in Adult and Continuing Education from Columbia University and a Doctor of Education from Columbia University. He has written many articles about virtual learning as well as on seamanship and radio.
Kurt DeCicco is an assistant professor in the Marine Transportation department of Massachusetts Maritime Academy. He and Dr. Fitzpatrick work closely on teaching E-Nav and GMDSS courses and labs. Before joining MMA in 2007, he was at sea for 24 years on various vessels tankers, dredges, ferries, OSV deep sea tugs and barges. He was the Chief Mate on the first oil skim vessel in the US fleet and was in the first group of Americans to be trained in oil spill response. He is a Master of Tow and Master on Articulated Tug barge units and a USCG Designated Examiner, Train-the-Trainer Certification. Kurt earned a Bachelor's degree in Marine Transportation from Massachusetts Maritime Academy and a Master's in Education from the American International College.
General Admission is $10, which permits one linked computer to access the Zoom webinar. The Chatham Marconi Speaker Series is free to Members; donations are appreciated. Why not join now at www.ChathamMarconi.org to enjoy this and future programs at no charge?!
About Chatham Marconi Maritime Center Founded in 2002, the Chatham Marconi Maritime Center is a 501(c)(3) organization which celebrates the rich history of 20th Century maritime radio and explores the innovative advances in science and technology that continue to transform our lives. The Center comprises the historic Marconi-RCA Wireless Museum, an Education Center offering in-house STEM education in communications science and technology, and the TechSmart education outreach initiative designed to bring its proven wireless technology curricula directly to children in Cape Cod classrooms.
About the Chatham Marconi Speaker Series Programs are presented on Thursday evenings during the Summer, and on the first Thursday of each month from October through May. Subjects are drawn from the resources of the Marconi-RCA Wireless Museum, the STEM After Hours program, or member-suggested topics related to its mission. For the foreseeable future the series will be presented virtually, or if conditions permit in a hybrid format with a limited live audience.
More at: www.ChathamMarconi.org.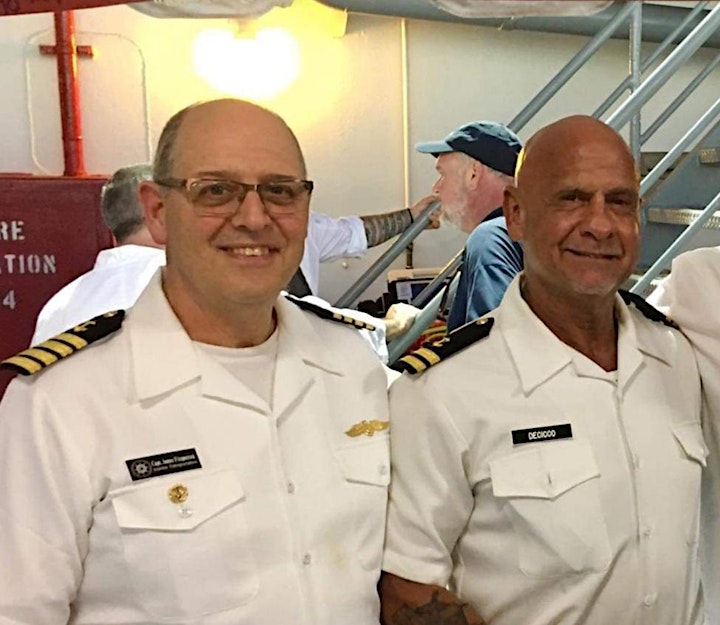 First image above: Massachusetts Maritime Academy's Training Ship (T.S.) Kennedy at sea. The T.S. Kennedy carries large complements of MMA cadets to U.S. and foreign ports of the Caribbean Sea for hands-on training under actual at-sea operations. (photo courtesy of Massachusetts Maritime Academy)
Immediately above: Captain James Fitzpatrick and Captain Kurt DeCicco aboard the T.S. Kennedy (Courtesy Photo)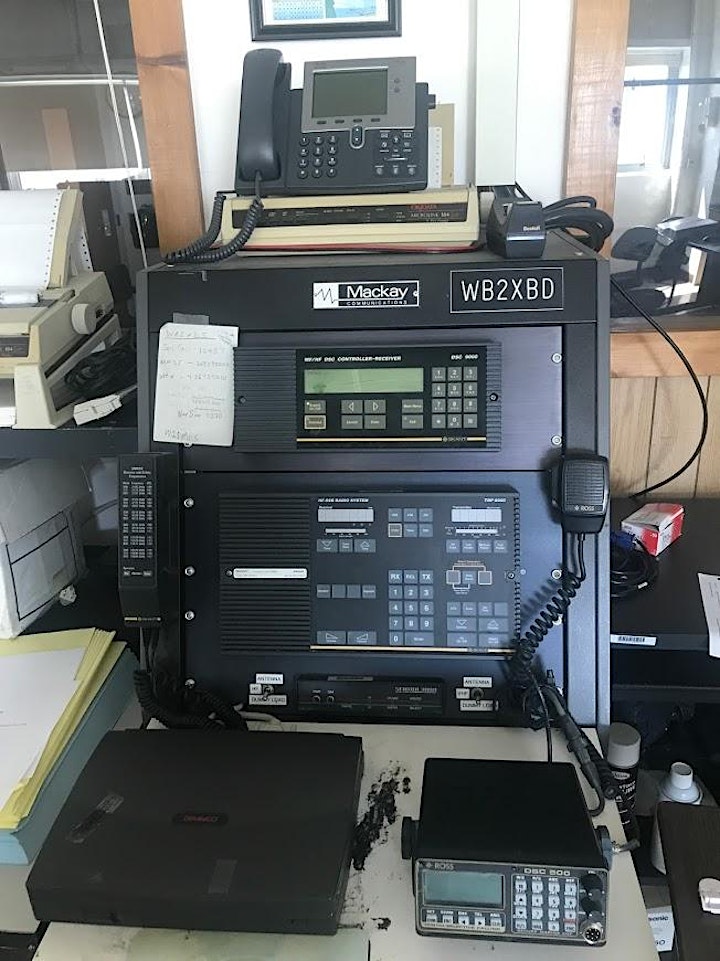 Global Maritime Distress and Safety System (GMDSS) console on the bridge of the T.S. Kennedy (photo courtesy of Massachusetts Maritime Academy)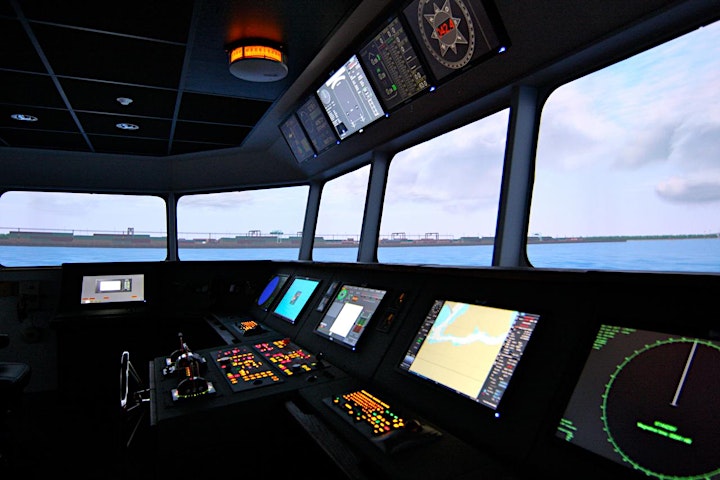 The Ship Bridge Simulator at the Massachusetts Maritime Academy (photo courtesy of MMA)
Organizer of Ship Bridge Technology: Safety, Operations and Security