Shinzen Young Monastic Intensive Retreat: October 18 - 25, 2019
Description
A Monastic Intensive Retreat with Shinzen Young - October 18 - 25
Join the Monastic Academy this October for a special retreat with Shinzen Young at our beautiful location in Lowell, VT.
During this retreat, Shinzen will guide retreatants through the system of practicing mindfulness he designed, Unified Mindfulness. This is a huge opportunity to dive deeply into mindfulness practice with a fantastically inventive teacher, on a beautiful property which is completely immersed in nature.
The retreat will feature:
Daily group process with Shinzen (guided meditation, plus discussion)
One-on-one meditation guidance from Shinzen
Two healthy and abundant vegan meals served per day
Breathtaking views of the Green Mountains and 120 acres of wild land
A rare and powerful monastic container dedicated to Awakening and Service
The Monastic Academy is a residential training center in mindfulness and leadership. We train in a variety of modalities including Shinzen's Unified Mindfulness, interpersonal meditation (circling), vision quests, and more.
---
Tickets:
*If a ticket is sold out, please email info@monasticacademy.com to be added to a wait list *

$1,500.00 for the week per person, for a shared room (room & board)
$2,200.00 for the week per person, for a solo room (room & board)
$2,100.00 for the week per person, for a solo cabin (room & board)
There will be an opportunity to give Dāna (donations) to Shinzen and to MAPLE as well. Please note that the cost does not include Dāna for the teacher (Shinzen).
The practice of generosity cultivates lovingkindness and compassion, deepens awareness of our interconnectedness and promotes non-attachment. These teachings are considered priceless. That said, your donation should only be giving from the heart and your financial situation should be taken into account.
---
There will be shuttles to and from the Burlington airport on the day the retreat begins and ends. There will be a $25.00 charge per ride.
Shuttle schedule:
October 18 pick up times at Burlington airport: 12 PM, 4 PM

October 25 drop off times at Burlington airport: 2 PM, 5:30 PM
The retreat will begin at approximately 7 PM on October 18, and will end at approximately 2:00 PM on October 25. Feel free to arrive at MAPLE any time after 4 PM on the 9th.
---
Teacher:
Shinzen Young is an American mindfulness teacher and neuroscience research consultant. His systematic approach to categorizing, adapting and teaching meditation, known as Unified Mindfulness, has resulted in collaborations with Harvard Medical School, Carnegie-Mellon University and the University of Vermont in the bourgeoning field of contemplative neuroscience. With decades of intensive practice behind him including three years as an ordained buddhist monk in Japan as well as Ph.D research in Buddhist Studies he combines the best of rigorous practice and deep scholarship all delivered with humor and warmth.
More information on Shinzen can be found here.
---
Below is more information about the location and setting of the retreat. All of this info can be found on our website as well.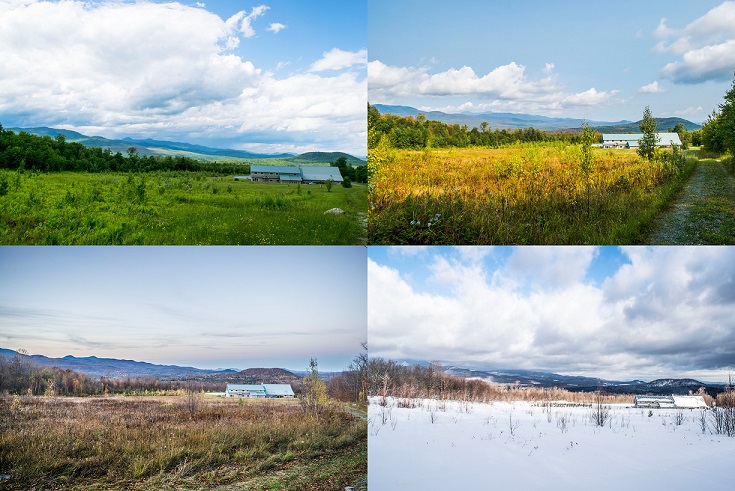 Property:
MAPLE is located at the end of a mile long private driveway that winds high up a hill. Our 123 acres is abundant with wildlife and boasts commanding views out over the Green Mountains. Recharge and re-examine your life in this peaceful setting where the trees, the rains, the winds, the sun, the snows, the frogs, and the stars still speak.
Facilities:
Our buildings are newly built with an elegant simplicity. With wood and plenty of light and air throughout they have a comfortable and human feel. The main room is large and serves as our dining room and event space. Two lounges and a loft that are great for reading and relaxing.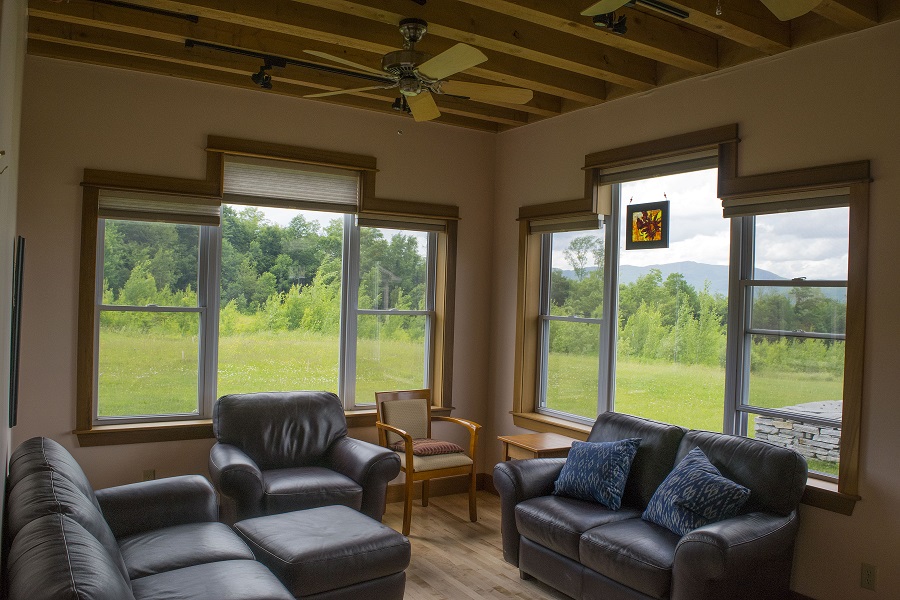 Accommodation:
We have rooms with queen beds and single beds. Guests either have their own room or share a room with others. Every room has wonderful views, wood floors, a comfy bed with linens, and shelves for storing personal items. There are shared bathrooms.
For those who love the outdoors (not afraid of woods and critters) and want more isolation, we also have three solitary cabins available in the forest of the property, about a five to ten minute walk from the main building. These cabins are outfitted with a bed, propane heater, and space to meditate. They do not have electricity or bathroom facilities (outhouse is nearby).

We ask that you refrain from the use of electronic devices such as cellphones and laptops during the retreat. In addition, we hold Noble Silence during the retreat refraining from speech to each other except when necessary, during interviews, or discussion periods.
Food:
Twice a day we serve simple, healthy, abundant vegan meals.
Fragrance-Free:
Please arrive at the center fragrance-free. Members of our community are very sensitive to fragrance, which is found in personal hygiene products (soaps, shampoo, body wash), clothes washed with some laundry detergents and dryer sheets, and perfume or cologne. Please be fragrance-free at all our events - learn how here.

Directions:
We are located at 751 Page Road in Lowell, Vermont, 05847.
Center for Mindful Learning is a non-profit 501(c)(3) organization devoted to developing trustworthy people to create trustworthy culture. MAPLE (Monastic Academy for the Preservation of Life on Earth) is a full-time leadership and meditation residential training program to cultivate leaders who embody wisdom, power, and love for all living things.

Learn about our residential apprenticeships.
Welcome to come for a guest visit and other programs.
Check out our website for more information.
Feel free to call or email with questions: info@monasticacademy.com / +1 (802) 540-0820
---
Refund Policy
We offer partial refunds. MAPLE must be notified via email about any cancelations by October 1, 2019 in order to receive a refund of all but the non-refundable deposit of $300. Cancellations received after October 1 will not be eligible for any refund. Cancellations will only be accepted via e-mail.