About this Event
DOORS: 7:00 PM, SHOW: 8:00 PM
AGE RESTRICTIONS: 21+
GENERAL ADMISSION, LIMITED SEATING
Important Notice: All tickets are nonrefundable and nontransferable with the exception of event cancellation. Support acts are subject to change
----------------------------
About Shinyribs:
Once you've seen Shinyribs' Kevin Russell on-stage and heard his band's music, it's impossible to forget. Known for his outrageous outfits and antics, he's a regular fashion icon, liable to turn up in anything from his lime-green sherbet leisure suit to a flashing LED cloak, which he donned for a soulful performance of "East Texas Rust" on the award-winning PBS show Austin City Limits.
Born and raised in Beaumont, East Texas, Russell's been variously dubbed (mostly by himself), the Baryshnikov of the Big Thicket, the Pavarotti of the Pineywoods, the Shakespeare of Swamp Pop, or the Shiniest Man in Showbidniz. One of the pioneers of Americana as a member of The Gourds, Russell took his musical inspiration from the fertile Ark-La-Tex turf. In the immortal words of the title track to their most recent album, "I Got Your Medicine," Shinyribs have the cure to whatever ails you, moving that ass until you're a helpless member of the Kevin Russell-led "all-in" conga line which snakes through the audience at the close of every show.
"It's the universal dance anyone can do," he says. "Nobody feels self-conscious or out of place. It's a great way to get everybody involved. You can't really top that."
As Austin royalty, Shinyribs are one of the music world's best-kept secrets, but not for long. The eight-piece outfit was recently named Best Austin Band for 2017, while I Got Your Medicine was tapped as Album of the Year at the Chronicle's prestigious Austin Music Awards. Balding with a scraggly beard and an unapologetic gut, the 50-year-old Russell boasts the indelible spirit and nudge-nudge, wink-wink playful quality of a man forever young, who points to the likes of Tony Joe White and the Coasters for his Shinyribs-tickling, mind-expanding, butt-shaking "is he for real" sense of humor.
The crack eight-piece band features, aside from Russell, keyboardist Winfield Cheek, bassist Jeff Brown and drummer Keith Langford, along with the Tijuana Trainwreck Horns (trumpet player Tiger Anaya and Mark Wilson on sax and flute) and the Shiny Soul Sisters (Alice Spencer and Kelley Mickwee), as well as occasional on-stage appearances by the Riblets, Shinyribs' very own dance troupe.
About his status as a local hero, Russell says, "The competition is pretty serious here in Austin. I don't know how big a fish I am, but I certainly flop around a lot."
Kevin Russell might not take himself too seriously, but he is dead-on serious about the eclectic blend of music he favors, combining Texas blues, New Orleans R&B funk, horn-driven Memphis soul, country twang, border music, big band swing, roots-rock, Tin Pan Alley and even punk into a raucous mix that includes such out-of-the-blue cover nods as David Bowie's "Golden Years" (a posthumous tribute with an unlikely "On Broadway" groove) or the Beatles' "Everybody's Got Something To Hide Except Me and My Monkey" (interpolated into a live version of "Poor People's Store," his populist "jingle" for an imaginary bargain basement outlet).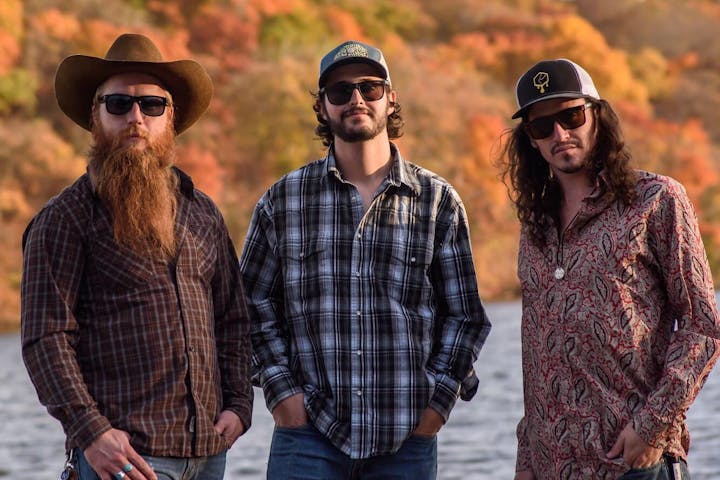 About Grassfed:
Grassfed is a quick picking power group that brings a high energy sound all of their own. Combining bluegrass with an eclectic array of influences– the band brings a fresh approach to an old sound. Based out of Kansas City, Grassfed tours extensively throughout the United States, and has performed internationally in Scotland, and France— delivering high octane performances across the map. The up and coming band is quickly establishing themselves as contenders in the roots circuit, performing at a wide range of festivals, events, and venues. Combining genuine lyrics, and intricate instrumental conversation— Grassfed is a must see live experience.