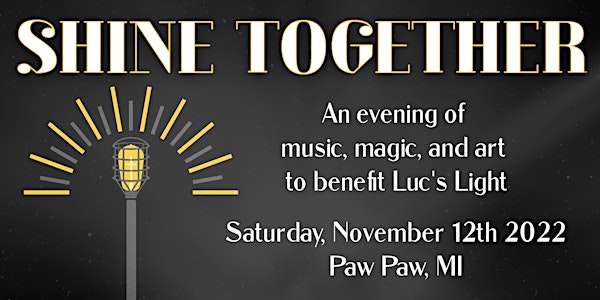 Shine Together Gala
An evening of Music, Magic and Art to benefit Luc's Light Youth Music and Arts Foundation
When and where
Location
Freshwater Community Church 600 East Michigan Avenue Paw Paw, MI 49079
About this event
Please join us for the first Shine Together Gala benefitting Luc's Light Youth Music and Arts Foundation. * Online Ticket Sales end at 3pm on Saturday, November 12th. General Admission Show Tickets are available at the door. VIP Tickets are available at St.Julian Reception. *
5:00-7:00pm VIP Pre-Show reception at St. Julian Winery
Pre-Show VIP's will receive a Luc's Light VIP Laminate and enjoy charcuterie, drinks, silent auction items along with special guests followed by reserved seating for the Shine Together show at Freshwater Community Church.
7:30-8:45pm Shine Together Show at Freshwater Community Church ft. Trino, Brynn Cummings and Rick Merrill!
8:50pm VIP Post-Show Meet & Greet
Dress Code: Creative Cocktail Attire
If you have any questions or would like to purchase tickets via check, please email info@lucslight.org
About Luc's Light
We have established Luc's Light to make beauty from broken
Luciano Clayton Schincariol was an 18-year-old recent honors graduate of Paw Paw High School. One of his first passions growing up was the bass guitar. He began lessons at 14. He became proficient and by sixteen was an exceptionally talented and unique musician. He played all 4 years in the high school Jazz Band and in the youth band at Red Arrow Ministries. His family will tell you that much of his best riffs were played in his bedroom where he practiced constantly with distinctive styles, including that of Les Claypool (Primus), Maynard James Keenan and Justin Chancellor (Tool). He later taught himself the keyboard and became a strong creative writer. He was a great artist, making cartoons and painting. "I've read every book and played every video game I own, so I might as well learn to paint," he said for a class art project.
Like most 18-year-olds, Lucas had pressures and concerns at home, work, friends, and the many new challenges of leaving for college. His generation also has the added stress of isolation from friends, teachers, and traditions for much of two years during Covid protocols. Luc was alone the night of June 24th, 2021, when his actions led to fatal injuries. He suffered third degree burns over his entire body. No one knows exactly what Luc was thinking or feeling that evening. We do know that he was miraculously able to get himself to a phone and make a call for help. Luc was not done. He knows there is more help and love to continue offering his friends and neighbors.
On theater stages around the world there is a light. A light placed on the stage after the curtain closes and the performers and audience members have gone home. This light illuminates an otherwise dark auditorium. It helps guide and keep any person who might come onto stage safe from the edge.
We are Luc's Light. A Light for teens of Southwest Michigan to come and navigate our world stage in safety amongst a caring cast.
We provide teens of Southwest Michigan the tools and training to explore and develop their artistic talents and creative expression in a safe and supportive environment at no cost to them. We encourage our students to find their voice through music, dance, painting, and other artistic forms; with faith-based values at our core.
Doing so safely amongst caring instructors and peers is good for them and the health of the whole community.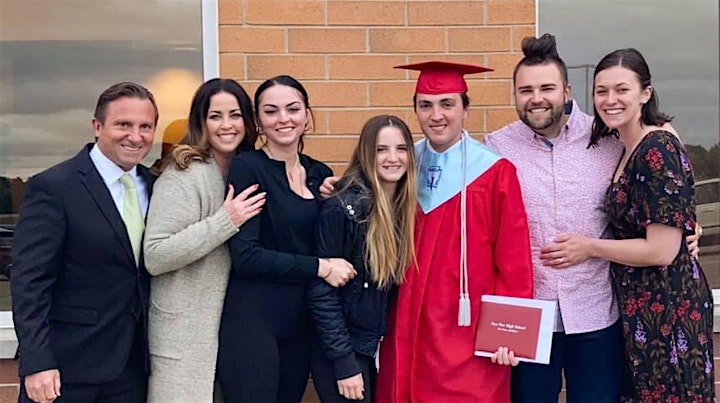 Thank you for supporting Luc's Light and teens in Southwest, Michigan. For more information and to see our goals and future plans please go to LucsLight.org.
The Schincariol Family (Paul, Leigh, Mary, Ruby, Luc, Trino and Ashley) and Board of Luc's Light Youth Music & Arts Foundation