Event Information
Location
Impact Hub Oakland
2323 Broadway
Oakland, CA 94612
Description
Black Elected Officials of the East Bay invite you to Shine! The 2018 BEO Honors. Each year BEO honors excellent leaders and organizations from the government, faith, business, arts and advocacy whose undeniable shine inspires, informs and serves to advance the cause of justice.

You will enjoy a beautiful evening among some of the Bay Area's most influential, accomplished and emerging leaders. Your VIP ticket provides early access and a private photo reception.

2018 BEO Honors: NBA Hall of Famer Gary Payton, Kaiser Executive Vice President Greg Adams, San Francisco Board President Malia Cohen, Grammy-award Winner© Fantastic Negrito, Black Joy Parade, Tamisha Walker (A Safe Return Project), Faith leader Dr. Alvin Bernstein, legendary educator Dr. LuPauletteTaylor (McClymonds HIgh School), Youth Leader Daijon Jackson (Envision High School) and Lifetime Legacy Service Recognition for 20+ years in public service to: Irma Anderson, Dezie Woods Jones, Lesa McIntosh, Bill Patterson, and Larry Reid.

Tickets: General Admission $55 | VIP Tickets $100
BEO Member? Renew your 2019 membership before 11/25 and receive complimentary VIP admission.
Host Committee:
Fatima Alleyne | Contra Costa Board of Education Trustee
Amber Childress | Alameda County Board of Education Trustee
James Harris | Oakland Unified School District Director
Aisha Knowles | Alameda County Board of Education Trustee
Jael Myrick | City of Richmond, Vice Mayor
Aisha Brown | Alameda County

Lynette Gibson McElhaney | City of Oakland Councilmember, Event Chair

BEO Officers: Honorable Keith Carson, President, Honorable Marlon McWilson, Vice President, Honorable Donald White, Treasurer, Honorable Lynette Gibson McElhaney, Secretary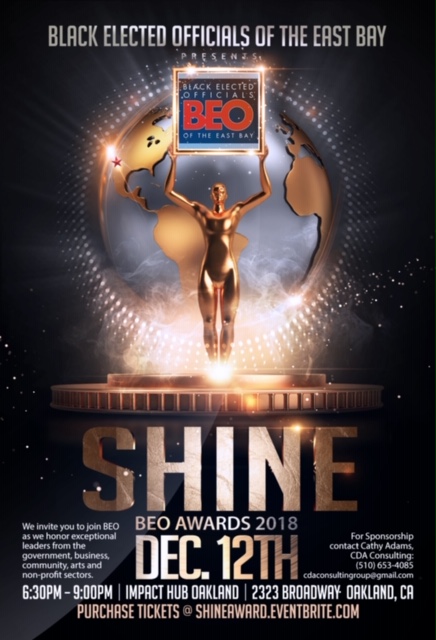 Produced by CDA Consulting
For Sponsorship and Vendor Opportunities contact Cathy Adams at (510) 725-7722 or cdagroupconsulting.com.
Perfer to pay by check or paypal?
BEOEB
Date and time
Location
Impact Hub Oakland
2323 Broadway
Oakland, CA 94612
Refund policy