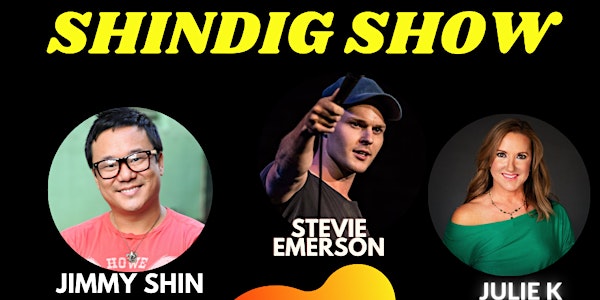 Performers
Jimmy Shin, Stevie Emerson, Julie K, Savannah Kay, Mike Hughes, Gary Robinson, Big Bad Bo
Location
Laugh Factory
432 F street
San Diego, CA 92101
Join the Party with Jimmy Shin and the top comedians in the country!
About this event
The ShinDig Show is one of the top comedy shows in Los Angeles bringing you the biggest headliners as seen on Comedy Central, Netflix, HBO, The Late Show, Def Jam, Showtime and Conan. Don't miss this Ultimate Comedy Party and kick off your Memorial Day weekend with laughter...This show always has the hottest rising talent and the biggest stars of comedy!
Jimmy Shin has been Mixing his musical and comedic talents all of his life. After graduating from California Western School of Law, Jimmy decided to take a more humorous path. While in Seattle, Jimmy won the honor of "Rookie Comedian of the Year" in the Seattle International Comedy Competition in 2005 and was advised by Ron Reid (The Producer of the competition) to move to Los Angeles. Although urged by his parents to become a lawyer, Jimmy decided to take a leap of faith and pursue his dreams of becoming a comic in LA. After moving to Los Angeles, Jimmy has been performing all around the country and producing shows at The World Famous Comedy Store. He has performed regularly at the Improv, Laugh Factory and The Comedy Store. His break came when he performed three times on The Tonight Show. His parents finally acknowledged that he was a real Comedian when they saw him perform on The Tonight Show and began supporting his decision to pursue a career in Entertainment. He has also appeared on the HBO Series "LUCK", The Carson Daly New Year's Special 2015 and most recently has released his One Hour comedy Special "Wok of Shame " out now on Amazon Prime Video!
2-drink minimum
Seating is first-come, first served
18 and over