Description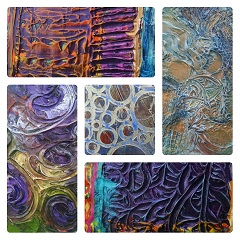 SHIMMER AND SHINE Workshop with Artist Christine Sauer
This is a TWO DAY workshop, April 7 and April 8, 9:45 AM -4 PM both days.
We'll explore beautiful, luminous and unusual effects using Golden Iridescent (metallics), Interference, and other specialty acrylic paints. These gorgeous paints are rich and versatile and will add another level of sophistication and creativity to your art. From pearly translucence, shimmery faux metallic, gritty sheen, and more, these effects can be used in a variety of styles of artwork. We'll explore color mixing, abstract and non-objective painting applications, as well as realistic subject matter with a contemporary twist. Working with raised textured surfaces, madewith gels and pastes, will enhance the qualities of these paints. Additionally, I'll share some of my bold strategies to transform older, less successful paintings using these paints. Bring a small painting, under 11x14" that you would like to transform. If you don't have one, bring an additional small blank canvas panel or cradled panel for an alternative project. Participants will make small demo paintings and one larger work.
ALL LEVELS WELCOME. Some painting experience helpful.
There is a MATERIALS LIST. The artist will provide additional paint, paper, brushes and other tools, and incidental supplies.* David Art Center will give you 20% off on all materials purchased for the workshop. Show them your registration at checkout.
Bring a notebook if you want to take notes. Several days after the workshop, I will email an outline of the workshop plus workshop photos.
LUNCH is ½ hour so please bring a bag lunch and beverage.
CLASS POLICIES
Payment secures your spot in the workshop.
No unpaid guests or visitors allowed.
You'll receive an email reminder several days before the workshop with updates and other info.
FAQs
What's the refund policy?
You may cancel three weeks prior to the workshop, by March 16, for a full refund. No refund given after that time. A substitute may take your place in the event you can't make the workshop. If the instructor needs to cancel the workshop for illness or other emergency you will be refunded the full amount.