SHiFTology

Saturday, April 30, 2016 from 10:00 AM to 2:00 PM (EDT)
Event Details
Join us for this unique and creative way to learn and experience new and interesting topics all while getting to know 10 new friends.....
This is how it is going to work:
• You stay seated and we bring the teachings, experiences, and learning's to you.
• Your day begins by joining a group of folks at a large round table. You get a chance to get to know each other a bit and then it is time for the fun to start.
• We bring a facilitator to each table that will walk you through an experience or exercise in their specialty. Experts on health & wellness, spirituality & metaphysics, and mindfulness will join your table one at a time to share and to let you experience something new.
• Now for the fun, after 20 minutes the gong will sound, the experts will switch tables and you are joined by someone new, to lead you on a different journey of exploration on a new topic.
• You will experience 6 rounds of experts; learning and experiencing 6 topics that traverse the mind-body-spirit spectrum.
• And of course we provide a boxed lunch to keep you going during the day.  Food allergies??? No worries, gluten free, dairy free and vegan options will be available so you too can indulge your taste senses with the yummy goodies waiting for you on the dessert bar.

All of this goodness for $57
---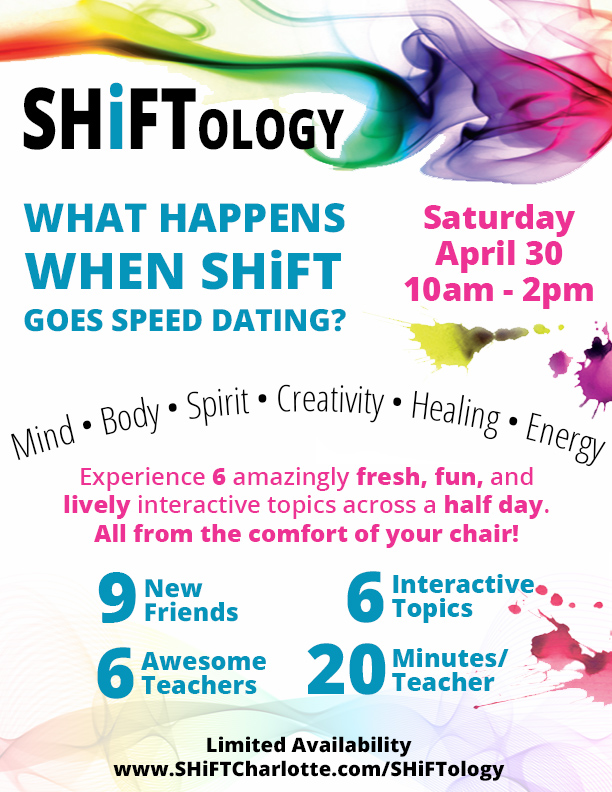 ---
Workshop Schedule
Opening Remarks

Introduction Round

Round 1 and 2

Break

Round 3 and 4

Lunch

Round 5 and 6

Wrap Up
---
All of this goodness for $57
---
Workshop Titles, Descriptions and Facilitators

Spirit

Tamara Caulder Richardson
Connecting to the Divine for "Peace, Power & Grace"
www.southernbellemedium.com
We are all powerful, beautiful beings. However, being on this physical earth plane our life force can become dull, and can even at times feel separated from divine love, healing and protection. Get a "tune-up" as we connect to heaven (which is our home); receive abundant love, energy and inner strength… instantly.

Body

Amy Nelsen
NIA for Emotional Release
www.thesouljournalist.com
I'm As Mad As Hell and I'm Not Going to Take it Anymore. Learn how to recognize that your "bodies speak" in times of anger, stress, and frustration and what you can do to move your body back into better balance.
Mind

Sarah Olin
Luscious Living
www.lusciousmother.com
Your beliefs (stories/narratives and mindset) have everything to do with how you experience your world. Change your mind and change your experience of your life.
 Energy
Bryce Goebel
Caring for Your Body's Energy Field
www.areikiplace.com
The energy field around your body affects your health, thoughts and feelings. Learn to detect the subtle energy field around your body, exercises to strengthen and balance your energy, and how to protect yourself from incompatible energies.
Healing
Jessica Phyfe Mangum
Using Chromotherapy for Healing and Clarity
www.yourspiritualpathfinder.com
All colors carry their own energy and vibration which affect our emotions, thoughts, feelings. Learn to identify those colors/vibrations within you that need clearing or reinforcement, what the colors mean, and how to heal using color.

Creativity

Catherine Anderson
The Labyrinth: A Portable Path to Peace
www.creativepilgrimage.com
The labyrinth is a metaphor for the journey of life, and is a tool to awaken us to our inner wisdom. Create your own personal finger labyrinth and learn how to use it when you need to unwind, come back into balance or slow down.

---
For more information visit www.shiftcharlotte.com/shiftology
Contact: shiftnc@gmail.com
When & Where

Spiritual Light Center of Charlotte
7300 Mallard Creek Rd, Charlotte, NC 28262
Charlotte, NC 28262


Saturday, April 30, 2016 from 10:00 AM to 2:00 PM (EDT)
Add to my calendar
Organizer
Charlotte's Online Choice For Everything Holistic and Alternative