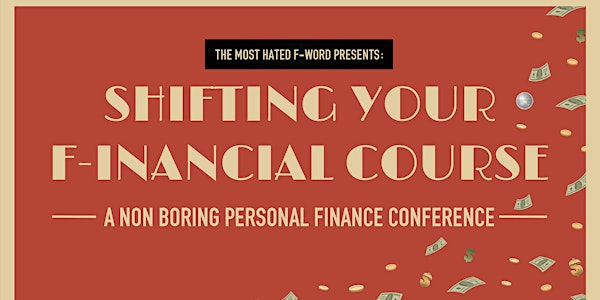 Shifting Your F-inancial Course: A non boring personal finance conference
Personal finance has been hated for far too long. This is a personal finance conference like you have never seen before!
When and where
Location
The Creative Hive 16819 111 Avenue Northwest Edmonton, AB T5M 2S4 Canada
Refund Policy
Contact the organizer to request a refund.
About this event
Get your financial freak on!
Money is a touchy subject. In fact, it's the Most Hated F-Word
Join us on September 28, 2019 for :
Shifting Your F-inancial Course: a non-boring financial conference.
Let's talk about personal finance and let's talk about it loudly. Join us for a day of thought-provoking speakers using plain language to break the silence on The Most Hated F-Word.
This financial literacy event is desperately needed. After all, a whopping 42% of Canadians report finances as the top stressor in their lives.  It's wild that finance is practically a taboo topic.
This event WILL break the taboo and get down to the nitty gritty. So come ready to engage in important conversations that will actually make you feel better about The Most Hated F-Word.
Really, it will be a personal finance conference like you have never seen before!
Let's get people talking!
And the Cherry on Top?
All the proceeds from the event will be donated to Junior Achievement Northern Alberta. That means your attendance will directly benefit the financial literacy of the youth in our communities.
Come Enjoy:
7 Speakers, a DJ, wine, beer, cheese and community building.
The Speakers:
Each speaker will have 18 minutes (TED talk style) to share their unique perspectives on personal finance. Topics will be diverse, relevant, relatable and actionable in our own lives. Stay tuned for the release of the speaker line up.
Speakers:
Ashif Mawji | Serial entrepreneur / Philanthropist / Venture capitalist / Mentor and a Community builder
Topic: Follow Your Passions and Focus on Ideas Around That
Richard Moxley | Credit Expert / eCredit Fix
Topic: FREEEDOM! – How to live FREE and in control
Dr. Kyle Murray PhD | Professor of Marketing & Vice Dean UofA
Topic: The Behavioral Science behind Better Financial Decisions
Alyssa Davies | Content Specialist & Personal Finance Blogger
Topic: MONEY, MOTHERHOOD, MACHIATTOS
James Knull | Owner of Mogul Realty Group
Topic: How to House HACK your Home: AKA make money from it
Shaun Maslyk CFP | Financial Planner & Personal Financial Blogger
Topic: What's Your Money Story?
Bryn Bezaire LL.B, BA | Wills & Estate Lawyer
Topic: What to Know Before You Go