Shifting the Addiction Paradigm: A Sea Change . . . A Change in Seeing
Description
Shifting the Addiction Paradigm:
A Sea Change . . . A Change in Seeing


May 31, 9:30am-5pm. Registration opens at 8:30am.
For some in the United States, the change in our view of substance use is a long time coming. It follows decades of conversations, insights, theories and science on the weakness of using a purely disease model, and it rests within a larger shift within the behavioral sciences, returning us to a more humanistic, interconnected and contextual approach. For them, the current medical orientation often leads to poor outcomes in treatment, and a way of treating individuals that's both coercive and primed to take economic advantage of the most vulnerable. For others, however, there is no debate. They see as unquestionable the fact that addiction is a disease. For them, doubting this fact is a form of blasphemy – dangerous and heretical.
But today, cracks are forming in the older model in the U.S. (a silo in a world that has largely abandoned a purely disease orientation). And that's a good thing. It means there's now a chance for greater creativity, choice in treatment and freedom in decisions about what to do in regards to substances in one's life. It can potentially mean a decrease in stigma, and a much more nuanced view of the use of drugs and alcohol. The change allows for such words as "harm reduction," "moderation," and "social contingencies" to be used openly and freely, and it opens the door for insight regarding connections between oppression and social inequality and the use of substances. Fracturing a cookie-cutter approach to addictive habits, it allows treatment—if a person wants it—to be truly individualized. We are heading toward a paradigm shift.
Organized by Ellenhorn and the Center for Optimal Living and hosted by The New School, this annual conference aims to hasten that shift by bringing together thought leaders, researchers and practitioners to present on new, innovative and liberating ways of approaching substance use and other habits, that are free from the yoke of the orthodoxy of disease.
This year, our conference features prominent thinkers on this paradigm shift: Gabor Maté, MD and Andrew Tatarsky, PhD with opening remarks from Ross Ellenhorn, PhD.
Agenda:
8:30 am - 9:30 am: Registration

9:30 am - 9:45 am: Opening Remarks, Jenifer Talley, PhD.


9:45am - 10:30 am: Ross Ellenhorn, PhD., Psychotherapuetic Values- The "Unexplained Anomalies" in the Addiction Paradigm.


10:30 am - 12:30 pm: Andrew Tatarsky, PhD, A Scientific Revolution in Addiction From Disease Model to Psychobiosocial Process: from Abstinence Only to Integrative Harm Reduction Psychotherapy. (15 minute break 11:30-11:45)

12:30 pm - 1:30 pm: Lunch | 1-1:25 pm: Book Signing with Gabor Maté, MD & Andrew Tatarsky, PhD

1:30 pm - 3:30 pm: Gabor Maté, MD, The Hungry Ghost: A Biopsychosocial Perspective on Addiction, from Heroin to Workaholism.


3:30 pm - 3:45 pm: Break

3:45 pm - 4:30 pm: Q & A, Moderated by Zoi Andalcio, LMHC, CPT.

4:30 pm - 5:00 pm: Closing Remarks Zoi Andalcio
Speakers: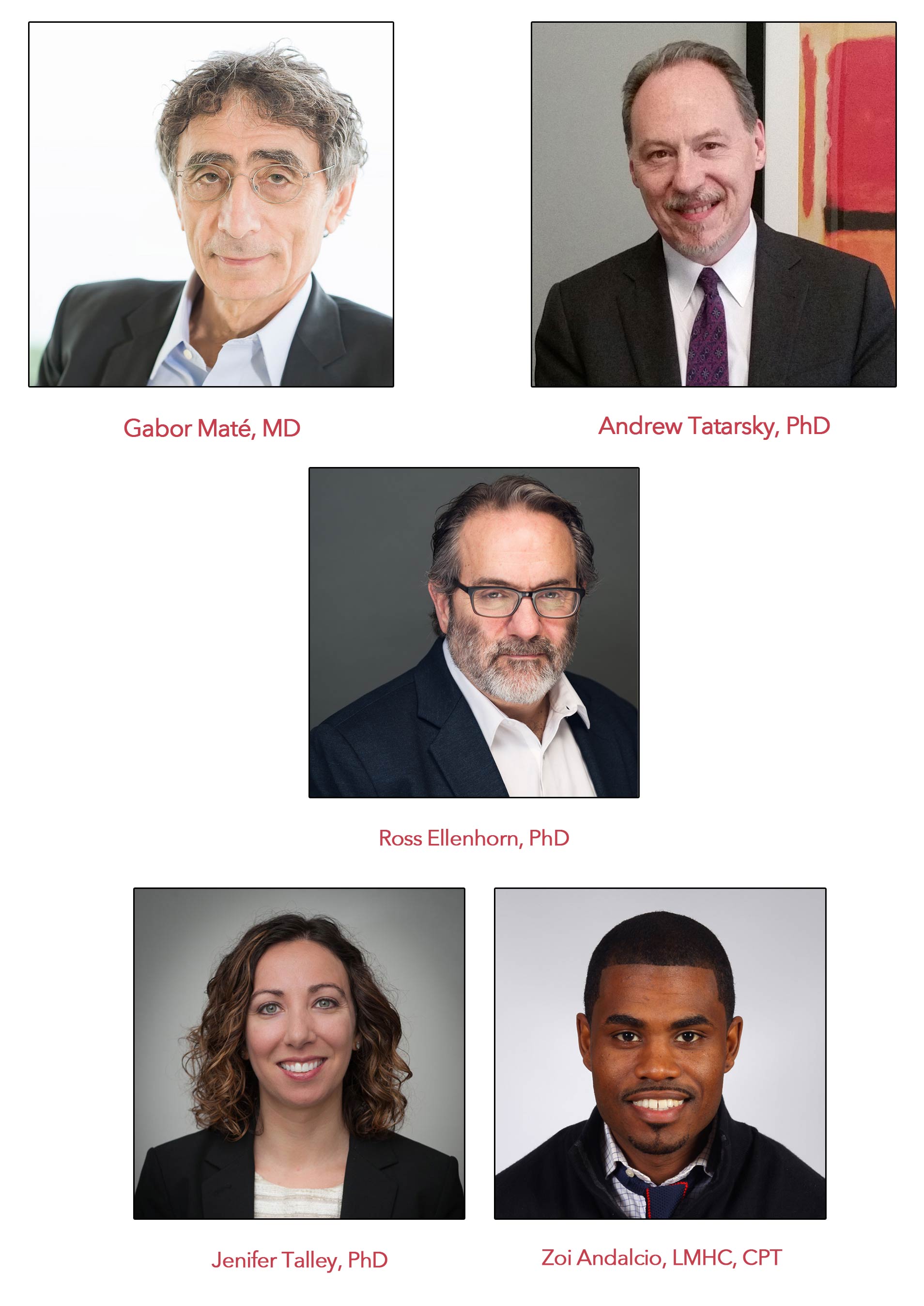 Gabor Maté, MD
A renowned speaker, and bestselling author, Dr. Gabor Maté is highly sought after for his expertise on a range of topics, from addiction to mind-body wellness. Rather than offering quick-fix solutions to these complex issues, Dr. Maté weaves together scientific research, case histories, and his own insights and experience to present a broad perspective that enlightens and empowers people to promote their own healing and that of those around them.
As an author, Dr. Maté has written several bestselling books including the award-winning In the Realm of Hungry Ghosts: Close Encounters with Addiction. His works have been published internationally in twenty languages.
Dr. Maté is the co-founder of Compassion for Addiction, a new non-profit that focuses on addiction. He is also an advisor of Drugs over Dinner.
Dr. Maté has received the Hubert Evans Prize for Literary Non-Fiction; an Honorary Degree (Law) from the University of Northern British Columbia; an Outstanding Alumnus Award from Simon Fraser University; and the 2012 Martin Luther King Humanitarian Award from Mothers Against Teen Violence. He is an adjunct professor in the Faculty of Criminology, Simon Fraser University.
Andrew Tatarsky, PhD
Dr. Tatarsky has devoted his career to developing a comprehensive understanding of the broad spectrum of substance use problems and the development of an integrative harm reduction psychotherapy approach to treating that spectrum. This treatment is described in his book, Harm Reduction Psychotherapy: A New Treatment for Drug and Alcohol Problems, as well as in professional papers and book chapters that extend the approach. An internationally recognized leader in the treatment of substance misuse and other potentially risky behaviors, he has specialized in the treatment of addiction for 35 years as a counselor, psychologist, program director, trainer, advocate and author. He trains professionals nationally and internationally.
Dr. Tatarsky is founder and director of the Center for Optimal Living in New York City where treatment and professional training is based on his model of Integrative Harm Reduction Therapy (IHRP). IHRP brings together relational psychoanalytic, cognitive behavioral and mindfulness strategies within a harm reduction frame in a way that is personally and collaboratively tailored to each person. He is a member of the Clinical And Medical Advisory Panels to the New York State Office of Alcoholism and Substance Abuse Services and founding board member and past president of the Division on Addiction of New York State Psychological Association.
Ross Ellenhorn, PhD
For the past three decades, Dr. Ellenhorn has been a pioneer and leader in the development and promotion of community integration services, types of care that serve and empower individuals diagnosed with psychiatric and/or addiction issues outside institutional settings, and in their own communities. Trained as a sociologist, psychotherapist and social worker, Dr. Ellenhorn created the first fully-operating intensive hospital diversion and wrap-around program in Massachusetts. He later created and led one of the nation's first Programs for Assertive Community Treatment teams in that state.
He is the founder and owner of Ellenhorn, the most robust community integration program in the U.S. In addition, Dr. Ellenhorn is the co-founder and president of the Association for Community Integration Programs (A4CIP), a professional association representing and promoting programs dedicated to empowering clients who are receiving services while living and participating in their community. His, book, Parasuicidality and Paradox: Breaking Through the Medical Model, published by Spring Publishing in 2007, is unique in addressing psychiatric hospital recidivism and techniques for diverting hospital use.
In addition to authoring numerous articles and giving talks and seminars throughout the country, Dr. Ellenhorn provides consultation to mental health agencies, psychiatric hospitals and addiction programs on the subjects of hospital diversion, psychosocial rehabilitation, patient careerism, the core concept of social attachment and addiction, Integrated Dual Disorder Treatment, and the PACT model. He is the co-founder of the Addiction and Attachment Conferences, an annual conference series that promotes theories and techniques that focus on the link between attachment issues and addictive behavior.
Jenifer Talley, PhD
Dr. Talley is a clinical psychologist and Assistant Director of The Center for Optimal Living, an outpatient psychotherapy practice in New York City. She is also the Assistant Director of the Concentration in Mental Health and Substance Abuse Counseling and Assistant Director of Clinical Training at The New School for Social Research. Dr. Talley specializes in the treatment of substance misuse and co-occurring disorders from a harm reduction perspective. She has expertise in working with trauma-related issues and previously worked at The Women's Health Project at St. Luke's-Roosevelt Hospital. She has been trained in Mindfulness-Based Relapse Prevention and integrates mindfulness practices into her work. Dr. Talley's approach is interactive and focuses on the development of practical skills to manage intense emotions, reduce self-judgment, and promote self-compassion.
Together with Dr. Tatarsky, she created the Harm Reduction Psychotherapy Certificate Program and they have co-led several trainings on Integrative Harm Reduction Psychotherapy. Dr. Talley also participates in the training and supervision of clinicians and graduate students. Dr. Talley offers trainings and workshops on harm reduction psychotherapy and integrating mindfulness in the treatment of substance use and trauma.
Zoi Andalcio, LMHC, CPT
Mr. Andalcio is the Director of Integrated Dual Disorder Treatment at Ellenhorn, a model for assisting individuals experiencing both addiction and burdensome psychiatric issues in the community. A licensed mental health counselor with over 10 years of clinical experience, he has been trained in several evidence-based approaches to dual diagnosis treatment. Mr. Andalcio is a community-based therapist with a passion for working with clients in the community. He has worked with many clients in diverse settings, from homeless shelters and correctional facilities to community clinics and hospitals. He is trained in psychological first aid, harm reduction methods, Open Dialogue, motivational interviewing, and Mentalization Based Treatment (MBT). As a personal fitness trainer, he incorporates personal training to assist clients in the recovery of their physical bodies, as well as helping them to open up emotionally and develop new avenues of mastery.

CONTINUING EDUCATION INFORMATION
The New School for Social Research's Department of Psychology SW CPE is recognized by the New York State Education Department's State Board for Social Work as an approved provider of continuing education for licensed social workers #0199. This training provides 6 hours of continuing education. This training has also been approved to provide 6 hours of continuing education credits for CASACs by the Office of Alcoholism and Substance Abuse Services (OASAS).