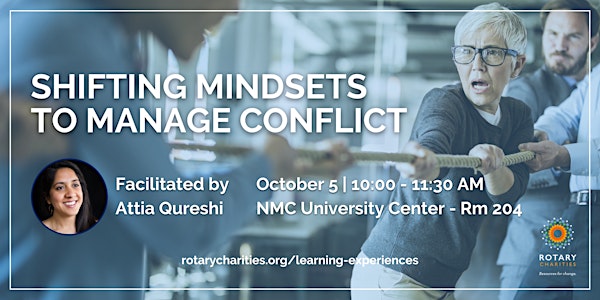 Shifting Mindsets to Manage Conflict
Learn a toolkit of skills-based techniques for managing conflict using a framework that promotes efficient collaboration.
When and where
Location
Northwestern Michigan College University Center - Room 204 2200 Dendrinos Drive Traverse City, MI 49684
About this event
Conflict is an inevitable part of the human experience, whether in a personal or professional setting. Unresolved conflict can hinder decision making and impede organizational change, but when conflict is addressed, managed, or transformed, it is possible for relationships, organizations, and systems to grow and succeed. Drawing on empirical research and case studies, this skills-based session will focus on the development of strategies that can be used to resolve or manage conflicts, with opportunities to develop those skills through exercises. This session is for anyone who has experienced conflict.
Come to this session to:
Explore a toolkit of techniques for resolving conflict
Be able to diagnose conflict resolution problems as they occur and devise strategies to cope with them
Quickly prepare for a difficult conversation using a provided framework, in a way that promotes efficient problem solving and boosts confidence
Details
NMC University Center – Room 204
Light refreshments will be provided
Photography: Photos may be taken during this event. Rotary Charities may use these photos in digital or print or shared across our communications channels. If you prefer not to have your photo used, please let us know when you RSVP.
Accommodation Requests Welcome: Rotary Charities is committed to creating welcoming spaces that are accessible to all. If you plan to attend this learning experience and need to request an accommodation, please let us know when you RSVP or by reaching out to Kendra Luta.
Currently the NMC University Center does not require masking. We recognize that some individuals feel more comfortable wearing a mask in public settings and encourage those who do to do so. This event is designed to be a place where everyone feels safe in their health and in conversation. Please reach out to Kendra Luta at kluta@rotarycharities.org with questions or concerns.
About the Facilitator, Attia Qureshi
Attia provides training, coaching, and strategic planning to nonprofits and Fortune 500 executives alike and has worked in several industries on several continents. Driven by the impact that effective communication can have, Attia excels at making systemic change a reality, approaching each client as if it were her own company, doing the work necessary to get everyone on the same page. Change and conflict can be very constructive, if managed properly. The first step is to acknowledge the human component and use that as the guiding principle. Attia believes in sustainable change and growth to help participants see how change is not only valuable to the organization but to themselves as well.