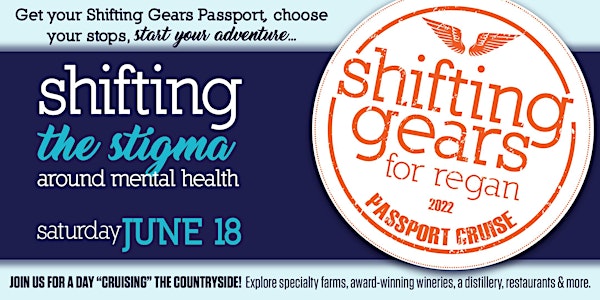 Shifting Gears Passport Cruise 2022
Join us for our 4th Annual charity event!
When and where
Location
Miami County, KS 1202 Industrial Road Paola, KS 66071
About this event
More than a ride.... Choose your mode of transportation. Choose your destinations. Enjoy a day of fresh air, adventure, and raising money for a great cause!
Join us for a day "cruising" the countryside! Get your Shifting Gears passport, choose your stops, start you adventure!
Load up your friends and family.... it doesn't matter what you drive! Explore specialty farms, award-winning wineries, a distillery, restaurants and more.
Each stop will feature:
• Fun drawings • Drinks and snacks • Games and activities • Suicide prevention and awareness information • Each passport stamp earns you an entry for grand prize drawings
Top off your adventure at our cruise celebration featuring food trucks, spirits, & our prize drawings.
Breaking Down the Day...
Purchase your "Shifting Gears Passport" here. Then meet us at Louisburg Cider Mill on June 18th to kickoff the day!
Check-in, pickup your passport and then you and your friends take off on a day of fun. A few of the 2022 destinations include:
Louisburg Cider Mill
Somerset Schoolhouse
POG Brewery
Isinglass Estate Winery
The Berry Patch
Bub's Bar & Grill
Bourgmont Winery
Creekside U Pick Flower Farm
Lane Bar & Grill
Hillsdale Tavern
At each stop you will find SG volunteers providing information about suicide prevention and awareness, fun drawings, drinks, snacks, games and activities related to the stop. Volunteers will stamp your passport and when you are ready to move to the next stop, you just move along at your leisure. When you decide that you are ready to call it a day just turn in your raffle tickets to the volunteers. For each stamp you receive throughout the day you earn a raffle ticket that can be entered into our prize drawings. Drawings will be done at the end of the day at our CRUISE CELEBRATION being held at Somerset Schoolhouse.
No doubt Regan Johnson would have loved everything about this day! Join us and help us celebrate Regan while we work to end teen suicide!
#findyourlight #shiftinggearsforregan #giveme20
Find updates and learn about sponsors and raffle items on our website ShiftingGearsForRegan.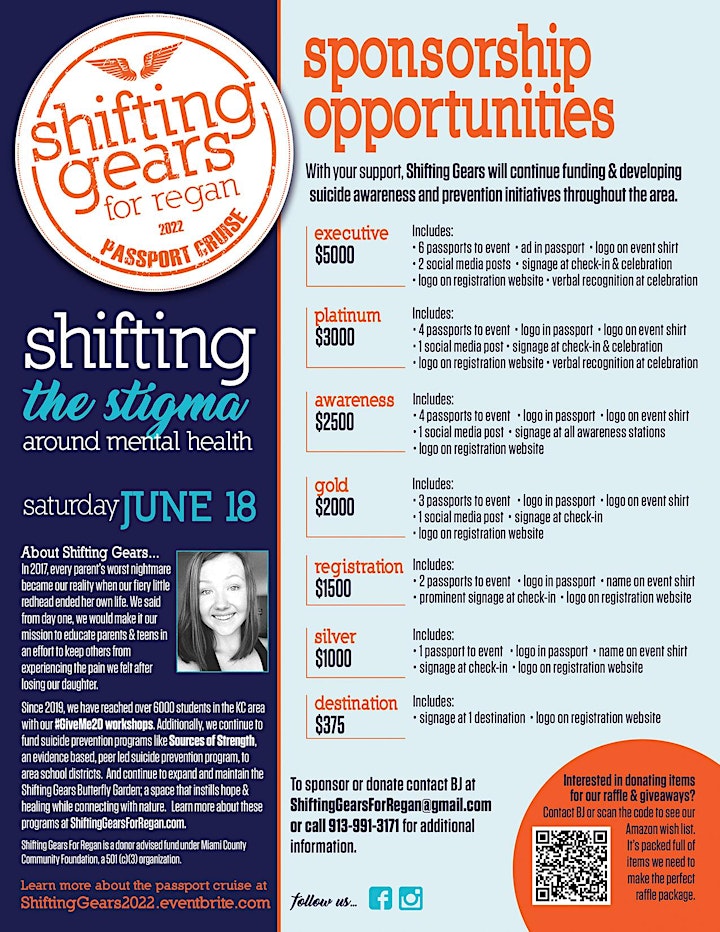 Interested in becoming a sponsor for this year's event? Email us at shiftinggearsforregan@gmail.com or call BJ at 913-991-3171.
About Shifting Gears...
December 7th, 2017, every parent's worst nightmare became our reality when our fiery little redhead ended her own life. While we struggled to understand how we would survive, we know one thing for sure — we would make it our mission to educate parents and teens in an effort to keep anyone else from experiencing the pain we were left with after losing our daughter.
We all have times in our lives where we find it necessary to SHIFT GEARS. For Regan Johnson, it was on the race track doing what she loved. For those of us she left behind... we find ourselves continuing to shift gears in search of our own "new normal"; trying to adjust to a life without our child.
Since 2019, we have reached over 6000 students in the KC area with our #GiveMe20 workshops. Additionally, we continue to fund suicide prevention programs like Sources of Strength, an evidence based, peer led suicide prevention program, to school districts across Johnson County. We also continue to expand and maintain the the Shifting Gears Butterfly Garden; a space that instills hope and healing while connecting with nature.
With your support, Shifting Gears can continue funding and developing suicide awareness and prevention initiatives throughout the area. Learn more at ShiftingGearsForRegan.com