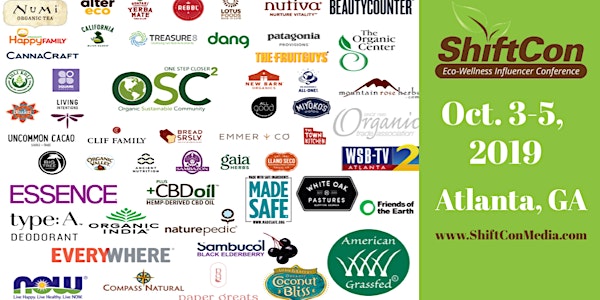 ShiftCon Eco-Wellness Influencer Conference 2019
When and where
Location
Grand Hyatt Atlanta in Buckhead 3300 Peachtree Road Northeast Atlanta, GA 30305
Description
Shiftcon Social Media Conference was created to support social media influencers who care about food, wellness, health and the environment. This conference blends professional workshops, networking, parties, and intense collaboration of changemakers from all over under one roof. With a solid focus on green content creation, food & environmental activism, organic and nonGMO food, social media marketing, educating the public, natural products, recruiting additional influencers and making this world better for future generations.
ShiftCon was born out of the idea that together we can create a profound impact on the world around us. We can literally shift the way we eat, raise our families and our impact on the environment. That shift has begun, and now it's time to come together and leverage our collective voice. ShiftCon was created to give wellness and eco-friendly influencers a place to network, share ideas, learn from experts, empower one another and organize their efforts into social change.
Shifters pride themselves on being part of something bigger than themselves. We are a community with a mission to change the world. It's a focus on wellness, green and sustainable products and technology. Influencers new to green topics will feel more confident in their knowledge afterward. Influencers that focus on green topics will hone their craft and network with professionals to bring them to new heights.
Connect with brands and people who are really changing our future and experience ShiftCon!

Official Dates: October 3-5, 2019

Location: Grand Hyatt in Buckhead,
3300 Peachtree Rd NE, Atlanta, GA 30305