Description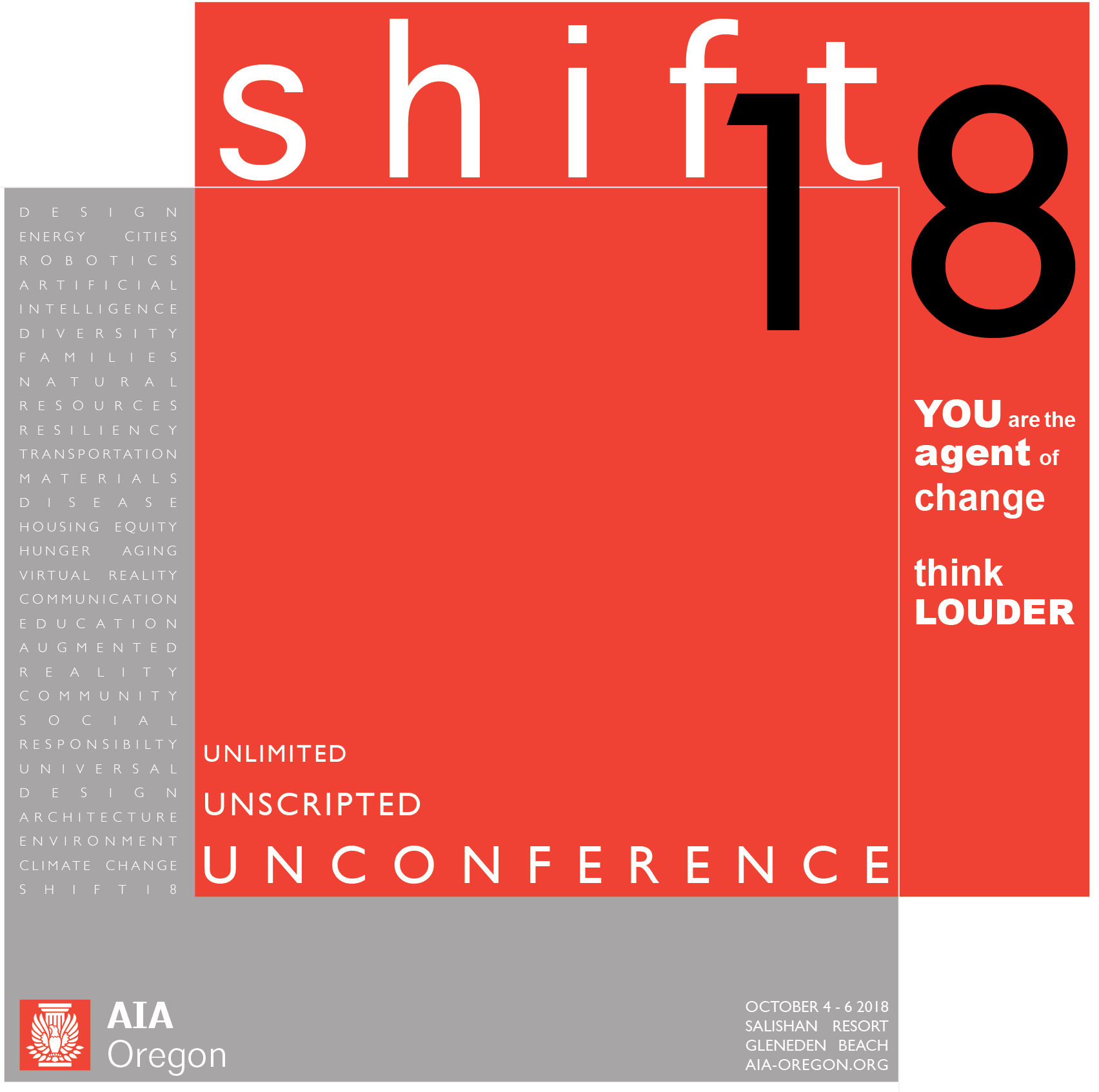 IN 2002 THE OREGON DESIGN CONFERENCE INITIATED A NEW FORUM FOR LEADING IDEAS ABOUT ARCHITECTURE AND DESIGN
IN 2018 AS THE NEXT EVOLUTION OF
THE ODC IS ENVISIONED WE
PRESENT A NEW PLATFORM
A CROSS-SECTION OF CREATIVES
AND INFLUENCERS TO ENGAGE
LEARN AND INNOVATE FROM
THE BOTTOM UP
JOIN US FOR THE CONVERSATION
AND COLLABORATION YOU'VE
ALWAYS WANTED ABOUT THE
IDEAS SHAPING OUR WORLD
AND THE BEST PART
YOU'RE NOT ONLY AN ATTENDEE
YOU'RE A

FACILITATOR
PROVOCATEUR
INNOVATOR
CHANGE AGENT

THINK LOUDER
Innovation is a group process…we co-create it by enabling and feeding off each other. To be innovators we need to support one another as we take turns pushing at boundaries. The unstructured unconference is an open-ended play space that amplifies everyone's ideas.
Joshua Kauffman
What's an Unconference?
An un-conference is any event where the agenda is set by those who attend – rather than by the scheduled presenters at a conference. Shift18 includes (2) 1-hour unconference (open topic) sessions on both Friday and Saturday. The rules of the un-conference format are simple:
Rule #1: Whoever shows up are the right people
Rule #2: Whatever happens is fine
Rule #3: Whenever it starts is the right time
Rule #4: It is over when it's over
In less flowery language this just means there is no preconceived expectations and no need to control the experience. (more here on why we want to do this)
Unconferences have become a popular way since the mid-1980's to encourage engagement and learning at conferences, seminars, and workshops for 20 to 1000 people. In fact, entire meetings have adopted the unconference structure. "Un" refers to the opposite of the typical nature of a meeting, where an expert speaker addresses a number of attendees. The main premise of an un-conference, un-session or un-meeting is flipped. In other words, the education, topic, engagement and overall experience are the responsibility of the participants.
The assumption is the most knowledgeable person at a meeting might not be the one at the podium; rather he/she might be in the audience.