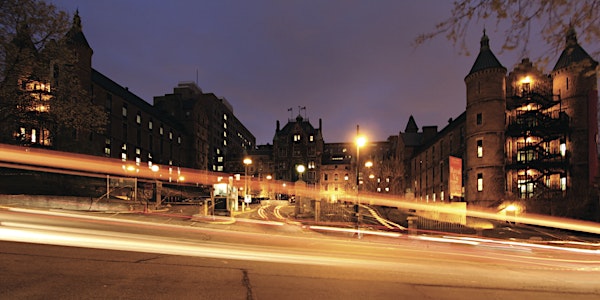 Shift Work: The Hospital in Histories of Architecture & Medicine
Annmarie Adams will deliver the Eduard F. Sekler Talk at the SAH 2023 Annual International Conference in Montréal
By Society of Architectural Historians
Date and time
Friday, April 14 · 6 - 7pm EDT
Location
Pierre-Péladeau Amphitheater (CHUM), Pavillon A 1050 Rue Saint-Denis Montréal, QC H2X 3J4 Canada
About this event
Where do medicine and architecture intersect? This illustrated talk probes the role of the built environment in the rise of the medical humanities. Medical historians tend to see architecture as an illustration of medical progress, while architectural historians engage the built environment as evidence of medical change. We live in interesting times! The COVID-19 pandemic has shifted the ways that hospitals have both accommodated and shaped care.
Drawing on my personal experience in architectural and medical education, I will comment on hospitals and architectural activism, including the importance of listening to historically muted voices and the re-use of heritage institutions; I offer a glimpse of what it is like (and why it is important) to teach medical students about architecture; and finally, I show how and why I'm using the tools and methods of architectural history to write a medical/feminist biography.
Annmarie Adams
The work of Annmarie Adams bridges the worlds of architectural and medical history. Adams has served as both Director of the School of Architecture, where she has taught for more than 30 years, and Chair of the Department of Social Studies of Medicine at McGill University in Montréal. She currently holds the Stevenson Chair in the Philosophy and History of Science, including Medicine. Her award-winning books include Architecture in the Family Way: Doctors, Houses, and Women, 1870–1900; 'Designing Women': Gender and the Architectural Profession (co-authored with Peta Tancred), and Medicine by Design: The Architect and the Modern Hospital, 1893–1943. Her expertise on health and design is much cited by the media, including The Atlantic, Elle Décor, Financial Times Magazine, The Guardian, Nature, New York Times, and WIRED. Adams' awards include the Jason Hannah Medal from the Royal Society of Canada, a Health Career Award from the Canadian Institutes of Health Research, and a YWCA Woman of Distinction prize. She is a Fellow of both the Royal Architectural Institute of Canada and the Canadian Academy of Health Sciences. She has served on the SAH Board of Directors and is currently vice president of the Canadian Society for the History of Medicine. This year Adams is on sabbatical to complete a spatial biography of cardiologist and museum curator Maude Abbott.
Photo credits: Royal Victoria Hospital, Montreal, circa 2012, photo by Don Toromanoff. Annmarie Adams at McMaster University Medical Centre, September 2022, photo by Georgia Kirkos.
About the organizer
The Society of Architectural Historians (SAH) promotes the study, interpretation, and conservation of architecture, design, landscapes, and urbanism worldwide for the benefit of all. SAH serves a network of local, national, and international institutions and individuals who, by vocation or avocation, focus on the built environment and its role in shaping contemporary life.