SHIFT: From Stuck to Soaring

Saturday, June 24, 2017 from 10:00 AM to 4:00 PM (PDT)
Event Details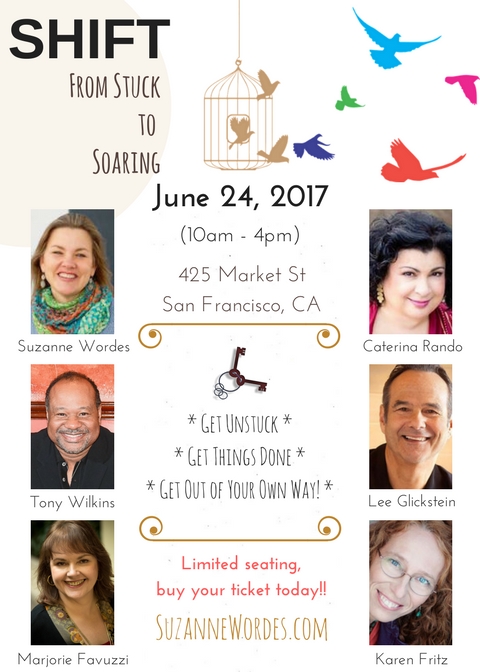 Get Unstuck * Get Things Done * Get Out of Your Own Way
Join us for a full-day event featuring some of the SF Bay Area's leading speakers, on topics ranging from mindset, beliefs, and habits, to concrete practices and systems that will help shift you from stuck to soaring!
​
Come prepared to walk away with a better understanding of yourself and others, armed with new approaches to overcome your own unique brand of "stuckness."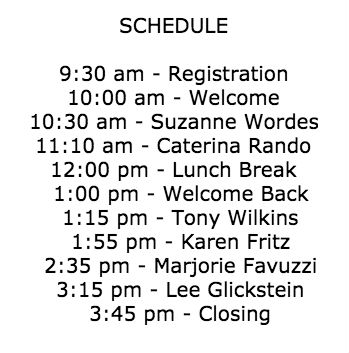 Marjorie Favuzzi 
Turning I Can't Into I CAN!: 
Super Focus, Self Care & Support for Success ​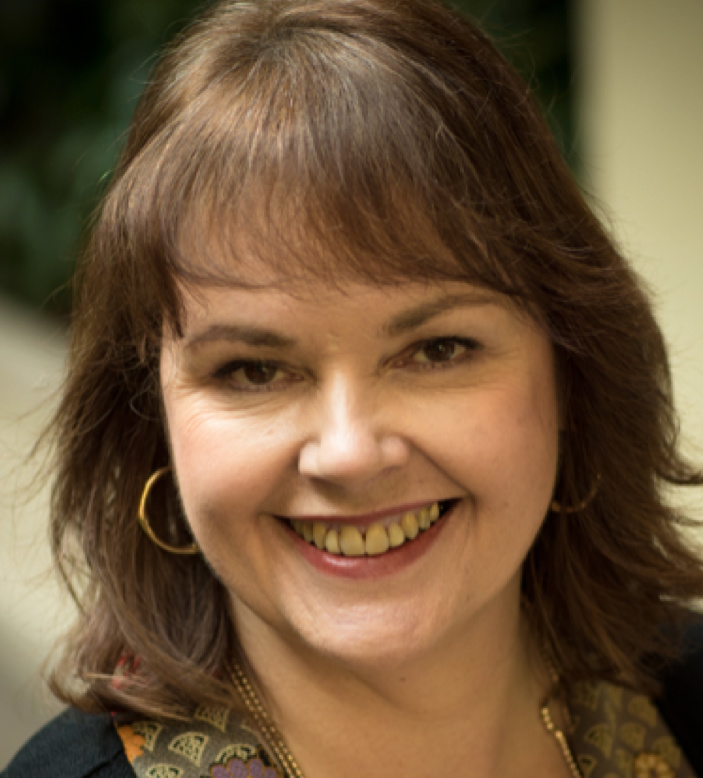 Introduction to the brain, how it's designed to get in the way of moving forward, and practical, quick and easy things you can do for success.
Recognizing the 3 Invisible Roadblocks:
The Runaway Brain
The Inner Critic
The What-ifs Brain
Exercises for Super Focus, Self Care & Support for Success  
Life is too short to let your head get in the way of you reaching your potential. It's a brain thing, and Marjorie Favuzzi, Director of Success In Hand, knows this challenge from the inside out. As a Certified Life Coach, Emotional Freedom Technique Matrix Practitioner, and dynamic speaker, Marjorie has been teaching clients to release roadblocks, master their brain and channel their power into success for more than 27 years. Marjorie has also been an independent provider for California Human Development, the State of California Department of Rehabilitation, and Kaiser Permanente.
You may contact Marjorie to learn more
at 707-206-1477 or Marjorie@SuccessInHand.com 
Karen Fritz 
From Hot Mess to Smooth Success: 
How to Grow When You're Too Busy to Grow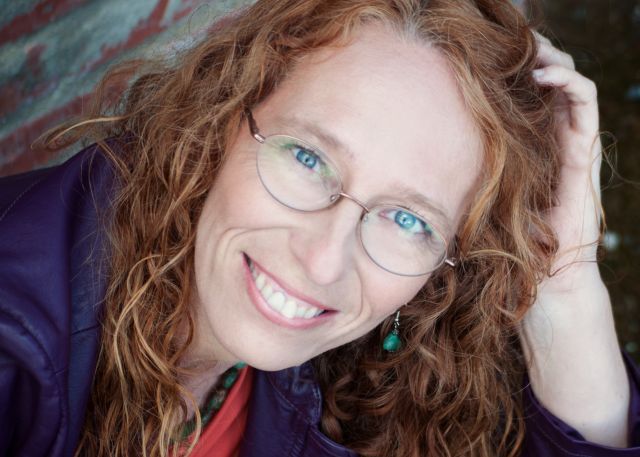 You can't do everything first! When you're bombarded by experts telling you all the must-have components for a successful business, how do you return to your inner knowing and discern which pieces are right for you for now? Karen's 3 layer mandala of business growth packs a ton of wisdom for blossoming your business. Through some radical entrepreneurial honesty, you take back the reins and choose the time, team, and tech investments that align perfectly with who you are and the mission you serve. Identify your current stage of business growth and where your soul wants to go with it Recognize resonant (and dissonant) strategies Select coherent growth initiatives with the most ROI (and ROA) Stop playing with struggle and SBOS (Shiny Bright Object Syndrome) and flow with your business as Path for personal and planetary transformation!
Karen Fritz is author of best-selling Purposetivity: The Feminine Face of Productivity for Time, Team & Tech, and The Art of Adventure. She "graduated" from corporate management decades ago, and has learned what it takes to smoothly run successful 7-figure entrepreneurial ventures while at the same time being hired to teach on five continents. Her unbridled exuberance about integrating diverse degrees and certifications – in tech and psych; quantum physics and cultural anthropology; business and ancient wisdom – lets Karen bring deep insight alive with entertaining stories and experiential activities. Always, always, always weaving in the crucial nugget of each person's unique work, Karen takes a stand for transforming the fabric of society through business as a force for good.

Lee Glickstein
Get Out of Your Own Way in Front of Groups: The Pleasure Principle of Public Speaking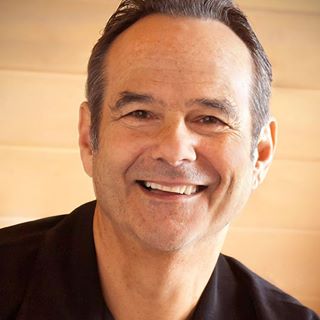 Imagine standing in front of any audience, feeling absolutely at ease and enjoying their rapt attention. Whether you have any level of public speaking anxiety or simply want to express yourself with greater impact and clarity, Lee will model and discuss the practice of Relational Presence toward speaking with pleasure and impact in effortless authenticity.
Lee will model and discuss how this relationship-oriented (rather than performance-oriented) approach allows you to express yourself more clearly in your own unique style.
Founder of Speaking Circles International, Lee is author of Be Heard Now! Tap Into Your Inner Speaker and Communicate with Ease (Broadway Books and Sounds True Audio)
A lifetime of stage fright motivated Lee to develop his simple but elegant approach to break through the epidemic fear of being fully oneself in front of groups. This process of discovery led him to a thorough understanding of the principles of authentic leadership communication through the practice of Relational Presence.
How to Go From Surviving to Thriving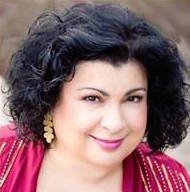 Caterina Rando is on a mission to teach, mentor and support women to be themselves, do their thing, serve their people and massively monetize their mastery. She shows women entrepreneurs how to be loud and proud about the value they bring in order to make their businesses thrive. Her clients grow, shine, expand, open themselves up to new possibilities and take their businesses further then ever before.
Caterina is all about, positivity, integrity, generosity, community, providing and massive value while uplifting others. She is a sought-after-speaker, event producer, publisher and author. Her latest book is the ABCs of Public Speaking. Learn to Think Differently from Watkins Publishing is published in over thirteen countries and several languages.
Transition to Transformation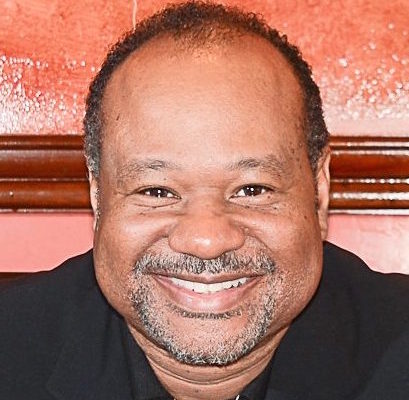 Ask yourself these simple questions…… Am I sick of not getting anywhere in my life or career? Am I always working but never accomplishing anything more meaningful than a paycheck(that's less than what I'm worth)? Am I ready for something more fulfilling and positive to come into my life? What will it take for me to finally affect real change in my life this year?
What's keeping you from… Making more money? Starting a business? Creating Wealth? Leaving a dead end job for a more rewarding and fulfilling one? Networking with people that can help you grow your business?
Let's face it, life and circumstances get in the way. Whether your dreams have been sidetracked by divorce, family tragedy, childhood trauma, kids and family, depression, drug and alcohol abuse, procrastination or circumstances beyond your control; the fact remains that you're in transition. And being in transition means that you're not moving forward; perhaps because you don't know how (I want more but I'm not sure how to go about getting it) or perhaps it's because you've become too comfortable with your current circumstances. Perhaps it's fear of change or fear of failure that's keeping you from your goals. Whatever the reason, we have a few solutions that can help your get back on track. 
Join best-selling author and radio personality Tony Wilkins as he shares his story of transitioning from a tragic childhood to a troubled adulthood and transforming into a successful entrepreneur and one of the most respected influential networkers in the Bay Area. 
Tony Wilkins is one of the premiere authorities on connecting people of influence to one another. His popular Internet radio show, Small Business Forum Radio www.blogtalkradio.com/tonywilkins reaches over 250,000 business owners globally and is one of the top business shows on the network. In Jan 2017 Tony launched The Coaching Hour Radio Show, along with The Writer's Market, Women of Influence and Start-up Showcase Radio to appeal to the needs of the individual markets. His workshops not only educate business leaders on a better way to connect, but offers valuable and available resources for building powerful business connections. He is a master networker whose global connections span multiple industries including film, media, art, literary, political, small business, start-ups and culinary; with ties to organizations like the Small Business Administration, Public Speakers Association, NAWBO, BNI, various business chambers, San Francisco City Hall and the Golden Gate Business Association. Tony is the author of several books including the best-selling Telemarketing Success for small and mid-sized Firms, The Single Person's Cookbook (www.amazon.com) and Surviving the economy. His new book, The Career Whisperer: Behind the Podium is a step by step guide for anyone looking to launch a career as a public speaker or for sales professionals looking for a better way to reach more prospects faster and easier.  Mr. Wilkins is also the publisher of Small Business Forum Magazine, Foodie Quarterly, and Podium Magazine and speaker's directory. Recently named as one of the Top 10 Media Training Speakers by socialmediaexplorer.com he runs a very successful booking service for authors and speakers and is the creator of the annual Small Business Empowerment Conference and the Women of Influence Summit. Mr. Wilkins was also recently appointed to Partnering Director of the Public Speaker's Association in San Francisco.

"Whenever I meet new people I always ask 2 questions. What do you need and how can I help?" -Tony Wilkins

Tony Wilkins
Small Business Forum Radio and Magazine
www.blogtalkradio.com/tonywilkin
Unraveling Stuckness:
The Fundamentals of Self-Befriending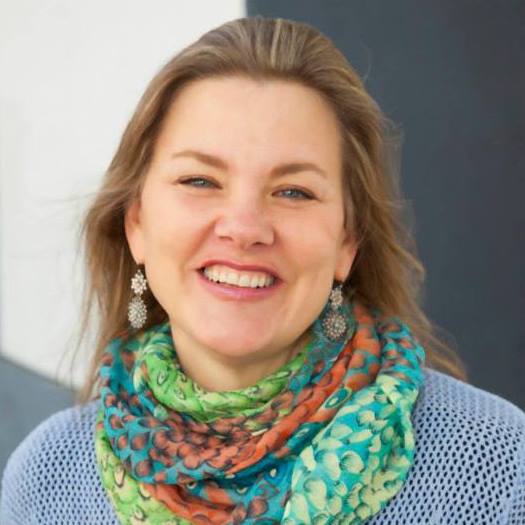 We all get stuck at one point or another, whether it happens while working on an important project, launching a business, writing a book, etc. Any number of things can trigger this all too human tendency... beginning with the self-protection mechanisms of the brain itself. Learn how disempowering thoughts and beliefs influence the behavior-patterns that get you stuck, while picking up "hacks" for being a more supportive friend to yourself... so you can get things done!
Suzanne Wordes, M.A. in Integrative Health Studies, is the creator of The Self-Befriending Habit™, coach, facilitator, and speaker on topics related to wellness and well-being. Her calling is to be a beacon for those seeking a path towards wholeness. Utilizing her natural gifts, extensive personal experience, broad knowledge base, skill set, and education, her goal is to be a catalyst for change in the lives of all who cross her path.
www.SuzanneWordes.com 
www.linkedin.com/in/suzannewordes 
https://www.instagram.com/suzannewordes/ 
https://www.facebook.com/swordes
When & Where

425 Market St
9th Floor
San Francisco, CA 94105


Saturday, June 24, 2017 from 10:00 AM to 4:00 PM (PDT)
Add to my calendar