Location
Open Secret Bookstore
923 C Street
San Rafael, CA 94901
Description
Join us for our monthly Shift Bay Area Community Celebration for Shift Network Members who live in Northern California. Let's deepen our connections, share our passions and gifts, break bread, network, and enjoy some great live entertainment together!

We are looking forward to connecting with many familiar and new faces at this week's "Shift Bay Area Community Gathering." We want to create a space for kindred spirits to really get to know each other, so this first gathering of 2013 will focus more on YOU and LESS on featured speakers. First we'll spend some time breaking bread together and networking. Then we'll be breaking into small, intimate discussion groups to focus on conversations that matter.
What collective Shifts, if any, are you witnessing since the end of 2012?

What local efforts are you involved in, if any, leading to a more enlightened society?
Then we will share some sacred music with Devaa Haley & Friends. They'll be offering "world kirtan", inspired by many traditions across the globe. Many of the songs are originals written by Devaa, using more traditional sounding chants and lyrics overlaid on top of more modern ambient grooves.
Some of the songs are rooted in the Hindu "kirtan" tradition, which uses Sanskrit mantras in a call and response format.
See the flyer below!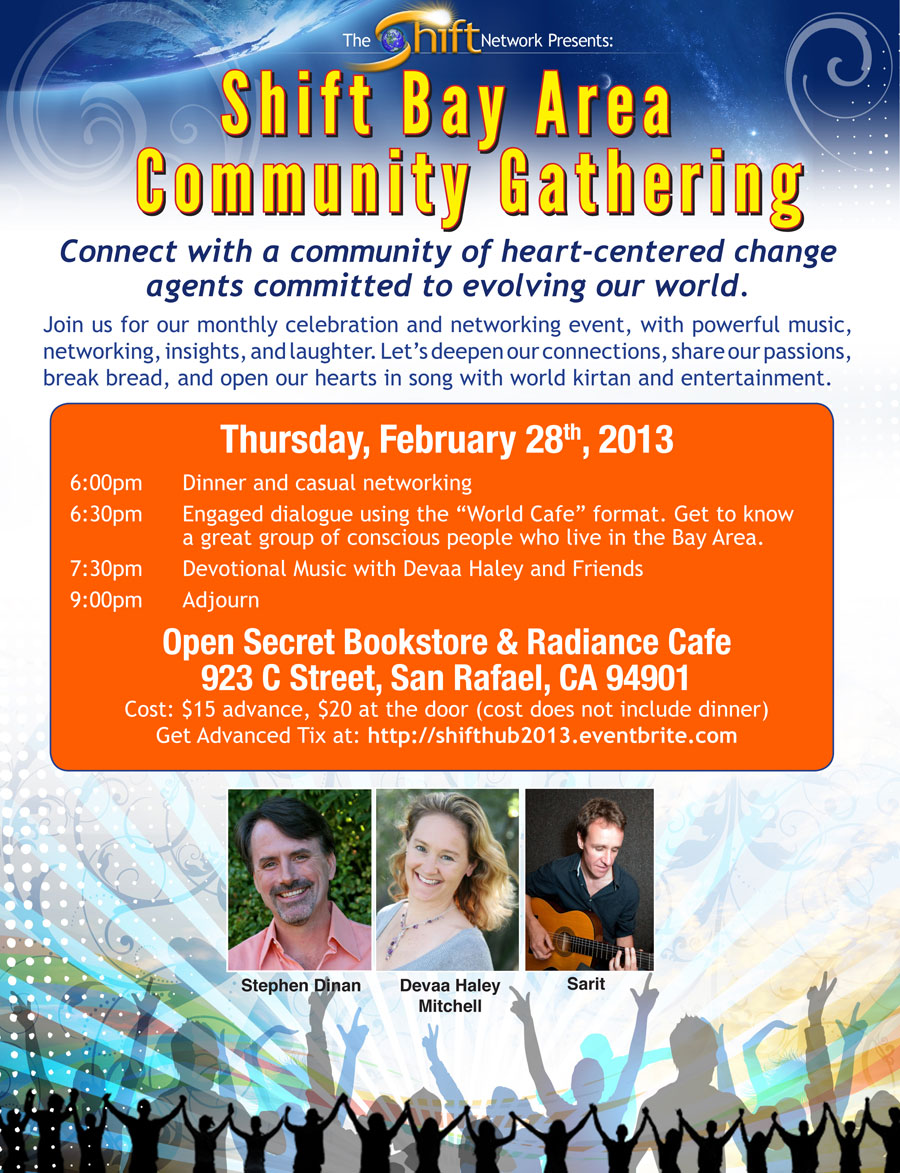 Location:
Open Secret Bookstore
923 C Street San Rafael, CA
San Rafael, CA 94901-2805
For last minute issues, please contact the venue, Open Secret Bookstore at (415) 457-4191. Alternatively, try Nadirah Adeye, Shift Network Community Coordinator, at nadirah@theshiftnetwork.com