Description
Nestlé Skin Health SHIELD invites you to attend our first ever SHIELD U community event. Join us for an evening of valuable learning, professional camaraderie and refreshments to celebrate SHIELD and the SHIELD community one year in the making!
#TouchTomorrow2Day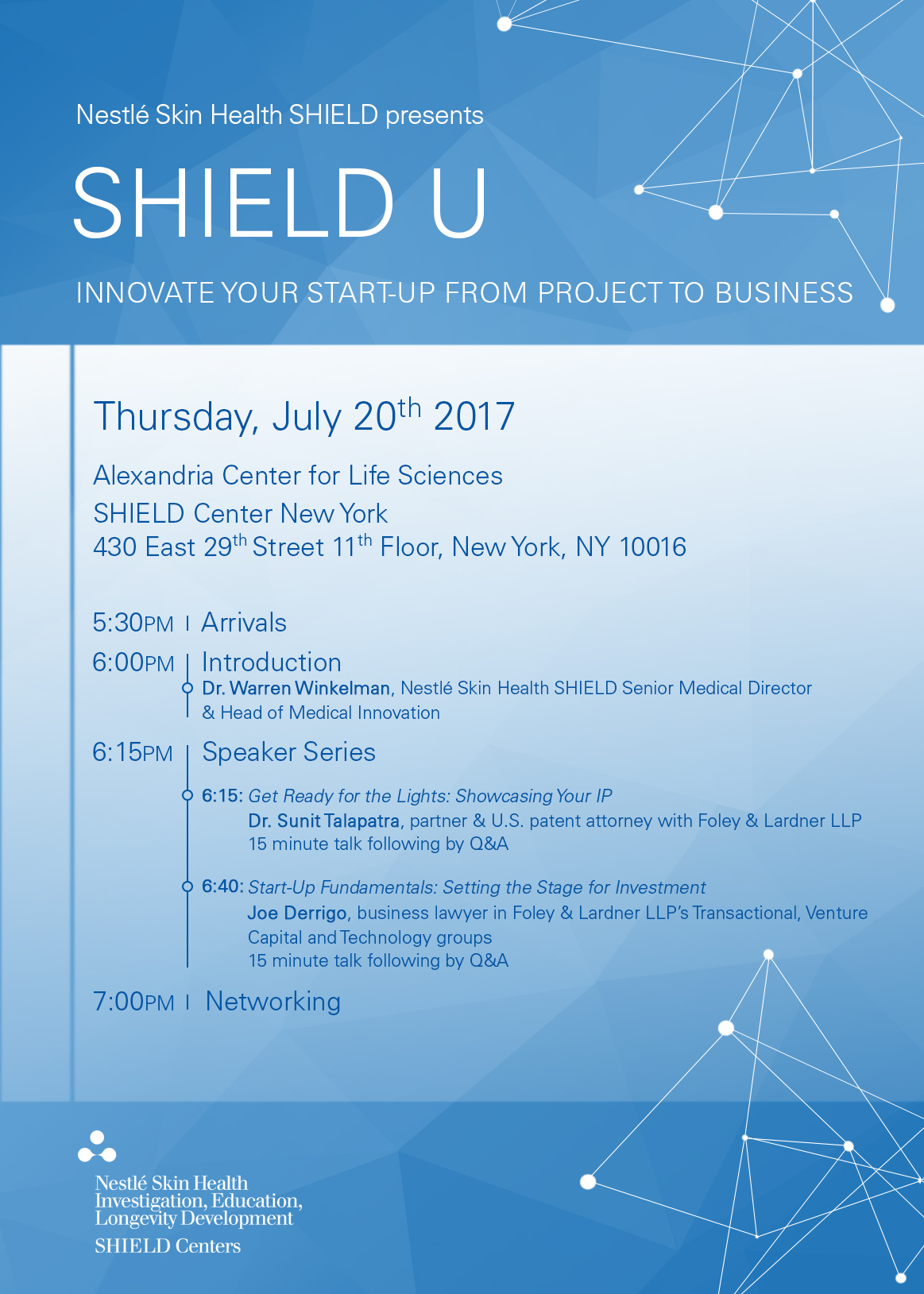 ---
SPEAKER INFORMATION
Dr. Sunit Talapatra: Get ready for the lights: showcasing your IP
Dr. Sunit Talapatra is a partner and U.S. patent attorney with Foley & Lardner LLP. Although his practice spans all technology sectors, Sunit predominantly focuses on technology companies in the pharmaceutical and nutraceutical spaces. Dr. Talapatra has successfully orchestrated numerous cases before the PTAB, including the "1st‐Ever" AIA ruling on pharmaceuticals. He takes pride in understanding the PTO bureaucracy and leveraging that knowledge to find synergies in procuring, licensing, and enforcing this client's patent rights. In addition to his law degree from The George Washington University, Dr. Talapatra holds a Ph.D. in cell and molecular biology from the University of Pennsylvania and a M.S. in biochemistry and molecular biology from the University of Chicago.
Joe Derrigo: Start-Up Fundamentals: Setting the Stage for Investment
Joe Derrigo is a business lawyer in Foley & Lardner LLP's Transactional, Venture Capital and Technology groups. He represents start-up and emerging companies in all stages of their business life cycle, from formation, to outside investment and exit. He also represents Private Equity and Venture Capital firms that regularly invest in growing companies, providing a unique perspective from both sides of the aisle. Joe was recently named one of Washington, D.C.'s Top 40 Lawyers Under 40.
#TouchTomorrow2Day