SheTek Conference NYC 2013 | Women In Entertainment

Saturday, June 1, 2013 from 11:00 AM to 6:00 PM (EDT)
Event Details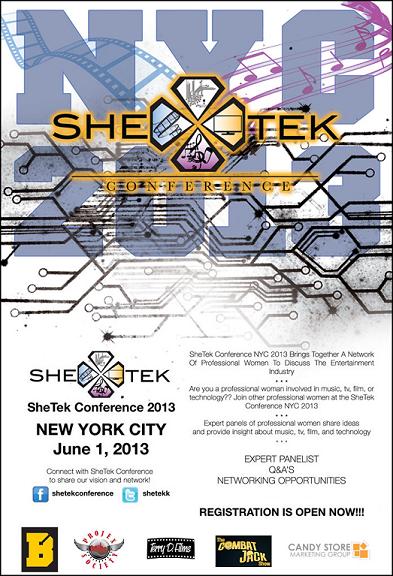 SheTek Conference launches its first annual event in New York City to highlight the careers, experiences, and insight of professional women in entertainment. Join the panelist as they discuss topics on music, tv, film, and technology and examine the latest trends in the entertainment industry. 
SheTek Conference NYC 2013 will include keynote speakers, discussion panels, and networking opportunities. Our discussion panels are exclusive to women, as a way to empower and push forward our relevant roles in entertainment. 
**The event is open to all audience members!!
Conference Schedule
11am-12pm Keynote Speaker Address -  "Women In Entertainment"
Wendy Day @RapCoalition
Founder, Rap Coalition

Consultant to Independent Artist and Record Labels

Author: " The Knowledge To Succeed: How To Get A Record Deal"

aScratchyThroat.com

MODERATOR - Fiona Bloom
Fiona Bloom @FionaBloom
Founder, The Bloom Effect

Social Media Trainer

Marketing & Branding

Event Curator


12:30 pm – 1:30 pm – "The Business of Music"
TOPICS:
DIY Platforms For Independent Artist

Artist and Manager Relationships

Legal Protection In Writing

Performance Rights & Mechanical Royalties
PANELISTS
Tiffany Mynon @TiffanyMynon
VP, Platinum Boy Music

Songwriter & Performer of Theme Song - Keyshia (Cole)& Daniels




"Family First" Reality Show on BET
Jennifer Newman Sharpe @JNSLawOffices
Entertainment Attorney, Law Offices of Jennifer Newman Sharpe

Vice President & General Counsel, Women in Music (WIM)
Cindy da Silva @daSilvaArtists
Artist Management

Clients: The Zombies, Et Tu Brucé, Ladyboi, J.Scar, Lori Martini (songwriter)

Talent Coordinator - "Love For Levon"

Stage Manager - Electric Zoo Music Festival

Blog - http://www.rantsfromtherocks.com

2pm -3pm  - "Music Streams – Distribution and Synchronization"
TOPICS:
Music Distribution & Licensing

Digital Distribution Outlets

Pitching Music To Film & TV

Role Of Music Supervisor & Music Clearances

PANELISTS
Jen Brown @Believe_USA @TheBomberJacket
Digital Marketing & Label Management, Believe Digital USA

Founder, THE BOMBER JACKET

Blog-

thebomberjacket.com
Jessica A. Sobhraj @JessicaSobhraj
Co-Chair of Fundraising, Women In Music (WIM)

Music Supervisor

Digital Media & Content Licensing Consultant

Co-Founder, Sir Groovy
 Robin Joseph
Sr. Creative Director, Film & TV - Primary Wave Music Publishing (

www.primarywavemusic.com

)

Music Supervisor – La Ti Done Music Supervision (Once in a Lullaby: The PS22 Chorus Story, Dumbbells, American Gladiators, Queer Eye for the Straight Guy)

 
3:30 pm- 4:30pm  - "Marketing, Branding & Social Media"
TOPICS:
Networking & Rules Of Engagement

Popularity & Revenue

Launching Branding Campaigns

Publicity Toolkits

Blogging
PANELISTS
Michelle McDevitt @AudibleTreats
Co-founder & President of Audible Treats, a boutique entertainment marketing and publicity company

Professor, "Promotions and Publicity"  Music Business Graduate Program (NYU)

Past and current clients include Kreayshawn, Georgia Anne Muldrow, Talib Kweli, MiKE WiLL Made It, Kool Keith, Roc Marciano, Iamsu!, Chippy Nonstop, ESPN Action Sports, Ubisoft

 

and many more.
 Cynamin Jones @CynaminJones
Founder, Cynamin Jones Branding

Brand Strategist

Clients: Multi-p

latinum music producer Dame Grease, Raekwon (Member of Wu-Tang Clan), Niamson, Joie 13, Entertainment Scoop (Media Site), Carter Magazine

m Producer Dame Grea
 Keymanna Paulas @Keymanna
Ceo, Keymanna Management LLC

Board Member for NYC Chapter of National Black Chamber of Commerce

Clients: J.Alexander Martin (EVP FUBU), ED LOVER (Radio Personality), Jayd Daniels (Music Producer)

Artist: Akillezz (Hip-Hop Artist), 40 Illuminati (Hip Hop), Priceless (Hip-Hop), Taj Munroe (Pop Artist)

Lina Gatineau (Neyo Soul Jazz)

Event Manager - National Black Chamber of Commerce Conference July 26th Palm Beach

Event Manager - Back Spin Live Show Hosted by Ed Lover,  June 24 at Highline Ballroom

5pm – 6pm - "Music Videos, Independent Films& Multi-Media"
TOPICS:
Music Video Production & Promotion On A Budget

Funding Independent Film Projects

Pitching Scripts To Major Networks

Multi-media Tools & Live Performances

PANELISTS
Roody Dorsainvil
Film Producer

Projects: "Ispo Facto" (2011), "Gummy Bears" (2010), "Her and Me" Short Film (2008), "Politikill Times" (2006), "Marvelous" (2006), "Death of Murphy" Short Film (2005)
Diedre Gary @VizualMarketing
Owner, Direct Visual Marketing (DVM)

Video Promotions & Television Programming (Columbia Records)

Manager, Urban Video Promotions (Arista Records)

Artist Projects: Tony Braxton, Akon,       Angie Stone, Maxwell, Omarion, Bobby Valentino, Mariah Carey, Whitney Houston, P. Diddy, Faith Evans
 Stephanie Serrano @Teribalanamal
When & Where

SheTek Conference
151 W 26th St
New York, NY 10001


Saturday, June 1, 2013 from 11:00 AM to 6:00 PM (EDT)
Add to my calendar