Sales Have Ended
Ticket sales have ended
Thank you for your interest in attending SheSummits 2016. Ticket sales have closed for the conference, but we encourage you to follow SheSays Denver @SheSaysDenver or for live conference posts throughout the sessions.
Sales Have Ended
Ticket sales have ended
Thank you for your interest in attending SheSummits 2016. Ticket sales have closed for the conference, but we encourage you to follow SheSays Denver @SheSaysDenver or for live conference posts throughout the sessions.
Description

The inaugural SheSummits conference is designed exclusively for women working in digital UX, design, technology, media and marketing. We'll celebrate our craft, find inspiration from women innovators and connect you with women pioneering their way through the world of digital agencies and brands...all in the intimate setting of The Space Gallery in Denver's historic Sante Fe Arts District.
Session #1: Inspiration
Melanie Taylor, Vice President of Content Strategy, Inspirato
Mary Beth Montgomery, Creative and Brand Director, Virgin Pulse
Erin Jacobsen, Senior Architect, Tres Birds Workshop
How can we capture the art of inspiration?
In a culture driven by automated algorithms, where we measure talents and abilities and constantly quantify ourselves and others, are we losing our appreciation for the art of inspiration? What inspires me may not inspire you, but can awaken us all to new possibilities -- overcoming limitations to have extraordinary experiences. In this session, our eclectic mix of storytellers will take us through their moments of inspiration, providing the tools you need to activate and capture elusive inspiration.
Session #2: Experimentation
Morley McBride,Founder, More Creative By Design, and Instructor, smith & beta
Meredith Olsen, Program Manager, smith & beta
Do you dare?
Calling all digital hackers and marketing mavens of the A/B test! Experiments can take many shapes; a new idea, setting an intention, freedom of creativity, a beautiful failure. Personal or professional, we'll try something new we've never tried before. Journey with SheSummits through ideation, discussion, and initial execution of your own decided experiments. Breakthrough your comfort zone and dare to commit to something new in your career.
Session #3: Making
Jessie Dixon, COO, Havenly
Amy Maher, Vice President of Product, Havenly
Sarah Miller, Senior Director, People & Culture, Havenly
Is making the key to thriving in digital?
Making is all the rage. But why? To thrive in a career in digital, making is the key to survival. It allows us to quickly share ideas and explore possibilities. Today's leaders harness digital technology to make, createand innovate - to not only grow but to survive. The Havenly executive team will share their story of making something from nothing and disrupting the interior design business model. They will offer participants the chance to make something that matters while learning a process that can be applied in our current job or charting a new path in our careers.
Session #4: Courage
Ale Lariu, former Executive Creative Director, Frog Design NYC, and Founder, SheSays Global
What would you do if you weren't afraid? -Sheryl Sandberg
"Having Courage" can take on a different meaning for each of us at different moments throughout our lives. As we get older, being courageous can take on a significance that can feel super heroic and even unattainable -- but we believe having courage can be an important element of our lives every day. What does it mean to be a courageous female professional in the 21st century? Share the journey of one courageous woman and learn tangible steps to being (even a little more) courageous every day.
Agenda

12:30 pm – 1:30 pm: Registration & Coffee Bar
1:30 - 5:30 pm: Inspiration, Experimentation, Making & Courage
5:30 pm – 7:00 pm: Cocktail Party
Tickets
General Admission: $50
VIP: $125
A group discount is available for 4+ attendees. Please contact denise.horton7@gmail.com for promo code.
Refund plicy: see below
Location: The Space Gallery
The Space Gallery showcases contemporary artists using new and innovative media and surface treatments. The gallery exhibits painting, sculpture, ceramics, photography and print work from emerging, mid-career and established regional and national artists.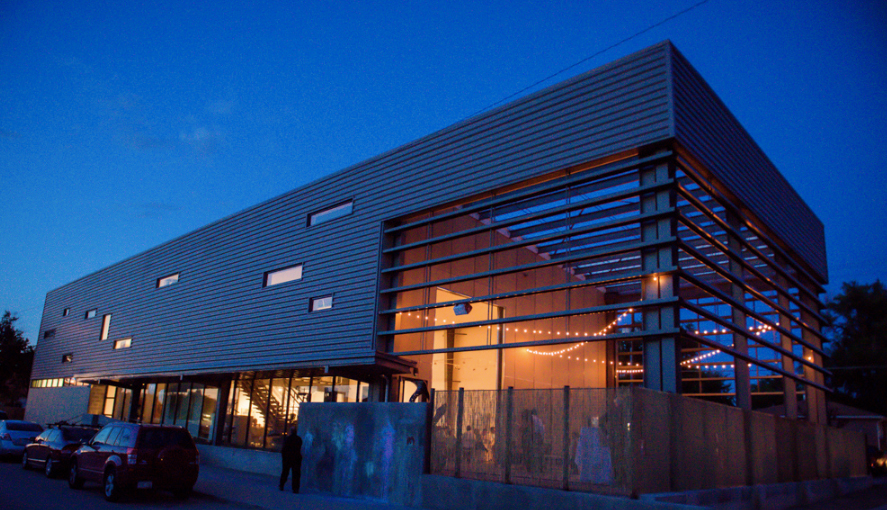 Refund Policy
Cancellations received before October 10th, 2016 are refundable less a $25 pass along charge back fee. Cancellations received after October 10th, 2016 are non-refundable. Please email shesaysdenver@gmail.com to request a refund.
No-shows will be charged the full conference fee. However, all registrations are transferable to other registrants. Just email us (shesaysdenver@gmail.com) before October 18th and we'll have a badge may be waiting for the new registrant.
We're doing our best to offer a great value to our attendees but due to the unpredictability of live events, we are not able to offer any refunds or partial credits post event – as a result of speaker cancellations, weather challenges or other issues outside of SheSays Denver's control.