Join us to create your vision board, develop an actionable plan, and talk to professionals who can guide your next steps!
About this Event
Ladies, are you ready to bloom in 2019?
During this two-part event, you will have the opportunity to shop, learn, and network with women who share some of the same aspirations that you have in the new year and even have the expertise to kick-start your goals. Let's put your vision on paper and create an actionable plan to create the life you love. You cannot miss out on this empowering event, She Still Blooms.
Here's a look at the event schedule:
Part-One (12 pm-1:30 pm)
Create your vision board and enjoy a light lunch. Vision board supplies will be provided, but feel free to bring items to truly personalize your board. NO glitter or confetti.
Part-Two (1:30 pm-4:00 pm)
Network, hear success stories, and participate in interactive activities including the following: guided visualization, goal-planning worksheets, and group discussions with industry experts who can guide you toward achieving your goals. Some of the discussion topics include home buying, saving money, getting fit, starting a new business, and creating a blog. We'll close with a champagne toast!
*You may purchase a ticket for only part-two of the event if you've already created your vision board, but you're eager to take action.
Get your discounted early-bird ticket now. Limited number available.
Let's flourish. Let's thrive. Let's bloom.
Should you have any questions, contact Atiya Bloom at Info.BloomBlogger@gmail.com.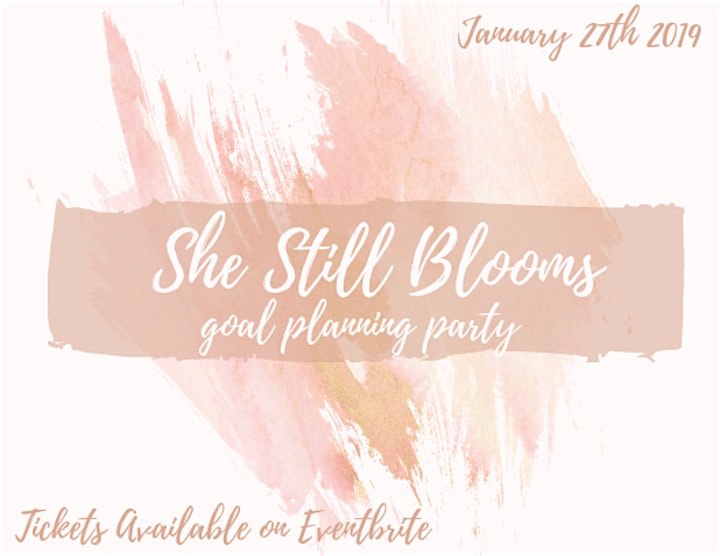 Organized by: Atiya Bloom -lifestyle blogger and entrepreneur
About our speakers and featured professionals:
Panelists
Workshop Leaders
Starting a Business: Charlene Sanders, Serial Entrepreneur
Homebuying: Tabitha Hippolyte, Atlanta realtor
Financing: Keonna Cole, Atlanta lender
Fitness: Coco-Chanel Jones, Fitness Professional
Self Care: Michelle White & Anaston Smith, Self-Care Gurus
Starting a Blog: Atiya Bloom, Lifestyle Blogger & MicroInfluencer
Building a Brand: Ana Benzan, Lifestyle Blogger & Influencer
Personal Finance: Chelsea Phillips, Financial Coach
Pursuing your Passions: Joanna Augustin, Content Developer & Entrepreneur
Event Sponsors:
BeRooted Bodycare
and more!