SheSays presents Digital Strategy Course

Friday, November 18, 2011 from 9:00 AM to 5:00 PM (EST)
Event Details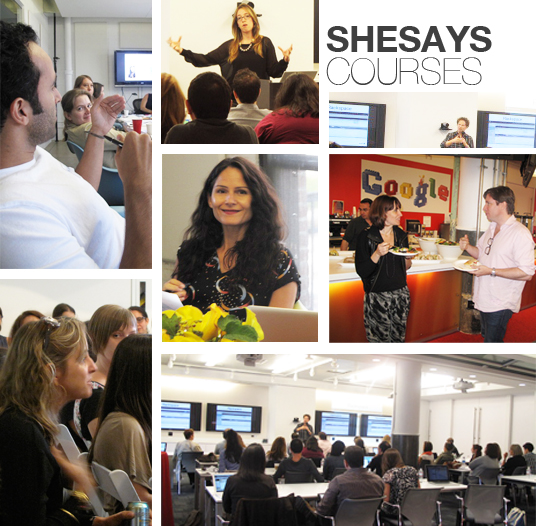 What is this course?
Everyone's talking about "digital strategy" these days. Some believe it doesn't exist. If you're one of these people, think of this course as 'strategies to produce great digital work.'
Whichever way you look at it, we like to keep things practical, so we'll focus on the 'how' rather than the 'what'. We'll teach you how to get things done as opposed to talking about the internets.
We'll teach you things like how to use digital tools to mine for insights, what a 'digital-friendly' brief looks like and the best way to collaborate with digitally minded creatives. 
And because all our teachers are award-winning professionals who still work in the industry, they know what they are talking about.

Who is this course for?
Men or women who know about digital and have a strategy or comms planning background.
This course is also ideal for people who have little or no digital strategy experience and want to get to know the space. This is not really for hard-core digital strategists who want to learn more - unless you just want to come and meet some great people.
What we'll cover
1/ Introductions 
What do participants expect to learn about digital strategy  today? (30mins) 
2/ What is digital strategy and why agencies need it? (45mins) 
How does a digital brief look like? How and why is it different from a traditional brief?  The focus here is on mining digital data to come up with insights using hypotheses based on a specific theoretical framework and  the '5 pillars of thinking' approach as a spring board.
3/ Case studies of successful digital strategies (45mins)  
We'll use case studies to show that the answer to clients' challenges is not always advertising: sometimes it's a digital product, a community activation, an app. Then, we specifically talk about the briefs for these projects. What were the insights, what did the brief look like for these projects? 
4/ Workshop - how to write a brief by testing hypotheses and using digital tools to mine for insights (1h)
5/ What is the role of digital strategy within the agency? How does it fit with the creative department? How should strategist work with creatives? How is this collaboration different than in the past and why is this important? (45 minutes) 
6/ How to sell digital strategy to the client and how to charge for it? How is this different from selling a "regular" campaign? How to inspire clients to buy into a digital strategy and allocate their budgets differently than for traditional campaigns? (45 minutes) 
7/ Discussion about the challenges that workshop participants perceive in implementing what they learned here. (30 minutes) 
Instructors

 Ana Andjelic 
Ana works as a Digital Strategist for Droga5 in NYC. In the past, she worked at HUGE, Inc., Razorfish, The Barbarian Group, AKQA and Wunderman for clients Citibank, Nokia, Toyota, CNN, Target, Kashi, Maybelline, Unilever, and Burberry. Ana often writes about digital marketing for Ad Age, and shares her thoughts on her blog, I [love] marketing. Most recently, Ana presented at the Hyperisland Masterclass, CATFOA series, and Miami Ad School. She was also one of the judges for IAB Awards. Ana holds a Ph.D. in Sociology from Columbia University, where she wrote a dissertation on digital branding.

Farrah Bostic
Farrah Bostic is a strategist and creative technologist with expertise in social media and mobile utilities. She has been a copywriter, planner, brand strategist, and an innovations lead, working for some of the most creative agencies in the world (Wieden + Kennedy, TBWA\Chiat\Day,
Mad Dogs & Englishmen) on some of the most powerful brands in the world (Apple, Microsoft,NBC-Universal Television's Syfy Channel and USA Network). She made innovation her focus as a partner at Hall & Partners, a brand and communications consultancy, and as SVP, Consumer Immersion in the Innovation Center of Excellence at OTX.

Alessandra Lariu
Ale is a co-founder of SheSays and has worked as a Creative Director at McCann NY, Agency Republic in London and Framfab/LBi, also in London. In 2010 she was picked by Fast Company magazine as number 29 of 100 most creative people in business beating the co-founder of FourSquare.
Her work has won various awards like Cannes Cyber Lyons, OneShow Interactive, D&AD and NY Festivals. Ale also teaches the prestigious MasterClass for HyperIsland, Boulder Digital Works and Miami Ad School.
Why SheSays?
SheSays has been running courses in NY since the beginning of 2011. Our courses have been consistenly sold-out with incredibly positive feedback from its participants. But you don't have to take our word for it. Just check out what our past students have to say:
"Great mix of creative, technical, top level and deeper dive."
Jeremy Gelade -  Deutsch NY
"Everyone was very thoughtful and generous.  So happy to know people like you are in this world."
Anjali Bhargava - freelance producer
"Having attended other digital learning events, I found this info unique and touching new points and insights."
Paddy Giordano - head of production DraftFCB NY
"Very informative and well rounded.  The amount of subjects covered was impressive.  A great resource for beginning to understand digital production."
Anonymous
When & Where

thelab
637 West 27th Street
New York
New York, NY


Friday, November 18, 2011 from 9:00 AM to 5:00 PM (EST)
Add to my calendar