Description
Summit + Expo | Saturday, September 15 | 9 a.m. - 4:30 p.m.
New York Life | 801 N Brand Blvd, Suite #350 | Glendale, CA 91203
Happy Hour | 5 p.m. - 7 p.m.
Giveaways and gift bag sponsorships + exhibitor tables available
Call (323) 920-9294 or email Events@JSquaredComm.com
Visit www.ShestheBossEvents.com for more info!
--
** NOW AN OFFICIAL GLENDALE TECH WEEK EVENT! **
--
Marketing expert Jessica Reveles presents She's the Boss™ Events Summit + Expo hosted by New York Life and sponsored by J Squared Communications, Warm Marketing and Terica Wright Transformation Life & Mindset Coaching.
Our mission is to provide a platform for women entrepreneurs to be seen, heard, celebrated and embraced, and to foster meaningful connections among women in an effort to empower and support professional growth.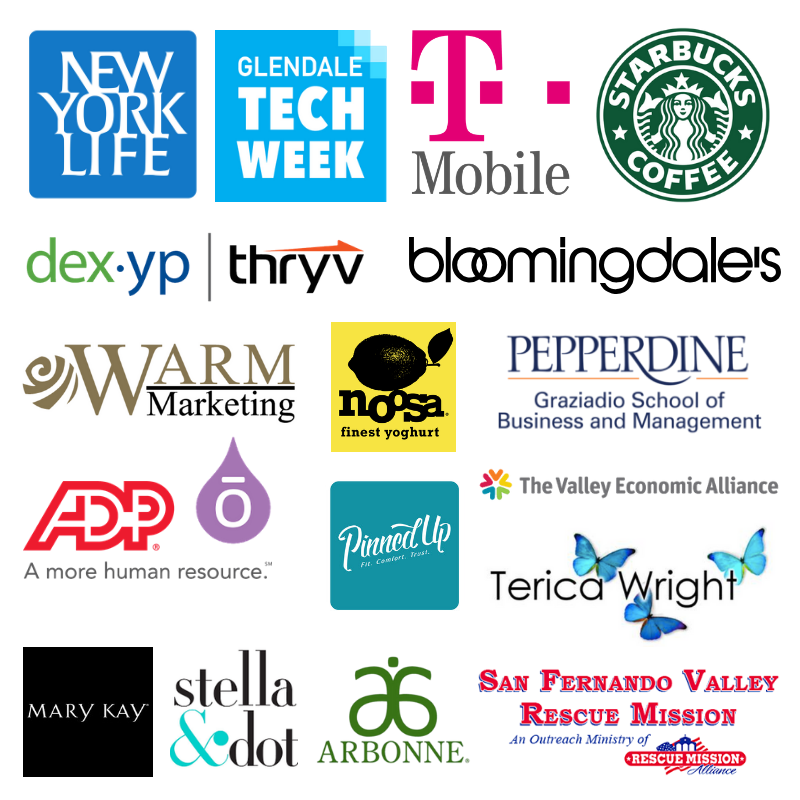 She's the Boss™ Events is a quarterly networking + pop-up shop event series curated and run BY women in business FOR women in business. Speakers and presenters are experienced and savvy entrepreneurs focused on empowering women to succeed in their businesses, careers and daily lives.
Join us as we embark on our newest venture--She's the Boss™ Events Summit + Expo--where we extend our interactive program to include an inspiring keynote, diverse panels, hands-on workshops and more, all tailored to support the growth and success of women in business. Women like you who are bossy and proud--business owners, influencers, freelancers and aspiring entrepreneurs. This is our time, our community and our opportunity to have it all--yes, we said it!
Come be a part of a movement to wake us up, shake us up and set us on the path to bigger, better #BOSSGOALS
--
Feat. Special Guests & My Gal Pals...
Julia Szkiba | Warm Marketing
Vivian Geffen | Creativity Muse
Camille McKinney | Leveraged Leaders
Marty Laff | Laff Financial
Charlotte Gray | The Team Gray
Susan De Robertis | Money Mindset Mastery
Jill Lublin | PR Strategist & Author
PHOTOGRAPHY
Professional headshots by Blackwell Studios
$15 deposit, $85 total | 2 retouched images + 2 additional
HEALTH + WELLNESS
doTERRA
Arbonne feat. Martha Winterhalter
FASHION + BEAUTY
Stella & Dot feat. Elisa Ellis
Pinned Up Bras
Recycle 2 Riches
Mary Kay feat. Jade Bossier + Brittany Barlog
All Things Tall
LIFESTYLE
Lovepop Cards
BUSINESS
New York Life
Thryv
Yelp

CAUSES
San Fernando Valley Rescue Mission
San Fernando Valley LGBT Community Center
Connect with like-minded women business owners, freelancers and aspiring entrepreneurs as we come together in camaraderie and community in the spirit of sisterhood.
Make sure to bring plenty of business cards and your best elevator pitch--you're sure to rub elbows with some serious boss babes!
--
AGENDA
9 a.m. - 10 a.m. | VIP Mastermind + Mimosas and Breakfast w/ Jessica Reveles + Select Presenters
9 a.m. - 11:30 a.m. | Doors open, nosh and network! | Expo
10:30 a.m. - 11:30 a.m. | Professional headshots (optional)
11:45 a.m. | What Bootstrapping Your Business Really Looks Like | Opening keynote

12:05 p.m. - 12:15 p.m. | Reflection activity

12:15 p.m. – 1 p.m. | Lunch, networking | Expo open
1 p.m. – 1:30 p.m. | Going into Business without Going Broke | Conversation + Q&A
1:30 p.m. – 1:45 p.m. | Movement activity
1:45 p.m. - 2:45 p.m. | Breakouts
OPTION 1 | Camille McKinney | Self-Awareness, Leadership + Entrepreneurship: The Tremendous Impact of Emotional Intelligence on Your Success
OPTION 2 | Julia Szkiba | The Top 10 Mistakes Entrepreneurs Make (And How to Avoid Them)
OPTION 3 | Charlotte Gray | Fear Fights to Be Right, But You Can Win!
OPTION 4 | Jill Lublin | How to Use Publicity to Grow Your Business
OPTION 5 | Jessica Reveles | How Service Based Businesses Can Leverage Yelp Advertising
3 p.m. – 3:20 p.m. | Closing activity
3:20 p.m. - 3:40 p.m. | Closing message
3:40 p.m. - 3:50 p.m. | Giveaways
3:50 p.m. - 4:30 p.m. | Open networking
5 p.m. - 7 p.m. | Happy hour!