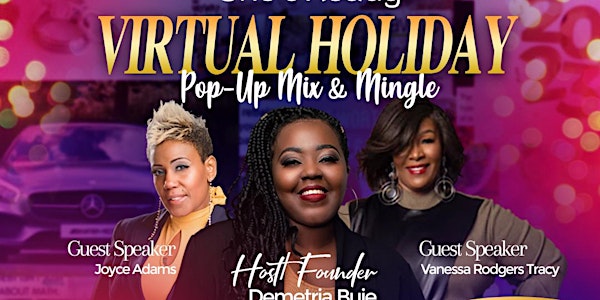 She's Ready Virtual Holiday Pop-Up Mix & Mingle
You Is She, & She's Ready For It All.
About this event
Woooo can you believe that 2022 is almost gone?
Don't look sad or depressed. Your prayers have been answered and they are YES and Amen.
God desires the best for you.
Who are your friends?
Who do you talk to and tell your goals, dreams, and vision to?
Renew your mind & get ready for healthy relationships , healthy living, successful businesses, ministries and transitioning from being single to married (single queens), strengthening of marriages (married queens). This time you won't be distracted, feel lonely or unfulfilled.
Who told you, you couldn't? Who told you, you couldn't have it all. Experiencing
joy, a successful caring husband and more. If someone is intimidated by your goals that sounds like a personal problem to me.
Join me for 'She's Ready' October 15, 2022 from 5pm-7:30pm. We are going to make sure you are ready and end 2022 with the manifestation of all you prayed for.
There will be a
📍Special Guest Speaker
📍Party & Dancing
📍Goal glass picture
📍Not only writing the manifestation, but seeing it.
📍Writing & Speaking
📍5 things a husband should possess
God said that he's able to do exceededly abundantly above all that we can ask for or imagine. So, whatever it is that you are thinking and imagining He's able to do above that and He will do it. But, do you believe? Do you see it in your present situation? Sometimes you have to leave your present situation and go into your future by going to the Spiritual Realm.
Yes, other people can see the best in you! Yes, God see's the best in you, but can you see the best in yourself. Remember, it starts with you your belief system and how you see your life. What do you see when you wake up in the morning? You have rest in God and jump into everything. Push pass your FEARS so that you get everything you desire.
Get ready for a night of restoration where you'll be restored. It will be a night to believe and see the manifestation of the word spoken over your life come to fruition.