JOIN ME FOR A NIGHT OF CANDID CONVERSATION, WITH SISTAS FROM ALL OVER SHARING, LEARNING, AND REVEALING WHAT OUR TRUE WORTH MEANS TO US. KYW!
About this Event
She's Pri$less Sista Circle is a platform where women from all backgrounds can have a safe place to share, embrace, grow, and learn from one another's experiences, challenges, and triumphs. As the facilitator and coach, I will lead with the Heart of Naomi, share Love like a big Sista, and offer the wise insight of a Cool favorite auntie.
Invite your sista friends and loved ones to join this unique virtual event and gain access to this dope group of Pri$less Sistas. It's a free monthly event where we discuss topics that are relevant to our personal development, knowing our true worth, and learning who we are as women when all the "stuff" is taken away and it's just you left standing.
Get ready for our first pajama fashion show with a prize to the best outfit - so make sure you turn your cameras on, giveaways, fun, good conversation, and a sisterhood bond that can't be broken. Grab a glass of wine or your favorite non-alcoholic beverage as you snuggle in your favorite pajamas in the comfort of your own home and let's enjoy some sisterly fellowship as we grow together. You MUST register to be included.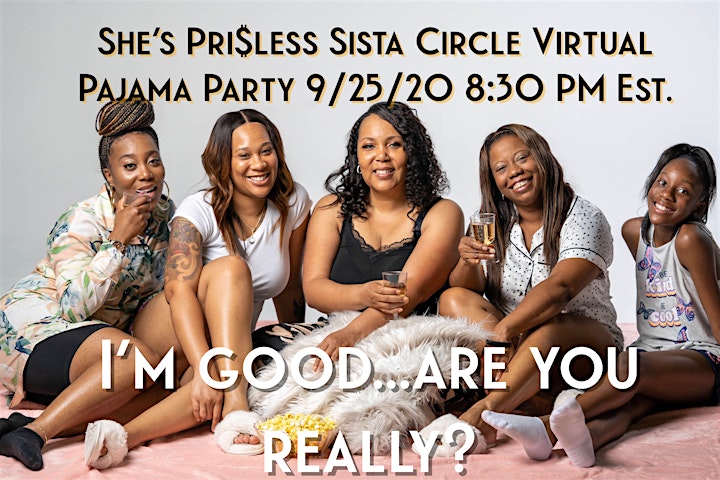 ATTENTION: THE DATE FOR THIS EVENT IS 9/25/2020 AT 8:30 PM EST. A LINK TO JOIN THIS VIRTUAL EVENT WILL BE SENT ONE DAY PRIOR TO THE EVENT AND AGAIN 2 HOURS BEFORE THE EVENT.