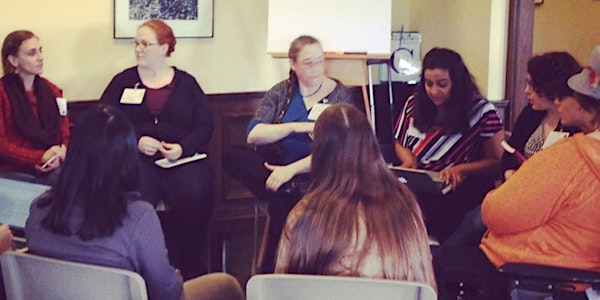 She's Geeky Summer 2020 - Online
She's Geeky is emerging out of hibernation. Our first convening will be a ½ day event online that uses Open Space Technology.
About this event
She's Geeky is emerging out of hibernation.
We were already thinking about this and then COVID hit and now there are global protests unfolding as part of the Movement for Black Lives.
Women's voices in STEM fields are needed more than ever as we feel into the present and look towards the future.
Our first convening will be a ½ day event online that uses Open Space Technology to support the community having the conversations it wants and needs to have at this time.
August 8, 2020
9am - 2pm PDT / 12pm - 5pm EDT
Since we last gathered in person we have had the #MeToo Movement, #TimesUp, several more uprisings related to Black Lives Matter.
Change is happening and we are seeing the next level of reckoning within the technology industry about its racism and sexism, and there is much more to do.
Our hope is to jumpstart and cultivate some ongoing conversations around critical topics and issues. We wonder what will emerge from his ½ day event.
We are excited to expand and align with you on the day of the gathering and cultivate the strength and resilience we need.
Together, we start the day with an opening circle where the agenda is co-created and then three sessions within the open space followed by a closing circle.
Here is a list of potential topics that women who have registered said they would be interested in attending or hosting sessions about. The actual agenda is created LIVE "in person" the day of the event in the first 30 min so don't be late.
Future of money/ currencies
mechanical engineering
design
the intersection of art
design and engineering
creativity
design thinking
electric vehicles
implemented & witnessed practices for inclusivity in their working communities
DLT in Education
Conflict, Equity, Nonviolence
Surveillance-resistant organizing
mesh networking
ham radio for the resistance and mutual aid
free food fridge projects in the sfbay area
optimizing sleep
Making friends during coronavirus
DevOps / SRE related & tools
kafka
sw architecture
EQ
tiny houses
small houses
Cohousing
net zero energy houses,
structures,
structural engineering
Embedded Linux
Leadership
how communities work together when we can't meet in person
how the innovation financing infrastructure preserves white male dominance and propose a new infrastructure that will benefit women and BIPOC in tech innovation alike.
workers cooperatives
Responsive design techniques and patterns as a best practice.
user experience research
getting underrepresented groups into STEM
dTech
intersectional social and environmental justice
and Science & art integration!