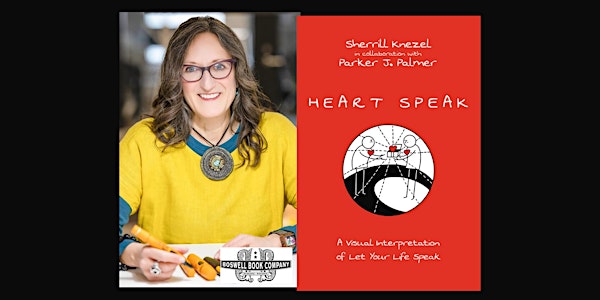 Sherrill Knezel, author of HEART SPEAK - an in-person Boswell event
Sherrill Knezel, author of HEART SPEAK - an in-person Boswell event
When and where
Location
Boswell Book Company 2559 North Downer Avenue Milwaukee, WI 53211
About this event
Boswell is pleased to present an event with author Sherrill Knezel, author of Heart Speak: A Visual Interpretation of Let Your Life Speak. Please note that Parker Palmer will not be present at this event.
With more than seventy heartfelt images to go along with excerpts from Parker Palmer, Heart Speak pairs these images with brief personal reflections. Readers are invited to explore and embrace both their own limits and potential, as they listen to their inner voice and courageously follow its lead. Whether the words of Let Your Life Speak are familiar signposts on the roads you have traveled or they are new to you, you will enjoy this opportunity for reflection and discernment in regard to your life, community, and calling.
From Monisha Vasa, psychiatrist and author of Salve: Words for the Journey: "Heart Speak is full of beauty and truth, and it will no doubt reassure and encourage readers to trust the wisdom that rests within their own hearts. This book is a steady presence on my nightstand, one whose pages I return to over and over again when I need a reminder or reassurance that, most likely, I am on the right path."
Sherrill Knezel is a graphic recorder, an illustrator, and an art educator who works, teaches, and lives in Wauwatosa, Wisconsin. She is the founder of Meaningful Marks LLC, a graphic recording/illustration firm, and a contributing author to two books: Stories in EDU and Social Action Stories. She is the 2018 and 2019 Excellence in Visual Journalism Award Winner for her work in the Milwaukee Independent.
Purchase your copy of Heart Speak here. Signed copies and personalization available on pre-orders. Please note that signed copies will not be shipped until after the event.
*