Description
Advocate Sherman Hospital & Hope For The Day are proud to announce:
Sherman Gives Hope! A free community event honoring world suicide prevention day with commemoration and inspiring education!
All proceeds will directly support Hope For The Day's proactive suicide prevention programming in the Elgin community.
In America, suicide completion rates have surged to a 30-year high. Suicide is a mental health crisis, it can be preventable. In America, over 44,000 people die by suicide every year, averaging 121 suicide completions each day. The primary obstacle to suicide prevention is the silence of stigma.
We can reduce suicide rates! Proactive suicide prevention is about starting the conversation on mental health before it adversely affects our lives. Hope For The Day provides outreach and mental health education that can empower communities to take action
Sherman Gives Hope! Is a celebration of life, and community!
Event Details: All activities take place at the geothermal Lake [Arrival Instructions below]
6:00 AM || Sunrise Yoga: Self Expression Is Self Care
Arrive promptly at 6 AM to join Gloria Nash from Advocate Good Shepherd in a tranquil yoga warm up to greet the sunrise. All skill levels/ no prior experience needed welcome! Bring a mat or towel as the activity will be outdoors.
7:30 AM || Opening Ceremony: IT'S OK Not To Be OK
The general public will gather at the starting line of the walk for the opening ceremonies that includes a live music performance by Advocate Sherman Cancer Care nurse Crystal Michels and Amanda Castillo. A keynote address by event facilitator Advocate Sherman Team member and HFTD surrogate Gabi Vargas, and educational outreach by Hope For The Day.
8:00 AM || 1 Mile Walk: Prevention Starts with A Conversation
As a community united we will walk 1 mile around the beautiful geothermal lake as a symbol for those who struggle in silence that they are not alone, We Are In This Together! There is hope if they reach out for help.
9:15 AM || Planting Together For Hope Commemoration: Not just surviving, thriving!
Participants can contribute to a special touchstone commemorating the 121 suicide completions per day in America by planting 121 bulbs on the Sherman grounds through a donation by Gabi Vargas of perennial flowers. Once planted, they will re-grow each spring and symbolize enduring hope, resilience, perseverance and all the qualities we strive for in overcoming challenges in our lives.
Post Walk Activities Include: Free breakfast refreshments, a space for cool down yoga, more music, and time for commiseration.
---
ARRIVAL INSTRUCTIONS:
Sherman hospital is a gorgeous sprawling campus. This map will give you the best arrival instructions.
(1) Arrive from Randall Road, and stay to the right selecting the SOUTHWEST PARKING LOT.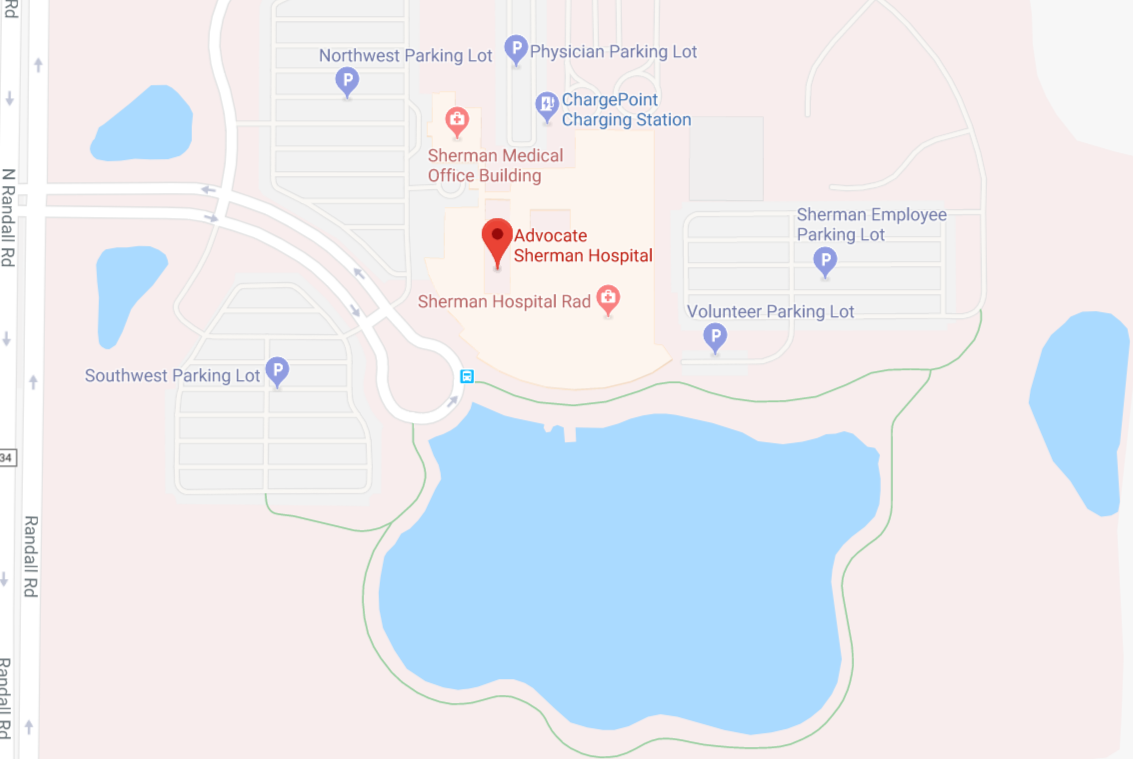 FAQs
How can I contact the organizer with any questions?
All queries can be sent to: Events@HFTD.Org