Shenzhen Investing in North American Innovation Conference 2018 (November 2...
Description
Presenting

INNOVATIVE COMPANIES

to Institutional

and Industrial Investors in the China's Greater Bay Area

医疗保健、生物技术和生命科学

化妆品、保健品和创新食品

人工智能、AR / VR、机器人技术、金融科技

清洁技术和能源

The Shenzhen Investing in North American Innovation Conference 2018 will connect global innovative companies with the growing opportunities presented by China's growing capital markets and vast economy.

With the PRC's goal of transforming southern China into a global technology centre, Chinese firms have been empowered and encouraged to invest in foreign innovation. Bring your team to China to present and network with Chinese industry and institutional investors focused on outbound investments, licensing and partnering opportunities.
2018年,深圳,GCFF大湾区北美创新投资会展,优质的国际技术、品牌寻路中国市场,中国投资者可与北美公司高管面对面。
粤港澳大湾区(大湾区)是国家发展蓝图中的重大战略部署,旨在推进广东省九个城市与香港、澳门的深度合作,促进该地区的融合发展,以打造一个协同发展、互联互通,可与旧金山、纽约和东京等湾区相媲美的世界一流城市群。
加拿大驻广州总领事馆

加拿大不列颠哥伦比亚省政府贸易投资办公室——华南区

方正香港金控
为什么投资海外?
纵观国内外环境,中国对外投资合作仍处于重要战略机遇期,在传统增长引擎对经济的拉动作用减弱、新的经济增长动力正在形成的关键时刻,只要我们认真贯彻落实十九大精神,创新对外投资方式,促进国际产能合作,形成面向全球的贸易、投融资、生产、服务网络,加快培育国际经济合作和竞争新优势,对外投资合作仍有巨大的发展空间,保持稳中求进、有序发展的态势。
——《中国对外投资合作发展报告 2017》
中国的资本已经开始在国际上发挥越来越重要的作用。无论是BAT三企业巨头还是与投资机构,它们都在积极部署海外市场,提高其国际竞争力。以例如刚好位于大湾区的科技巨头腾讯为例,其海外投资的数量和金额都在逐年增加。
向总部位于蒙特利尔的Element AI投资了1.02亿美元;
向位于多伦多的AI机器人制造初创公司Kindred Systems投资2800万美元。
通过这些投资,腾讯获得了革命性的新技术,然后与现有资产组合整合。这样,数百万用户可升级为潜在的全球客户和数据来源,也会发挥协同效应,提升价值。
"中国企业对北美洲直接投资总额将会保持增长,但增速放缓,投资行业将日趋广泛且结构不断优化,投资并购将回归理性,平稳发展。中国企业在北美地区的投资领域将越来越广泛,涉及高端制造业﹑金融业﹑能源﹑电子信息﹑生物医药、科技创新、服务业等多个领域。"
——《中国对外投资合作发展报告 2017》
参加2018年GCFF大湾区北美创新投资会展,了解如何获得此类北美投资机会,机会难得,不容错过。
1. 找到适合在中国市场进行商业化的新技术
2. 找到适合整合进入现有项目组合的项目
3. 在一些潜在独角兽的早期发展阶段,就找到它们并投资它们
4. 了解海外投资或收购的最新策略
5. 了解西方国家关键创新领域的最新趋势
在过去十年间中,加拿大已成长为中国的主要创新来源 —— 包括腾讯和华为在内的中国主要科技公司正在加大对加拿大公司的投资,这些公司涉及电动汽车、和人工智能等新兴各种业务。这证明了加拿大的科技公司吸引了越来越多的中国风险投资公司的兴趣。
中国的风险投资公司和科技巨头越来越注意到加拿大在的技术领域,人工智能、以及清洁技术及和生命科学等领域均具有不菲的研究实力,都吸引不少兴趣。 除了研究能力之外,加拿大科技公司而且与美国同行相比估值较低,这使得它们因此对中国投资者具有很大的吸引力。,2017年,加拿大涉及中国风险投资公司的技术相关交易数量在2017年增加了一倍多,达到9宗,价值总计1.8亿美元,远高于2016年总计价值约5000万美元的4四笔交易。
WHAT IS THE GREATER BAY AREA?
Shenzhen is a rising star in its own right, but it is also part of the Greater Bay Area (GBA), which is comprised of 11 cities that are part of a regional economic development plan focused on growing the region by leveraging their competitive advantages to complement each other. The GBA (often referred to by the Chinese as 9+2) consists of 9 mainland Chinese cities and two special administrative regions, Hong Kong and Macao. For example, Shenzhen takes advantage of its strength in technology and innovation, their next door neighbour Hong Kong, takes advantage of their leading international financial services experience, and cities like Dongguan and Guangzhou leverage their manufacturing skills. According to China Centre for International Economic Exchanges, the GBA is estimated to have a total economic output of USD $4.62 trillion which will make it the world's largest bay, greater than both the Tokyo Bay Area and the New York bay Area.
挑选参展公司的标准
适合中国市场、即将进入商业化阶段或处于早期商业化阶段的公司;
寻求中国的合资合作伙伴、授权合作伙伴或战略合作伙伴
经验丰富的管理团队愿意在中国开展业务
北美有竞争力的项目
会展形式
公司报告
商务交流和公司展览
预先安排的私人会议
全方位中英双语支持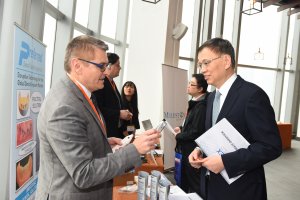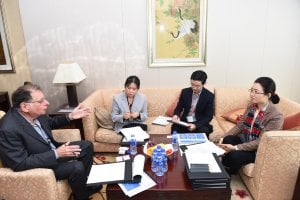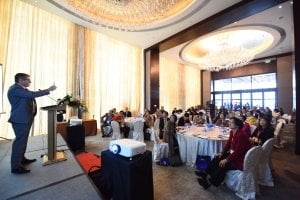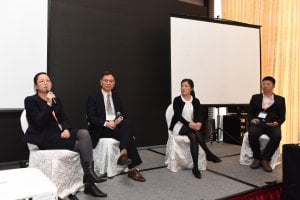 国际金融投资博览会(GCFF)由北美投资讯息有限公司主办,是北美和中国非常著名的系列双语金融会展。国际金融投资博览会创始于2000年,旨在提供一个世界级的平台连接亚洲和北美的金融市场。参会嘉宾既有来自投资机构和金融机构的高管,也有对新的投资理念和机会感兴趣的高净值个人投资者。
我们在北美和中国市场都拥有广泛的人脉,也拥有全球资本市场的专业知识,因此国际金融投资博览会有强大的金融资源基础,能够组织形式多样的金融会展助力企业发展,帮助金融机构、私营企业、上市企业和各类投资者之间的交流。
北美投资讯息有限公司(NAI Interactive Ltd)及国际金融投资博览会(GCFF)的部分客户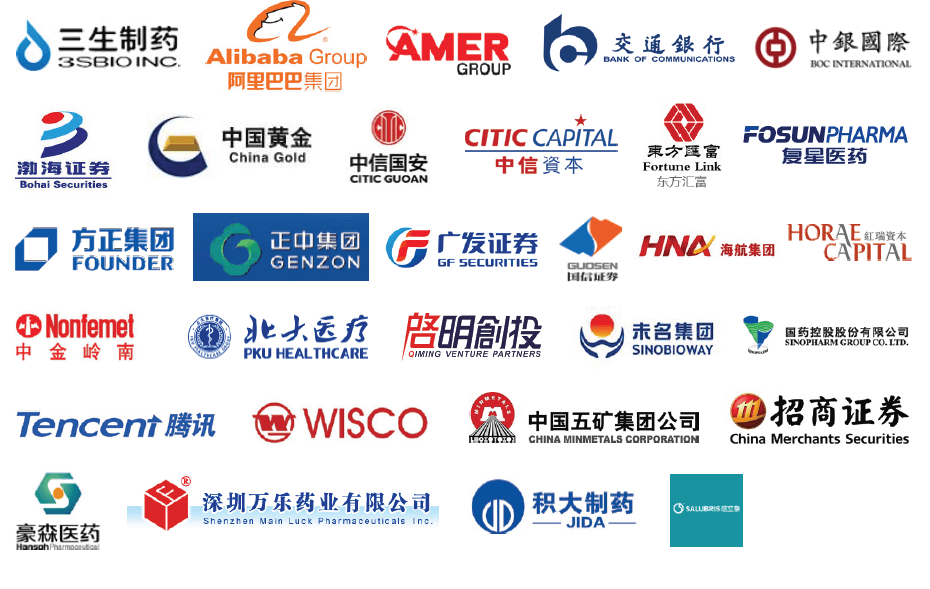 About NAI Interactive Ltd.
NAI Interactive Ltd. (NAI), established in 1998, is the leading expert in connecting international business opportunities to the growing Chinese markets. Through our robust platforms, including the NAI500 website, the Global Chinese Financial Forum investment conferences, road shows and cross border outreach services, NAI is the premier service provider for organizations seeking access to Chinese investors, partners and buyers. NAI Interactive Ltd. is the bridge for North American companies seeking access to these strategic and retail investors based in China. With 20 years of experience and over 45 conferences held successfully across 11 cities around the world, NAI can provide North American companies with the services and connections they need to reach China's growing consumer market.


我们期待在会场与您见面!
投资者通行证: ¥2000 (USD$300)
提早报名费用: ¥1400 (USD$200) (截止2018年11月9日)
我们将精选一批投资者,向他们发送一份海外项目表,介绍优质北美投资机会。