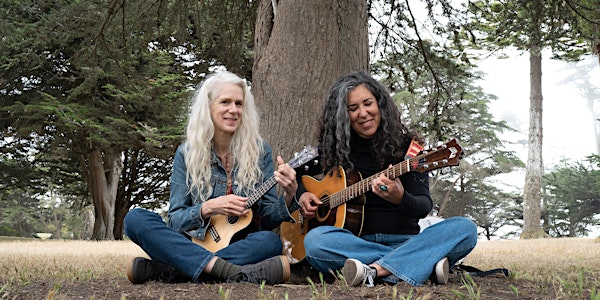 Shenson Faculty Concert Series: Beth Wilmurt & Sharon Wayne
Free concerts highlighting CMC Faculty as creative artists: "This World," songs of San Francisco activist Malvina Reynolds
When and where
Location
Sha'ar Zahav 290 Dolores Street San Francisco, CA 94103
About this event
The Shenson Faculty Concert Series returns this summer with free concerts spotlighting CMC talented faculty members. Each year, the Shenson Foundation sponsors free community concerts for CMC faculty music projects to support CMC Faculty as performing artists and ensure their work on stage is shared and celebrated in our community.
This year's presenters, featuring many talented intergenerational collaborators, will highlight a wide variety of musical styles, techniques, and creative inspirations—from the historical legacies of Black roots music, California folk and Sephardic music traditions, to theater and environmental and human rights activism.
August 31: Beth Wilmurt & Sharon Wayne, voice/piano/guitar
September 8:  David Steinberg, saxophone/clarinet
September 15: Deszon X. Claiborne, drums
This World with Beth Wilmurt and Sharon Wayne
Wednesday, August 31 at 7pm 
Sha'ar Zahav (290 Dolores St, San Francisco)
FREE
THIS WORLD is a collection of songs by San Francisco-born, environmental and human rights activist Malvina Reynolds (1900-1978). Our playful new arrangements weave bluegrass, jazz, Sephardic, classical, and theater traditions into the sounds of the '60s and 70's that Malvina was immersed in. This program offers a healing ritual through connection, bringing together multiple generations and cultures from within CMC, engaging audience members, and making meaning through making music. Malvina's songs give us a template, a guide, wisdom from an elder, the "truth", a message about how to move forward together into the future.  
Featuring guest musicians from CMC staff, faculty, and alumni for a CMC Intergenerational Choir and Band:
Ashley Alvarado (CMC Children's Choir, Piano Student)
Carol De Francis (Bernal Hill Older Adult Choir)
Albert Eng  (OMI Older Adult Choir)
Debra Lepsch  (Aquatic Park Older Adult Choir)
Sylvia Sherman (CMC Program Director)
Jeremiah Soto (CMC Children's Choir)
Gian Marco Velasquez (Mission District Young Musicians Program, Children's Chorus Assistant)
Sophia Welte (CMC Children's Choir Alum)
Sharon Wayne (CMC Guitar Teacher and Older Adult Choir Accompanist)
Beth Wilmurt (CMC Older Adult and Children's Choir Director)
This event will be hosted by our Mission District neighbors Sha'ar Zahav.  RSVP is recommended, but there will be space for walk-up patrons at the door.
About the Performers:
Beth Wilmurt has taught singing, acting and movement in the Bay Area for the past twenty years working with Leonard Flynn Elementary, Sugarloaf Fine Arts Camp, American Conservatory Theater and San Francisco State University. Alongside that, I have also been working as an actress, singer, and theater director. I have appeared in over seventy plays, musicals, dance pieces, and cabarets with a variety of companies throughout the Bay Area and as far reaching as New York, Washington DC and Berlin. Much of my recent work has been with Shotgun Players, of which I have been a company member since 2010, Aurora Theater and Z Space. I've also composed and arranged songs and choral pieces for projects with Shotgun Players, Hope Mohr Dance, and others.
As a performing arts teacher with over twenty-years of experience, I work with the assumption that art exists to help us understand ourselves and one another more fully. I approach all my students as inherently creative human beings regardless of age, ability, economic, social or cultural circumstance. Why one person feels a need to engage creatively with art may differ from another person. These people can work together. I strive to create a practical, experiential learning environment for them that combines rigor and joy, never sacrificing one for the other.
Sharon Wayne has worked for over thirty years as a solo performer, recording artist, music educator, and chamber musician. A founding member of the San Francisco Guitar Quartet, she has also performed regularly around Boston and New York with the crossover group Back Bay Guitar Trio. Formerly on the faculties of Santa Clara University, San Francisco Conservatory of Music's Preparatory Division, and several community music schools on both coasts, Sharon has also served as Artistic Director of the San Francisco Classical Guitar Society and the Boston Classical Guitar Society.
Her passion for bringing new music to wider audiences has led to close collaborations with local composers, commissioning, performing, and recording their works, and premiering pieces for guitar in local venues, including the Green Room, Center for New Music, San Francisco Conservatory of Music, and the Community Music Center.
Sharon's current artistic collaborators include mezzo-soprano Nicole Takesono and CMC faculty members Martha Rodríguez-Salazar and Beth Wilmurt, with all of whom she has continued to develop new programs in the face of the pandemic's challenges.
She has recorded six CDs, including SFGQ's Black Opals (SFGQ2001); In the Midst of Winds (M.A. Recordings, Tokyo) with composer/guitarist Dušan Bogdanović; and her debut solo CD From the Heart (Joplin and Sweeney, 1996), which features works by 20th century composers. Sharon has performed in master classes for David Russell, Manuel Barrueco, David Leisner, and David Tanenbaum, among others, and earned her BM and MM degrees in Classical Guitar Performance at the USC Thornton School of Music, where her primary instructors were William Kanengiser and James Smith.
"I love teaching students of all ages and levels. I tailor lessons to the interests and needs of each student, always with attention to developing a healthy technique that will support a lifetime of playing. I have an appreciation for the range of different learning styles and preferences, and use varied teaching strategies including games, hands-on activities, ear training, note-reading, theory, and ensemble playing, to engage and support students on their musical journeys."
Health & Safety Precautions at Sha'ar Zahav:
All event attendees 5+ must be vaccinated (including booster if eligible)
All guests must wear a mask
CMC continues to closely monitor information from public health officials regarding public gatherings. Please be aware that events are subject to change to comply with these protocol. Thank you for helping us keep our communities safe!
Sha'ar Zahav is a fragrance-free environment. Please do your best to follow these guidelines when you visit our synagogue building:
Refrain from wearing perfume/cologne
Check your various products to see if there is a fragrance-free version available and/or try to use them at least a couple of hours before coming to Sha'ar Zahav to give time for the fragrance to wear off.
Switch to fragrance-free laundry detergent and softener
For more information on this subject, including why it's important and a list of Fragrance-Free products, please visit: eastbaymeditation.org