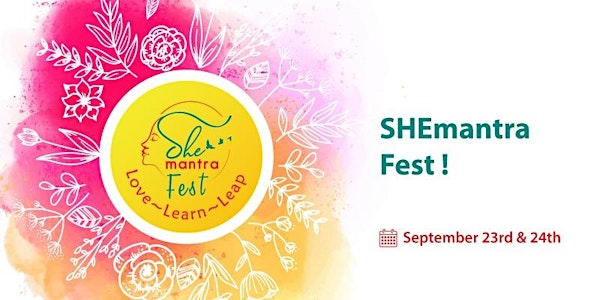 SHEmantra Festival - Love- Learn- Leap
A festival for Women who wish to Love, Learn and Leap into new possibilities. An opportunity to learn from Real Achievers!
About this event
Would you like to get out of your own way and embrace the abundance and success that you so desire and deserve?
Inviting you to attend a unique immersive Festival that will enable you to experience, energetic shifts so that you achieve your Biggest Goals faster by:
Identifying and shifting your limiting beliefs and creating new Belief systems that favour growth and invite abundance
Learning Breakthrough techniques used by real people to Scale your Business with Joy and Ease
Creating Powerful Supportive Networks of like minded people
Deep experiences of loving yourself, learning and leaping
Tools , Tips and Techniques shared by Amazing Speakers!
Acquiring the basics of :-

Embody the money mindset that helps you feel financially free
Improving your relationship with self and others
Setting Boundaries like a Boss, so you feel Powerful
What will you walk away with?
Meaningful Connections with like minded people!
Loads of precious FREE resources from Experts to help you in your own growth!
Showing up in your own life and the world with a new Powerful Story and a confidence that is unshakeable
Are you ready to make that change?
This Festival could be the catalyst you were waiting for !
Hosted by SHEmantra, a community of Women Led Coaching & Consulting Enterprises spread across the globe.
SHEmantra was founded with the Purpose of enabling women Entrepreneurs to grow themselves and their business by sharing ideas, knowledge, innovative work methods & unique experiences in an open safe encouraging & friendly environment.
Cost : Your TIME !
This event is FREE, but requires you to invest these 12 hours for yourself, on yourself.
We have created a Powerful and Unique Festival for you, All you need to do is SHOW up with an Open Mind and Heart to Love, Learn & Leap into a new, exciting future.
Save the date to your calendar - 23rd & 24th September 2022!