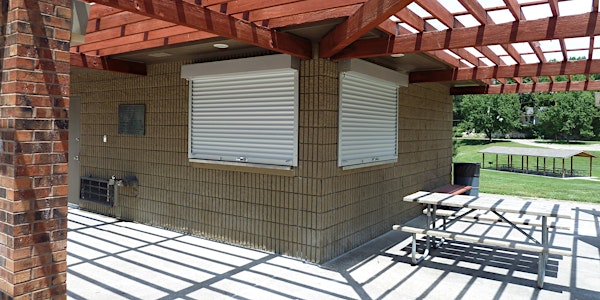 Shelter Overhang at Cody Park - Dates in April - June 2023
Shelter overhang area by tennis courts for full day.
When and where
Location
Cody Park City of Leavenworth 3003 Shrine Park Road Leavenworth, KS 66048
About this event
Cody Park Overhang by Tennis Courts and Ball Field
Physical Address:  3003 Shrine Park Road
This is for the area at the Restroom Overhang - 1 table included.  
City tennis tournaments and local school tennis events are sometimes held here. The ball field is utilized by the City's spring and summer softball leagues. Five-Mile Creek runs along the back part of the park and a tributary of the creek cuts through the middle.  There is also a small 1/4-mile walking path next to the creek.  In 2018, new playground equipment was installed.
Amenities:
Play Equipment, Ages 2-12
Restrooms (March - October)
Grill
Walking/Jogging Trail
Ball Field
Tennis Courts
Handball/Racquetball/Pickle Ball Courts
Bicycle Trails
Benches
Parking lots
Drinking Fountain
Children's Memorial Garden
Resident fees are for City of Leavenworth or Fort Leavenworth only.  Non-residents are outside of the city limits.  
FAQs
What's the refund policy?
Please call the Parks & Recreation office if you need to cancel the event.  A full refund will be issued with 48-hours notice.  If there is inclement weather, you may call within one business day of your event and receive a full refund.
Does the shelter have electricity or water?
City of Leavenworth park shelters do not have electricity or water.
May I serve alcohol at my party?
Yes - Must be a Leavenworth County resident and 21 years of age or older.  Named registrant must be present at the event.  Only Enhanced Cereal Malt Beverage (Beer) containing not more than 6% Alcohol by Volume.  Named registrant must pick up and sign for the beer permit in person with a photo ID and receipt from this transaction.
May I play music at my party?
Yes - Named registrant may complete a noise permit application for $5, and if the City Manager approves, you may have amplified sound for a 4-hour block during your event.  If you are just playing a Bluetooth speaker or a portable radio/stereo, the noise permit is not required.
I was kicked out of my reservation and now it shows it's unavailable.
There is a time limit to allow for complete registration. For park shelters, the time limit is 30 minutes. If you try again and still cannot get in, please call us at 913-651-2203 or 913-651-2132.