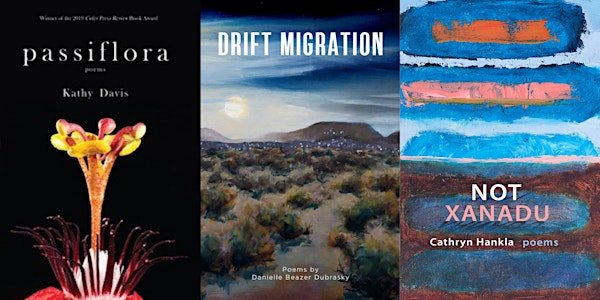 SHELF LIFE—Eco Poetics: Poetry and the Natural World
Kathy Davis (Passiflora), Danielle Beazer Dubrasky (Drift Migration), and Cathryn Hankla (Not Xanadu) read from and discuss their poetry.
By Virginia Festival of the Book
When and where
Date and time
Thursday, April 28, 2022 · 9 - 10am PDT
About this event
Poets Kathy Davis (Passiflora), Danielle Beazer Dubrasky (Drift Migration), and Cathryn Hankla (Not Xanadu) read from and discuss their recent collections. All three hold ties with Virginia and depict its landscape as well as other locations in their verse. Each poet engages with the natural world, using the images and occurrences there to illustrate their internal environment.
"Kathy Davis' poems may begin in the domestic, but almost invariably end in a place that is startling, unfamiliar, and quietly estranging…. Hers is a voice of unobtrusive confidence, whether she is fashioning wry character studies or stern self-reckonings. These are haunting, bittersweet, and slyly consoling poems. Passiflora is a debut collection of the very first order."—David Wojahn, author of Interrogation Palace
"Danielle Dubrasky has ventured into the heart of a truly American secret: that landscape is both childhood and origin—but eternally revised, eternally revisited. In Drift Migration, chance and fate together weather the earth into a new mind. These are urgent poems, mindful yet wonderfully reckless in their bold devotion." —Donald Revell, author of Drought-Adapted Vine
"A close observer of both nature and the use and misuse of language, a runner, a native Appalachian, a mindful woman, [Cathryn] Hankla can suggest volumes in the merest phrase. These lyric and keen poems have in equal measure seriousness of purpose and lightness of touch." —Carol Moldaw, author of Beauty Refracted
ABOUT THE SPEAKERS:
Kathy Davis is the author of Passiflora and Holding for the Farrier. Her work has been nominated for a Pushcart Prize and been a finalist for Best of the Net and the Conger Beasley Jr. Award. Kathy has a BA and MBA from Vanderbilt University and an MFA from Virginia Commonwealth University.
Danielle Beazer Dubrasky, author of Drift Migration, Ruin and Light, and letterpress book Invisible Shores, has been published in Chiron Review, South Dakota Review, and Ninth Letter. Originally from Charlottesville, Virginia, she teaches poetry and creative writing at Southern Utah University.
Cathryn Hankla is the author of fifteen books of poetry and prose, including the recent memoir, Lost Places: On Losing and Finding Home, and poetry collections Not Xanadu, Galaxies, and Great Bear. She is Professor Emerita, Hollins University, and serves as Poetry Editor for The Hollins Critic.
###
This program, FREE to attend and open to the public, is part of SHELF LIFE, a series of virtual events presented by the Virginia Festival of the Book, a program of Virginia Humanities. To attend, please register here or simply make plans to watch on Facebook.com/VaBookFest.
This event will offer closed captions and an accompanying live transcript using Zoom's built-in automatic speech recognition software (ASR). To request live-captioning accommodations, please write Aran Donovan (adonovan@virginia.edu) no later than seven days before the event. A video recording from this event will be provided soon after completion and an accurate transcript will be available at a later date, at VaBook.org/watch.
To learn more, visit VaBook.org. #HumanitiesAtHome #ShelfLife.
About the organizer
A program of Virginia Humanities, the Virginia Festival of the Book brings together writers and readers to promote and celebrate books, reading, literacy, and literary culture. We offer in-person programming each March as well as virtual programming throughout the year, providing book lovers a variety of ways to learn about the world, find inspiration in work from today's best writers and illustrators, and discover new ways of understanding ourselves and others.