The Shelden Williams Foundation is partnering with City of South Fulton Councilwoman Rowell for the SWF Inaugural Youth & Family Sports Day!
About this event
Must RSVP via Eventbrite to save your spot – space is limited!
The SWF Youth & Family Sports Day/ Back-to-School, is free to all youth and families who attend! This will be a celebratory event for the local students, parents, and guardians of our community after overcoming abnormal circumstances due to the COVID-19 pandemic. Our goal is to encourage our youth as they return to school with a day of fun, sports, and physical activities after being unable to fully participate in the necessities of personal development. K-12 students only
Tickets per person includes:
Admission
T-Shirt
Free lunch
Sport activities
Game
Backpack & school supplies giveaway
Prizes
Face painting
Arts & Crafts
There will be community vendors, raffles, live Dj, & More!
FAQs
How much does it cost to attend the event? Entry, food, and all of the activities are FREE only if you register. There is a cost for vendor and concession items.
How many backpacks and school supplies will be given? There is a limited quantity and supplies will be first come first served.
What should my kids wear to the SWF Youth & Family Sports Day? Children should come dressed in play clothes or sports clothes. Closed-toed shoes with socks are preferred.
How long will it take to participate in all the activities? This event will be from 12 pm - 4 pm, for all of the activities available.
What time should I arrive? The gates open at 12:00 p.m. Also, the earlier you arrive, the more time you will have to enjoy all of the activities. Spaces are limited!
Can we bring in food and drinks? Free food will be provided to all guests who register. There are food vendors on site. Special food for infants and toddlers as well as bottled water is allowed. The food vendors on site will be announced as they are confirmed.
Can we bring pets? No pets ALLOWED at the event.
What happens if it rains? This event will be held rain or shine. In cases of severe weather, notices will be made via email. Some activities will not be available in cases of severe rain.
Proof of registration is required.
THIS IS A FIRST COME, FIRST SERVE
With COVID-19 still, a growing concern, temperature screening, masks, socially distant, and ample sanitizing stations will be provided. As much as we want everyone to be able to enjoy the event in person, we do ask that if you are feeling ill or have been exposed to COVID-19 within two weeks of the SWF Youth & Family Sports Day/ Back-to-School please stay home and play sports from afar. Thank you!
If you are interested in donating, volunteering ,or becoming a partner email j.udeochu@theplaybookagents.com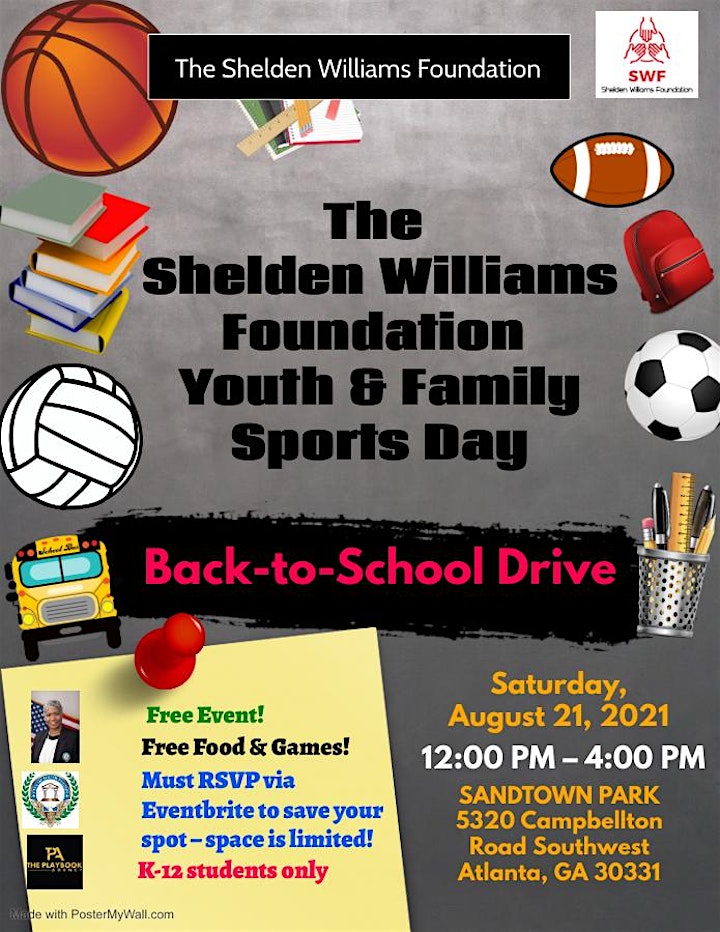 Organizer of Shelden Williams Foundation Youth & Family Sports Day