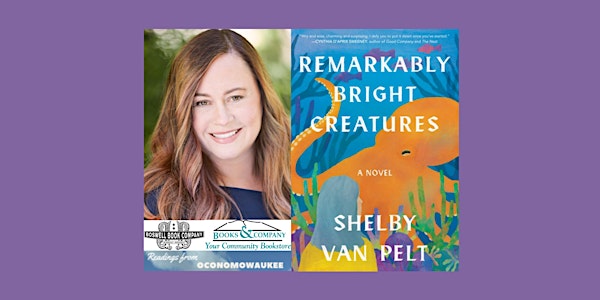 Shelby Van Pelt, author of REMARKABLY BRIGHT CREATURES - a virtual event
Shelby Van Pelt, author of REMARKABLY BRIGHT CREATURES - a virtual Readings from Oconomowaukee event
When and where
Location
Boswell Book Company 2559 North Downer Avenue Milwaukee, WI 53211
About this event
Readings from Oconomowaukee presents a virtual evening with Shelby Van Pelt, author of Remarkably Bright Creatures, a charming, witty, and compulsively readable exploration of friendship, reckoning, and hope that traces a widow's unlikely connection with a giant Pacific octopus. In conversation with Daniel Goldin of Boswell Book Company and Lisa Baudoin of Books & Company.
After Tova Sullivan's husband died, she began working the night shift at the Sowell Bay Aquarium, mopping floors and tidying up. Keeping busy has always helped her cope, which she's been doing since her eighteen-year-old son, Erik, mysteriously vanished on a boat in Puget Sound over thirty years ago. Tova becomes acquainted with curmudgeonly Marcellus, a giant Pacific octopus living at the aquarium. Marcellus knows more than anyone can imagine but wouldn't dream of lifting one of his eight arms for his human captors - until he forms a remarkable friendship with Tova. Ever the detective, Marcellus deduces what happened the night Tova's son disappeared. And now Marcellus must use every trick his old invertebrate body can muster to unearth the truth for her before it's too late.
Daniel loves this book: "If you can say one thing about widowed aquarium cleaner Tova Sullivan, the once-again-jobless Cameron Passmore, and star-aquarium-attraction Marcellus the Octopus, it's that they've all had their share of misfortune. Yes, this is a story of grief, of losses both recent and in the past. But it's also a story of found family, of hope, and of purpose. Van Pelt infuses all her characters with grace, not just the protagonists but the members of Tova's Knit-Wit social group, Cameron's Aunt Jeanne (who raised him after his mom disappeared), and even the elusive developer who Cameron suspects is his father. But the star of the show is probably Marcellus, whose dexterity and wisdom never fails to inspire. Why haven't I read Sy Montgomery's The Soul of an Octopus? And while I'm asking, why haven't you read Remarkably Bright Creatures?"
Shelby Van Pelt's writing has been nominated for a Pushcart Prize and has been featured in f(r)iction and Funny Pearls. Remarkably Bright Creatures, her debut novel, was inspired by her favorite aquarium as a child.
Click here to order your copy of Remarkably Bright Creatures from Boswell, or click here to order from Books & Company. A link to the Zoom webinar will be sent out before the event starts.