Description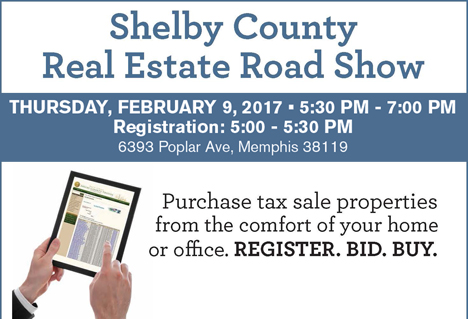 Join us to learn more about the ONLINE tax sale process!!

Shelby County Government owns thousands of properties it needs to SELL. Raw land and properties zoned COMMERCIAL, INDUSTRIAL and RESIDENTIAL. Come to the next Shelby County Real Estate Road Show co-sponsored by Shelby County Trustee David Lenoir and Chandler Reports to learn how to acquire these properties. Attorneys will be on-hand to address your legal questions.
Thursday, February 9, 2017, 5:30 - 7:00 p.m.
5:00 - 5:30 p.m. - REGISTRATION
5:30 - 7:00 p.m. - SEMINAR
Memphis Area Association fo Realtors
6393 Poplar Ave., 38119

Light refreshments will be provided, compliments of Chandler Reports.
SPEAKERS:
Shelby County Trustee David Lenoir will detail the Shelby County Tax Sale process and anti-blight initiative.
Civic Source will provide a live demonstration of the new online website.
Shelby County Chancery Court Clerk & Master will discuss administration of the Tax Sale


COST: FREE