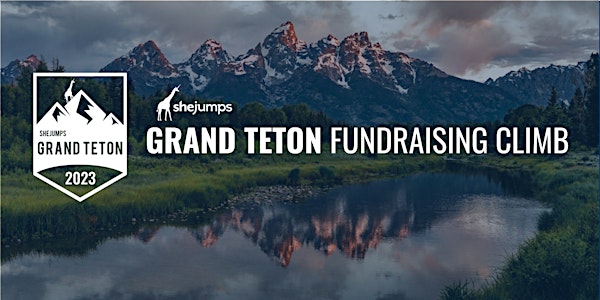 SheJumps Grand Teton Fundraising Climb 2023
The SheJumps Grand Teton (Dae Wunt) Fundraising Climb: A group climb benefitting SheJumps
Location
Jackson Hole Mountain Guides 1325 US-89 Jackson, WY 83002
About this event
3 days 8 hours

Mobile eTicket
The SheJumps Grand Teton (Dae Wunt) Fundraising Climb: An a group climb climb guided by Jackson Hole Mountain Guides benefitting the mission of SheJumps to increase participation of women and girls in outdoor activities. SheJumps is an inclusive organization. We welcome all women and girls—transgender and cisgender, as well as non-binary people.
One of the most recognizable mountains in the country, the Grand Teton has drawn visitors to the Jackson Hole area as long as history has been recorded. The mystique of this iconic mountain is captivating for anyone who has seen it in person. A crucible of American alpinism, the climbers who honed their craft here in the golden age went on to lead first ascents of big walls of Yosemite, Patagonian spires, and the Himalaya. Become part of its history by standing on top and join us for an amazing summit and a greater appreciation for the remarkable alpine environment only the Tetons can deliver.
This trip is open to all individuals who identify as female or non-binary. Some rock climbing experience beneficial, but not required. One day of rock climbing skills review / instruction included in the climb. Please note, the guide retains the right, at any point, to determine whether a climber is sufficiently fit to continue the climb.
Whether you're a mountaineering fanatic, knocking one adventure off the bucket list or want to help inspire a new generation of outdoor enthusiasts, the SheJumps Grand Teton Fundraising Climb will give you an experience unlike any other. You'll receive fundraising support, gear incentives, conditioning recommendations and a community rooting for your success. If you've ever wanted to summit one of the world's most amazing peaks, now's your chance! The SheJumps Grand Teton Fundraising Climb takes place July 11-14, 2023.
SPIRIT OF THE CLIMB
There is a unique spirit of camaraderie with all SheJumps events. Endless high fives, gut busting laughs and summit dance parties are just the beginning. We consciously foster a positive energy that exudes encouragement in stride with the technical, physical and emotional challenge at hand. Our female guides and staff offer support and expertise throughout your training, fundraising and of course, the climb. This is sure to be the experience of a lifetime!
REGISTRATION AND COST
A $500 non-refundable deposit is required to hold your space. Upon submitting your $500 deposit, you will be notified of your acceptance to the climb and directed to complete the Participation Agreement.
You are not officially registered until you have completed & signed the Participation Agreement here: https://waiver.smartwaiver.com/v/sjgrandteton/
Each climber agrees to fundraise $3,500 for SheJumps, which is in addition to the $500 deposit (paid here through Eventbrite). This climb includes breakfast & dinners while at High Camp (climber provides lunches and trail snacks), guiding, group gear, and course instruction. Each climber must provide their own transportation to the Jackson Hole Mountain Guides office in Jackson Hole, trailhead within the park, lodging and classroom locations - carpooling opportunities may be available. Gratuity for the guides is not included, please budget accordingly; it's greatly appreciated. We highly recommend also purchasing trip insurance for this event.
FAQs
How much do I have to fundraise?
As further detailed in the "Participation Agreement", each climber agrees to fundraise or be personally responsible for a fundraising total of $3,000 for SheJumps. This amount does not include the deposit. Half of the Fundraising Total due to SheJumps by April 20, 2023 ("Midpoint Fundraising Deadline"), and the other half of the Fundraising Total due to SheJumps by June 28, 2023 ("Final Fundraising Deadline").
Is my registration/ticket transferrable?
No. This is a very popular climb with a long list of climbers waiting to participate, we will release open spots to the waitlist.
What is SheJumps' cancellation policy?
A non-refundable registration fee of $500.00 is due at the time of registration to reserve a space on the trip. If you cancel your reservation prior to the midpoint fundraising deadline, you are responsible for and will be charged/billed 50% of the total fundraising amount . If you cancel your reservation after the midpoint fundraising deadline, you are responsible for and will be charged/billed the full fundraising amount. The closer we get to the course, the harder it will be for us to fill your spot. Under no circumstances are fundraising amounts refunded or credited back to the individual donors.
We strongly recommend purchasing trip interruption/cancellation insurance. Factors such as illness, injuries, family emergencies, business obligations, missed or canceled flights, lost baggage, etc., may require you to cancel or delay your trip. Unless you are willing to absorb the entire cost of your program in the event of a cancellation, we encourage you to obtain trip insurance to protect your investment. Contact an insurance broker for more information.
What does the climb include?
In addition to guiding / instruction, this climb includes guiding, instruction, all group climbing equipment including climbing ropes and technical hardware, and on-mountain meals (except lunch and snacks), and tents.  Personal equipment and lunches are not provided. You are responsible for all items on the Gear List.
What kind of gear do I need?
Check out the full gear list here.Please Note: There is a mandatory gear check at Jackson Hole Mountain Guides' office on the first day of the course. 
How fit do I need to be?
In the best interest of personal safety, success and team compatibility, adequate training and excellent physical condition are required. Prior experience with backpacking and camping is required. Climbers must be able to carry an average of 45-50lbs or more. Climbers need to be in excellent physical condition for both personal enjoyment and to be an integral team member. We're here to help you along the way with training recommendations.
Fitness resources and FAQs from Jackson Hole Mountain guides can be viewed here: https://themountainguides.com/adventure/grand-teton-climbs/
Do I need to have climbing or mountaineering experience?
Some rock climbing experience beneficial, but not required. One day of skills review is included in the climb. Please note, the guide retains the right, at any point, to determine whether a climber is sufficiently fit to continue the climb.
What's the itinerary?
Prep Day + 3-Day Ascent
Day 1 - July 11 (Prep Day)
Plan to arrive at JHMG headquarters in Jackson Hole at 8:30am where you will meet your guides, other teammates, get outfitted with helmets, harnesses, shoes and head out to the training area where folks will learn skills they will need to successfully navigate the Grand Teton under the supervision of their guide. Training wraps up around 3:00pm.  After training, folks will return to the office where they will do their gear check until around 4:00pm. Please bring everything you are planning on bringing on the mountain with you to the training day. SheJumps/JHMG do not provide transportation during this climb.
Day 2 - July 12
Plan on meeting early at the Lupine Meadows trailhead. Your guides will give you specific departure times at the gear check. As a reminder, SheJumps/JHMG do not provide transportation into the park. Climbers will be responsible for paying the $35 vehicle fee at the park entrance unless they have a Golden Eagle Pass or equivalent.
Once at the trailhead, guides will distribute some food items to you for the ascent up to high camp. From there, you will enjoy a leisurely 7 mile hike up beautiful Garnet Canyon. The hike, while very scenic, does gain 4,200 feet and requires a certain level of fitness and will. Your guide will set a slow, sustainable pace and in 6-8 hours you will arrive at JHMG's historic Corbet High Camp. Corbet High Camp features a pristine water source, a weatherport for cooking, eating and hanging out and 6 personal Mountain Hardware 3 person Tents, each with sleeping pads and sleeping bags.
After settling in, and getting some rest, your guides will equip each client with a helmet, a harness and a belay/rappel device. You and your guides will walk 10 minutes from camp to the training area. Guides will then cover a curriculum consisting of anything not covered on the previous day and get you on the rock for a multi-pitch climb and rappel. Guides will then prepare a delicious dinner, and with a full belly, you are off to sleep under the shadow of the Grand Teton.
Day 3 - July 13
It's summit day! The day begins with a very early wake up followed by breakfast. With your summit pack full of layers, your headlamp, water, food, harnesses and helmets on, you head out! Like the hike to Corbet High Camp, the pace is slow and sustainable. Upward momentum is the key.
The climb to the summit is roughly 2 miles, but climbs 2700 ft. It usually takes 6-8 hours. Your guide will select one of two routes. The Pownall- Gilkey Route or the Exum Ridge. The route decision is the guides discretion and is based on weather, time and ability. Weather permitting, you will reach the summit and enjoy the fantastic views of the Teton Range, Jackson Hole and the Teton Valley.
After your achievement, you will descend to the comfort of Corbet High Camp for a warm delicious meal which you have earned. Then it's off to your tent to rest your weary muscles.
Day 4 - July 14
Day 4 is what makes this program so special. If your party was turned around due to bad weather on day 3, day 4 can serve as a second summit attempt. If you reached the top on day 3, then day 4 is flexible. We like to try and depart for Lupine Meadows no later than 11:00am and usually arrive at the trailhead between 2:30 – 3:30pm. We then head into town and celebrate over cold drinks & a hearty meal!
Is food provided on the trip?
Yes.  We provide on-mountain breakfast and dinners on the climb. Climbers are responsible for their own lunch foods and trail snacks.  If you have any food allergies or requirements, please let us know in advance. 
What is the climber to guide ratio? 
The trip will be run at a 3:1 ratio. 
Are the climbs donated by the guide service?
No - SheJumps pays a professional guide service to lead the fundraising climbs and believes in fair and equitable wages for guides. We consider this an investment in the climbers for the fundraising they're doing on behalf of SheJumps. As a climber, you can personalize your fundraising message however you'd like, as well as personally contribute as much of the required fundraising amount as you'd like. Some climbers prefer to donate 100% of the minimum fundraising amount themselves, some fundraise the full amount, and others do a combination.
More questions?
Contact Robyn Gelfand: rgelfand@shejumps.org
----
SheJumps is an inclusive organization. We welcome all women and girls—transgender and cisgender, as well as non-binary people.
SheJumps strives to fight against racism and acknowledges that our events and programs take place on traditional, unceded Indigenous lands.
----
SheJumps believes in recreating responsibly… with maps! We are happily partnered with onX Backcountry, a map app that does it all. The numerous app features allow users to view trail guides, 3D maps for hiking and skiing, slope aspects and angles, satellite and topographic maps, nationwide avalanche forecasts, snow accumulations with SNOTEL data, wind and weather forecasts, and more! Going out of service? You can download maps for offline use, no service necessary! As long as you have power, you can have all the maps you need at your fingertips.
Exclusive Offer: Free 1-Month Premium Trial (for new users)
As our exclusive navigation partner, onX Backcountry will provide the SheJumps community with a free month-long trial and 20% off an annual membership. Additionally, a portion of each membership will be donated back to SheJumps to support the organization's mission. By putting adventure information at your fingertips, onX Backcountry hopes to inspire girls and women across the country to experience nature, whether on trail or snow.
Follow SheJumps:
About the organizer
SheJumps is a nonprofit organization dedicated to increasing the participation of women and girls in outdoor activities to foster confidence, leadership, and connection to nature and community through free and low-cost outdoor education.
Our vision is to unearth the potential of all women and girls through outdoor play and connection to nature.