Storytelling Performer and Teaching Artist comes to Florida Gulf Coast University (FGCU). Reception following event.
About this event
Join us for one or both the workshop and/or performance.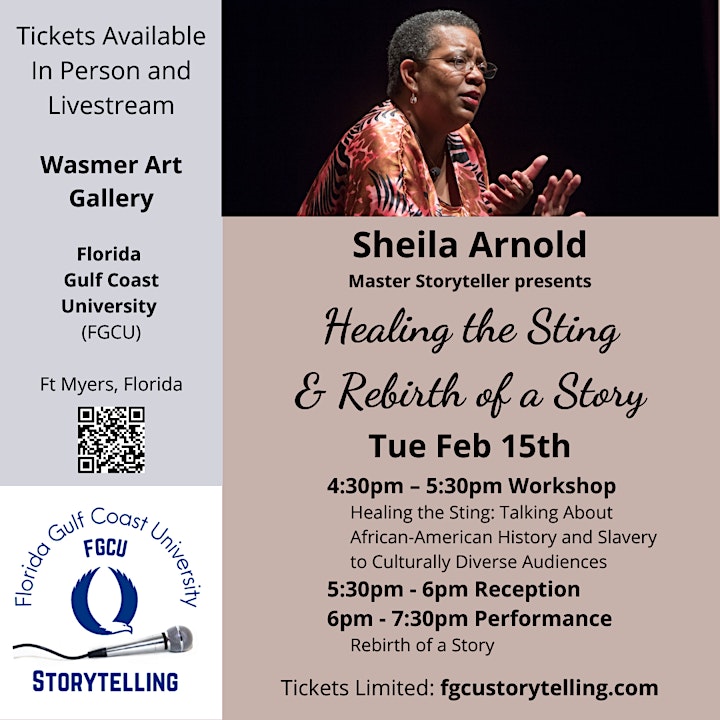 4:30pm - 5:30pm
Workshop: Sheila Arnold ~ Healing the Sting: Talking About African-American History and Slavery to Culturally Diverse Audiences
African-American History, and particularly slavery, can be a difficult and challenging issue to discuss in conversation and in the classroom. The challenges are often based on fears, mistrust, past bad experiences and lack of knowledge. Take an intimate look at the way we present African-American History, personal hints to use, encourages discussion about techniques that work, and provides solid information about slavery in America.
5:30pm - 6pm Reception
6pm - 7:30pm
Performance: Sheila Arnold ~ Rebirth of a Story
What do you do if your cultural stories take on a negative connotation? Sheila Arnold reclaims those African American stories, giving them new life and new context. Featuring versions of old stories, including "Tar Baby", as well as she also brings context to the art exhibit by Travis Sommerville, Burden of Consequences. Join us for an evening of storytelling performance, conversation, and art.
Sheila Arnold has been gifted by God with performance skills and has been using this talent since she was eight years old. She has been a full-time Storyteller for seventeen years traveling through the United States and sharing a variety of stories - "whatever fits in her mouth", as well as doing Historic Character Presentations and Christian Monologues. At her core, Ms. Sheila, as she is commonly called, is a Professional Imaginator with a passion, vision and ministry of healing hearts, unifying communities and reminding people to share their stories.
Organizer of Sheila Arnold ~ Workshop & Performance-Healing the Sting/Rebirth of a Story
Storytelling Oral Performance Series. Produced by Dr. Joel Ying and Prof. Lori Cornelius for Florida Gulf Coast University (FGCU), Dept of Language and Literature, College of Arts and Sciences. Open to the Public. Sponsored by the Seidler Foundation, Wasmer Art Gallery, and the Florida Storytelling Association.