Sheehan High School Scrapbook Day
About this event
Attention scrapbook lovers! The Sheehan High School Music Parents Association (MPA) is having their 9th annual Scrapbook Day Fundraiser to benefit the Sheehan Music Department on Sunday, February 23rd, from 9:00 AM to 7:00 PM in the Sheehan H.S. Cafeteria.
Bring your scrapbook buddies and spend the day relaxing, socializing and eating great food while creating memories!
If you have any questions, please feel free to contact Cheryl Myers at cjmyers7@comcast.net.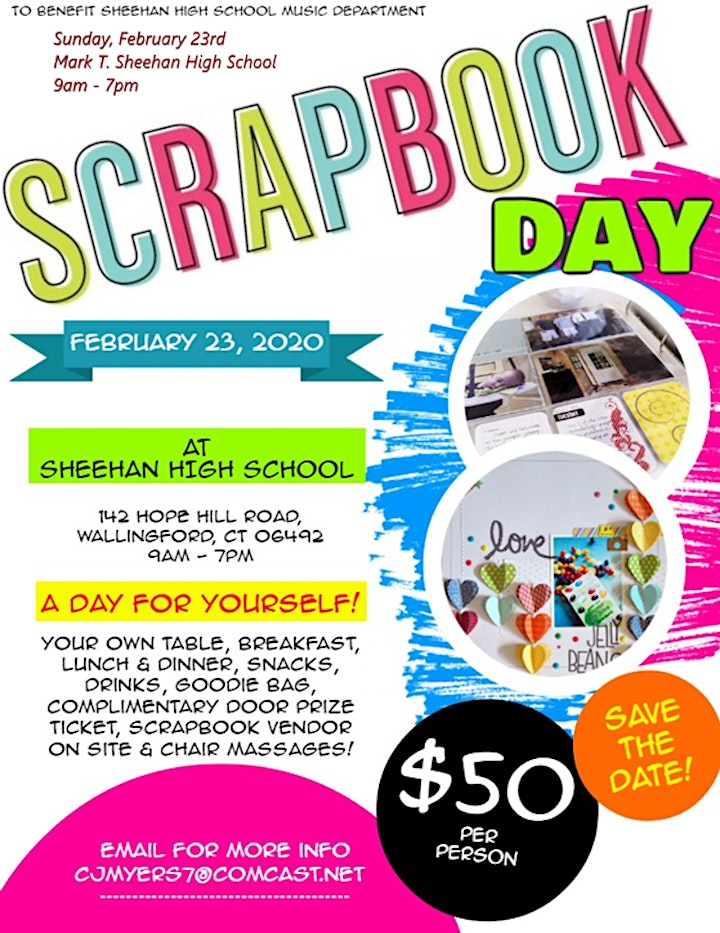 Organizer of Sheehan High School Scrapbook Day
The Sheehan Music Parents Association (Sheehan MPA) is a 501 (c) (3) non-profit organization primarily made up of parents (current and alumni) of Sheehan music students, for the main purpose of supporting the music students and music programs. We encourage and maintain an enthusiastic interest in the various activities of the Music Department, provide assistance to the Directors, and raise funds to provide financial assistance in acquiring instruments/equipment, music entry fees, scholarships/awards and other items and services the Music Department deems appropriate for the music program.