Description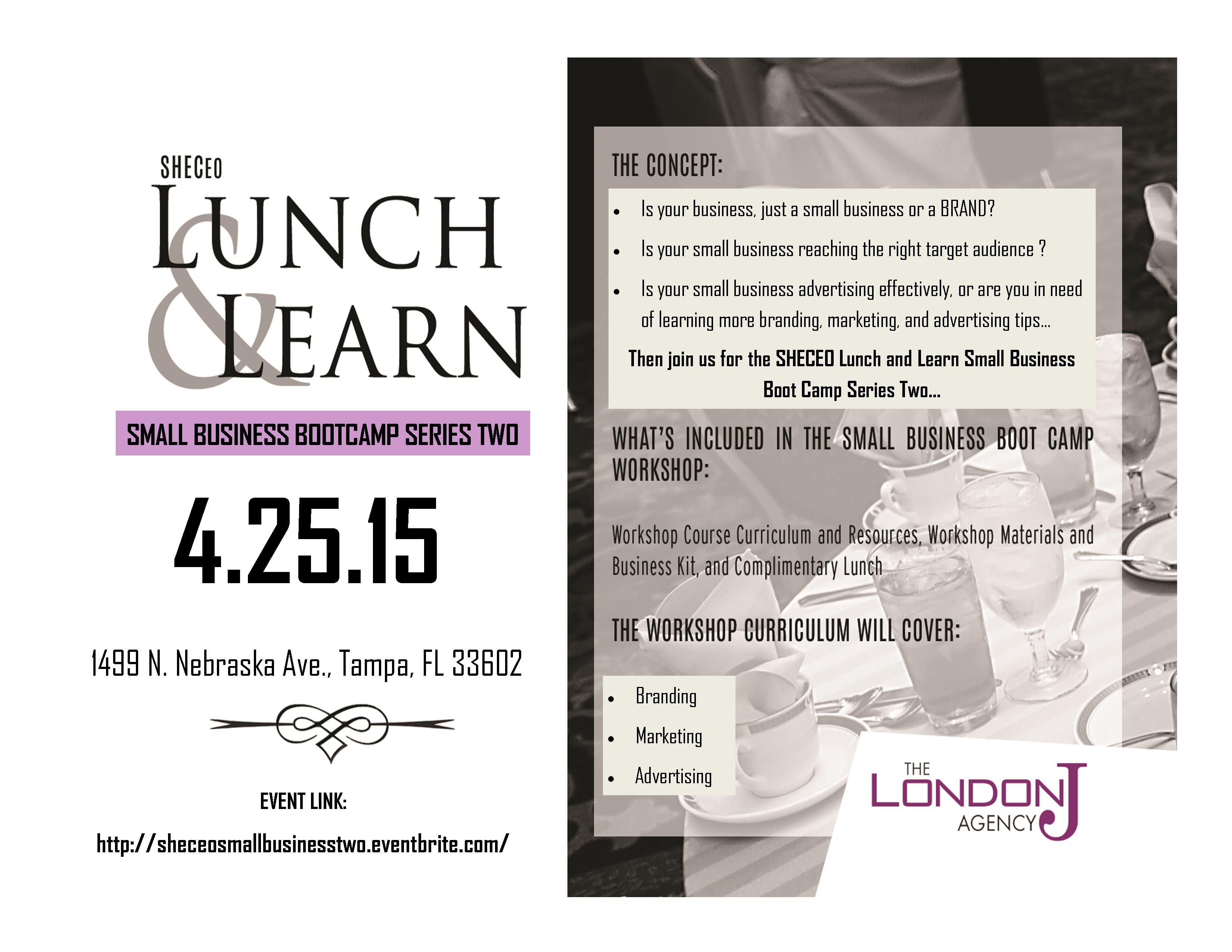 Is your business, just a small business or a BRAND?
Is your small business reaching the right target audience?
Is your small business advertising effectively, or are you in need of learning more branding, marketing, and advertising tips?
If so, Then join us for the SHECEO Lunch and Learn Small Business Boot Camp Series Two…
What's included in the Small Business Boot Camp Workshop:
Workshop Course Curriculum and Resources, Workshop Materials and Business Kit, and Complimentary Lunch
The Workshop Curriculum will cover:
Branding:
*What is BRANDING?

*Branding Beyond Your Logo

*Incorporating Branding in Your Small Business Social Media Methods

Marketing:
*Marketing 101
*Marketing vs. Branding vs. Advertising

*Marketing Strategies for Your Small Business Social Media Networks

Advertising:
*Are You Advertising Effectively?

*Inexpensive Advertising Tips

*Advertising Meets Social Media
***** Bonus Addition***
So You want to be a Vendor:
*Do's and Dont's of Vending
*Event Vendor Checklist
*Table Staging and Presentation

Date: Saturday, April 25, 2015
Time: 11am to 2pm
Location: Body Temple Spatique Event Space

For General Information - Email thelondonjagency@gmail.com
For Sponsorships - Email thelondonjagency@gmail.com
For In-Kind Product Donations - Email thelondonjagency@gmail.com
ALL TICKETS, VENDOR, SPONSORSHIPS PURCHASES ARE NON-REFUNDABLE, NON-TRANSFERABLE, NON-EXCHANGEABLE.
*By attending the event, you agree that The London J. Agency may videotape and photograph you, and record your voice, conversation and sounds. You also agree that your photo or a likeness of you may be used for promotional purposes without compensation to you.