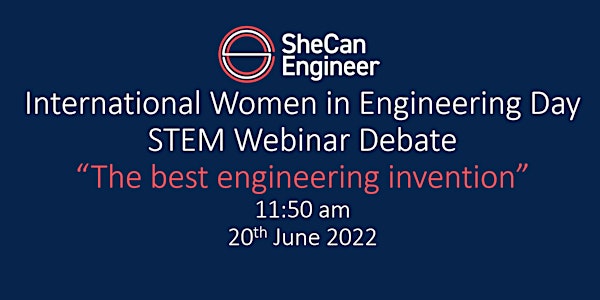 SheCanEngineer STEM Webinar - What is the best engineering invention?
Join us for a interesting, informative and interactive panel debate for SheCanEngineer's STEM Day, encouraging more girls into engineering.
About this event
As part of SheCanEngineer's events to celebrate International Women in Engineering Day 2022, Engineers from a wide range of engineering disciplines will debate on "What is the best engineering invention".
You will have the opportunity to ask questions from our fantastic panel and also find out more about their work, their career paths, and what is so great about engineering!
The engineers on the panel to win your vote include:
Chloé Coradetti - Energy Engineer
Saskia Stimpson - Fire Engineer
Jodie Howlett - Space Systems Engineer
Laura Hoang- Senior Human Factors Consultant
The debate will be moderated by Yasmin Ali, an award winning Chartered Engineer with experience in the energy industry.
This event is aimed at students aged 11 and above. Please register to receive the streaming link .
If you have any questions, please contact info@shecanengineer.com