Description
Nothing is too good for our babies! We look for products that are pure, GMO free, organic and all-natural because we understand that what goes ON our children actually goes IN our children through their delicate skin. That's why Sheago ingredients are FOOD GRADE. If you've been searching for an organic line of skin care for you and baby....come find out what the Sheago Movement is all about.
The Sheago Movement says NO...to parabens. NO...to petroleum. NO...to GMO's. NO...to mineral oils. From pregnancy to delivery, and to the crib, Sheago has you and baby covered! As a company created by and for mommies, our standards are high. Come join mom's and mothers-to-be as we share and sample the organic goodness of Sheago Baby.
It will be an informative afternoon of sharing, caring and discovering the difference all-natural ingredients make in this amazing baby care line.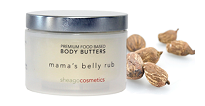 Non-alcoholic libations, seated massages and gift bags await you. Bring a friend and enjoy the afternoon with other moms. RSVP today!
Hear what other Sheago mommies are saying..."My son has had breathing problems since he was 9 months old. They don't like to call it asthma early in life & suggested I put a sleeping mask on him at night. I took one look at that contraption and knew there had to be a better way. I didn't want to use petroluem on his delicate chest so when a friend suggested Sheago's all-natural Mischief's Mint Rub, I tried it. My son no longer struggles with breathing and sleeps through the night....Thanks Sheago!"
#baby #organic #allnatural #mommies #mamaandbaby #sheago #sheagobaby #pregnancy #health #wellness