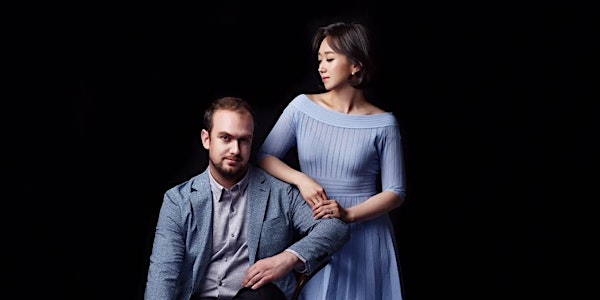 Shea Kim Duo "All Roads Lead to Vienna" Pt II
The Shea Kim Duo returns for their second Musicast program, and the second installment of their "All Roads Lead to Vienna" series.
Refund Policy
Contact the organizer to request a refund.
Eventbrite's fee is nonrefundable.
About this event
Artists:
Brendan Shea, Violin
Yerin Kim, Piano
Program:
"All roads lead to Vienna" Part 2
This is the second installment of the impeccable husband and wife duo featuring music tied to the heartbeat of classical music, Vienna.
For centuries, Vienna, Austria has been a mecca to classical musicians. In the pantheon of great composers, you would be hard pressed to find a composer who wasn't involved with Vienna in some capacity. We selected great composers from across time that each had a different relationship to this musical city. Whether a resident, visitor, national, or student, all roads inevitably lead to Vienna.
Sonata for piano and violin, Op.12 No.3 in E flat major
L. Beethoven
Sonata for piano and violin, Op.105 No.1 in A minor F.
R. Schumann
Artist Bios
Brendan Shea, Violin
Brendan Shea​ is an award winning soloist and chamber musician. His most notable awards include the Bronze Medal at the Osaka International Chamber Music Competition, Gold Medal and Audience Award at the Chesapeake International Chamber Music Competition, Grand Prize at the Coleman Chamber Music Competition, and 1st place with Honors in the Glazunov International Competition in Paris.
Brendan has performed across the world in collaboration with many world class ensembles and performers. He premiered Frederic Rzewski's ​Night, Death, and Devil​ with the Emmy Award winning ​8th Blackbird​. As a founding member of the award winning ​Wasmuth ​(now ​Verona​) Quartet, he performed across the United States, Germany, and Japan. He currently plays with the award winning Euclid Quartet. He also serves as concertmaster with the South Bend Symphony under conductor Alistair Willis. His solo career has taken him across the globe as well, with performances in major venues in Europe and Asia, and across North America. In 2014 he partnered with his wife Yerin Kim to form the ​Shea-Kim Duo​, which has competed internationally and performed recitals in Asia, Europe and North America. Their performances have been broadcasted by Klara Continuo in Belgium, PBC in South Korea, and WUFT Classic in Florida. Their first CD was recently released by Ark Studio in Seoul, South Korea. Their first studio recording project will be released in the summer of 2020. In addition to his performance career, Brendan is also a sought after violin teacher and chamber musician. He has been a guest violin faculty at Oberlin Conservatory, and the Mahanaim School in New York. He is currently on the faculty at the University of Notre Dame as the violin/viola faculty, as well as on the faculty of Indiana University South Bend. He is also on the faculty of several prestigious summer festivals, including the Encore Chamber Music Festival and Texas Strings Festival. In 2017 he founded the summer chamber orchestra intensive at Indiana University South Bend, which is in its second season this summer. Brendan Shea is a former student of Zakhar Bron and Milan Vitek. His mentors during his collegiate studies include Ik-Hwan Bae, Jennifer Frautschi, Philip Setzer, Hagai Shaham, Arnaud Sussman, and many wonderful musicians from Oberlin, Indiana, and New York. He currently plays on a 2000 Samuel Zygmuntowicz made for Angela Ahn.
Yerin Kim, Piano
Praised by the International Piano Magazine as "pianist of beautiful finesse and golden tone", pianist Yerin Kim is a recitalist, chamber musician, and educator. She has given concerts in various festivals and recitals in major venues internationally, including The Kennedy Center in Washington D.C., Carnegie Hall in New York, Place Flagey in Brussels and Rolston Hall at the Banff Centre for the Arts in Canada.
Her solo debut album "First and Last Words", works by Robert Schumann and Alfred Schnittke, was released by the Sheva Collection Label in Spring in 2019. Phoenix Classical, one of the foremost promoters of Classical recordings across the world, remarked on the album as "powerful and engaging, very poetic and expressive with some truly original interpretive insights, all performed with a great technique". The album has garnered critical acclaim from major classical music magazines, including the International Piano Magazine, Fanfare Magazine, and The Wholenote Magazine. Partnering with her husband, Brendan Shea, performances have been broadcasted on Klara Continuo in Belgium, PBC in Seoul, WUFT Classic in the USA. Their debut performance in Seoul, South Korea was recorded live and published by Ark Studio. Their latest project, "The Sound and the Fury", will be released in fall 2020 by Blue Griffin records.
As a regular lecturer and guest artist, Kim performs and gives talks on promoting awareness of the power of music in the community that it serves. She has been invited to give lectures for prominent educators and students at Indiana University Bloomington, the Nantucket Project, MTNA South Bend Music Teachers Association, and the Universal Arts Institute, S. Korea. Committed to bringing inspiring concert programs and classical music experience to a broader audience, she founded and directs Sensory Friendly Music and Autism Concert Series, serving music to individuals with autism in New York, St.Louis, and South Bend. She is also Co-artistic Director with violinist Brendan Shea of Chamber Music in the Bend, programming high quality chamber music education and performing chamber music concerts for the community.
Kim is equally passionate in teaching and has been teaching a diverse group of students from many parts of the world. She recently joined the faculty at Central Washington University as their new piano professor. Prior to joining Central Washington University, she taught at the University of Notre Dame as Adjunct Assistant Teaching Professor, and at Chugye University for the Arts Conservatory in South Korea as Visiting Professor of Piano. She also enjoys pre-college teaching and has taught talented young students from pre-college programs at Indiana University Bloomington and State University of New York Stony Brook.
Kim holds a Double Degree in Piano Performance and Psychology from Oberlin conservatory and college, a Master of Music from Indiana University Bloomington, and Doctor of Musical Arts from State University of New York, Stony Brook. Her mentors and teachers include Hans Boepple, Seunghae Choi, Haewon Song, Arnaldo Cohen, Jean-Louis Haguenauer, and Gilbert Kalish