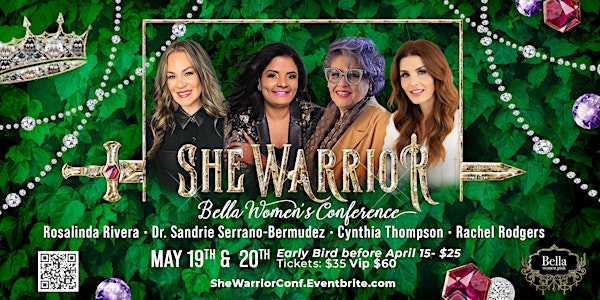 She Warrior- Bella Women's Conference 2023
She Warrior Conference with Rosalinda Rivera, Dr. Sandrie Serrano-Bermudez, Cynthia Thompson and Rachel Rodgers
By Bella Women's Ministry
Date and time
May 19 · 7pm - May 20 · 5pm EDT
Location
New Life Outreach Church 1005 Turner Road Richmond, VA 23225
About this event
Get ready to unleash your inner warrior at "She Warrior" - an exciting and empowering Christian Women's Conference! This event is specifically designed for women who are looking to claim the victory they have in Christ and become fierce warriors in their faith.
"She Warrior" is not your average conference - it's a high-energy and dynamic event that will leave you feeling empowered and inspired. From the moment you arrive, you'll be swept up in the excitement of the conference. You'll be greeted by other women who are ready to join forces and take on the battles of life together.
The conference is packed with engaging speakers who will challenge and motivate you to step into your God-given destiny. You'll hear from women who have overcome incredible obstacles and who are living out their faith in bold and courageous ways. Their stories will inspire you to become a warrior of faith, to take risks, and to live life to the fullest.
At "She Warrior", you'll also have the opportunity to connect with other like-minded women who are passionate about their faith. You'll make new friends, form meaningful relationships, and be encouraged by the community of women around you. The conference is a safe space where you can be yourself, ask questions, and seek support from others who understand what it means to be a Christian woman in today's world.
Throughout the event, you'll also enjoy dynamic worship and powerful speakers that will equip you with practical tools and strategies for living as a victorious woman of faith. Whether you're a seasoned believer or new to the faith, "She Warrior" is an event that will challenge you to take your relationship with God to the next level.
So what are you waiting for? Join us at "She Warrior" and unleash your inner warrior! You'll leave feeling energized, empowered, and ready to take on whatever challenges come your way.
-------
Bella Women's Conference is a spectacular gathering of women full of worship, teaching, inspiration, fun, and empowerment! Our heart is to create a conference that will encourage you and awaken your God-given purpose. 
Schedule:
Friday
6 pm- Doors Open-
6:30 pm- Vip seating
7:00 pm- Session 1: 
Special Worship
Speaker: Rosalinda Rivera
8:45 pm- Afterparty
Sat.
9:30 am- Doors Open- 
Session 2:
10:00 am Morning Worship
Speaker: Rachel Rodgers
10:45 am- Break- Vender Treasure Hunt
11:00-11:45 am- Dr. Sandrie Serrano-Bermudez
11:45 am-Break
12:00 pm-12:45 pm - Lunch & Guest Panel
12:45 am- Break
Session 3:
1:00 am- Cynthia Thompson
What's Included in the Ticket Price?
Standard Tickets
Two-day conference ticket with a conference gift bag.  Friday night After Party, Saturday morning worship and teaching session,
Premium Tickets
You get the entire Standard Ticket Package PLUS:
Advanced entry into all main conference sessions
Reserved front section seating
Special Swag Bag
For a full schedule and other details, visit our site: https://www.bellawomensconference.com
Closest Hotel:
Hyatt Place/ Richmond Arboretum
Hyatt Place Richmond/Arboretum - ask about our New Life Outreach Church Discount when booking
201 Arboretum Pl, Richmond, VA 23236 • (804) 560-1566
Speakers:
Rosalinda Rivera
As an international speaker and author for over 25 years, Rosalinda offers riveting life changing messages that truly changes hearts! She is full of humor and passion and brings her contagious energy and faith to every platform.
Rosalinda has opened the U.S. Capitol and Prayer and shared the same stage with people such as Martha Munizzi, Dr. David Jeremiah, Tony Evans, and Kathy Ireland, and the late Dan Cathy (founder of Chick-fil-a). She is the author of three books—Dare to Begin Again, Wonder Women, and The Seductive Slayers of Success — wife and mother of three children. She is the founder of Bella Women's Ministry, Co-Pastor of New Life Outreach Church in Richmond, VA, Executive Director of New Life For Adults and Youth and her Faith-Fueled podcast on CPN reaches around the world weekly.
Rachel Rodgers
Rachel Rodgers is an author, speaker, producer and pastor. A graduate of Oral Roberts University, Rachel is President of Holy Land Broadcasting located in Bethlehem, Israel and Vice President of Word Media Group with television and radio stations throughout the US and abroad.
From a young age, Rachel began her career in television and radio. Her first radio program began when she was 16 on the local station in Louisville, KY, entitled Saturday Night Live. Her senior year of high school she hosted a Saturday morning kids program that aired throughout the United States for Warner Brothers Network.
After college, Rachel began working in Israel, where she consulted and produced events with the Knesset, the International Embassy, The Jewish Federation and others. In 2005, Rachel headed up the disaster relief footage with churches and world leaders in India, Sri Lanka and Indonesia following the December 2004 tsunami that devastated that part of the world. She has produced programs following Katrina, the Oklahoma City Earthquake, and many other natural disaster phenomenons that have taken place throughout the world.
Rachel has taken suitcase radio stations into China, Haiti, Iraq, Jordan, Gaza and many other war torn nations. She has worked extensively throughout the world, with an emphasis in the Middle East. In 2019, she was a liason for the Peace Process in the West Bank.
Rachel is on the board of Church Growth International in Seoul, Korea. She serves on the executive team of Evangel World Prayer Center in Louisville, KY, and pastors a satellite campus of EWPC located in Charlestown, IN.
Dr. Sandrie Serrano-Bermudez
Dr. Sandrie Serrano-Bermudez is the CEO of The Hand Foundation, She is a global influencer, strategist, author and motivational speaker. Dr. Bermudez has been serving God since 1978, equipping families, from the neighborhoods to the Nations. "I believe in creating an environment where everyone feels, accepted, challenged, supported, and affirmed…it is at the core of who I am and part of my kingdom work" says Bermudez.
Bermudez has received many honors including the following: The Rosa Parks Award (2016), United to Serve America Diamond Award for effective leadership and outstanding service in Washington, D.C. One of the 50 top influential Latina Businesswomen in the United States by "El Diario La Prensa" (A Spanish Newspaper in New York City). She has represented Youth Entertainment Studios (YES) at a Global Level and served on the Collin Powell Youth Summit to name a few.
One would expect that with her many accomplishments, she might be ready to slow down, right? It is exactly the opposite! Stay tuned for more from this dynamic woman of power, influence and faith. Dr. Serrano Bermudez is just starting to warm up! She has currently released her devotional book "The Power of One Moment". In her own words: This book is a unique journal that serves as a creative an engaging way to experience the power of many words, moments and insights from my heart to yours. These are stories from my personal journey that I hope will inspire you to create your very own personal thoughts, ideas, and lists so that you too can set your sights high and SEE Beyond.
Cynthia Thompson
Cynthia L. Thompson is a multi-talented entrepreneur, speaker, life coach and spiritual advisor to corporate and global kingdom leaders. Anointed with a true apostolic and prophetic call, her desire is to impact the world by restoring, perfecting, building and training believers to fulfill their destiny." In 2004, she founded and established Boca Raton's first Prophetic Training Center and has an apostolic mandate to teach and train 5-fold ministry officers and marketplace leaders to operate in the fullness of their prophetic power and authority. The Training Center consists of the Prophetic School for adults and the School of the Gifts for children. Furthermore, the Training Center sponsors 3-day Apostolic & Prophetic Intensive training seminars for churches, ministries and individuals throughout the United States and the world.
For more than 20 years, she studied the prophetic and now stands as a bonafide "master teacher". Hundreds of Pastors, Corporate Executives, Government Leaders and people from varied walks of life and spheres of influence have traveled from across the United States and abroad to gain prophetic intelligence and understand both the spiritual and the supernatural spheres. Diverse in her gifting, she is the, publisher of the Woman You Will Magazine-a premier magazine of empowerment for women, author of bestselling The Power of a Prophetic Mindset and the Woman You Will Journal: a 40-Day Journey to Change. She is also the creator of the aromatic beauty and fragrance line Ascension, which includes her soft and delicate signature fragrance "Release".
With all of the aforementioned, her greatest joy comes from being the mother of 5 beautiful children Geneva, Arnell, Mercedes, Billy Jr. and Micaiah. She along with her husband, former NBA great Billy Thompson, oversee a multi-cultural, diverse and progressively growing membership of believers which encompasses the Broward and Palm Beach County communities.
Special worship:
Alana Rivera and Guests TBD