Description
CAMBER EXCHANGE WITH SHE VENTURES IN SAN FRANCISCO!
Celebrating women that choose adventure as a way of life!
Bringing together leading female founders and leaders in the outdoor, adventure, and travel industry as one with our local communities for inspirational events to celebrate what it means to live the most adventurous versions of our lives.
Join us for a night of fun and adventure! Last year was a blast and we can't wait to see you all again!
What to Expect:
A chance to win some awesome prizes for your next adventure! (raffle supports Camber Outdoors)
TED style talks to get your adventure, travel, and startup stoke going!
Music, Drinks, + Snacks
This is a great way to network, spark ideas, learn from industry leaders and founders, and participate in Camber Outdoors' grassroots community. Connect with an awesome community of women that love adventure, travel, and all things outside as much as you do!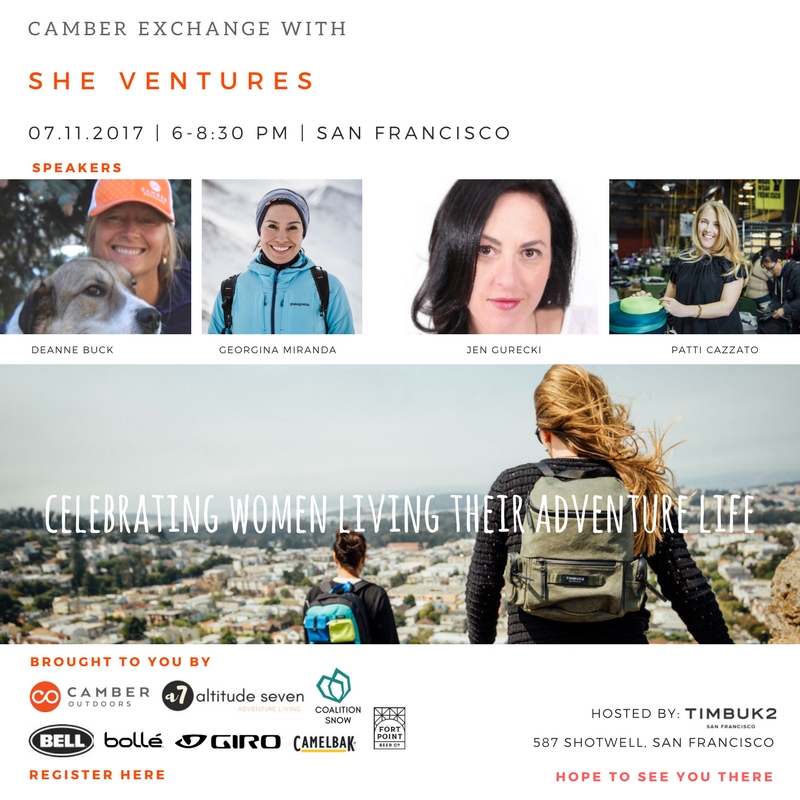 She Ventures is brought to you by: Altitude Seven + Coalition Snow
Thank you to Timbuk2 for hosting this event and to Fort Point Beer Co.!
Thank you to Bell, Camelback, Giro, & Bollé for sponsoring the 2017 Camber Exchanges!