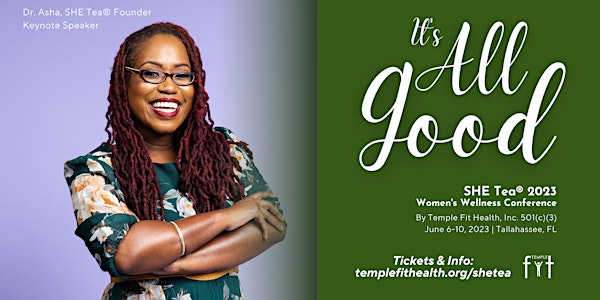 SHE Tea® 2023: Women's Wellness Conference
SHE Tea® features real conversations with real women about real life…
By Temple Fit Health, Inc. (c)(3)
Date and time
June 6 · 7pm - June 10 · 5pm EDT
Location
TCC Center For Workforce Development 444 Appleyard Drive Tallahassee, FL 32304
About this event
SHE Tea® features real conversations with real women about real life…
Temple Fit Health, Inc.'s 9th annual self and health empowerment (SHE) women's wellness conference will include deep-dive conversations on faith, finances, mentoring, purpose, relationships, self-care, sisterhood, and more!
SHE Tea Week 2023 Activities
Updated presenters and topics are at www.templefithealth.org/shetea. 
Empowerment Panels: The empowerment panel includes subject matter experts from diverse backgrounds. They will provide personal insight and advice on various topics related to our lives as ambitious women, so get your questions ready!
Empowerment Workshops: This year's workshops help us cultivate the "good life" in Six Strategic Areas of Well-Being. We will discuss topics to help us explore topics such as self-defense, outgrowing relationships, pursuing other professional opportunities, good spiritual health, and more!
Mentoring & Mentoring Small Groups: Enjoy the opportunity to connect with other women, learn from each others' experiences, and grow together.
Every year, women of all ages walk away from this highly impactful Temple Fit Health, Inc. program feeling refreshed and empowered. You don't want to miss it!
A detailed schedule, including our list of over 10 #SHETea speakers, mentors, and community leaders will be continually updated at www.templefithealth.org/shetea.
SHE Tea Week 2023 Schedule
This year's conference features the following:
10+ speakers and panelists,
10 workshops and events, and
2 inspiring weeks all at
1 empowering conference!
Detailed workshops will be posted at www.templefithealth.org/shetea.
Sponsors & Vendors
We're preparing for over 50 amazing women to attend our pre-conference (virtual) & main conference (in-person) activities. Sponsor packages are available on the ticket page! This package is ideal for women-owned, minority-owned, and faith-inspired small businesses and community organizations. Temple Fit Health, Inc. is a 501(c)(3) nonprofit organization. 
Donations
Thank you so much for considering Temple Fit Health, Inc. as a worthy cause for your tax-deductible donation. We are accepting donations via our Paypal Giving Fund page: https://www.paypal.com/fundraiser/charity/1979195 . This ensures that every dollar goes towards the impactful work that we're doing, without any transaction fees. Select the option to "Share my name and email with this charity," so we may thank you personally.
Questions
Contact us at events@templefithealth.org.
#TempleFitHealth #SHETea
Facebook & Instragram / @templefitcommunity
-------
Enjoy this look back...
Frequently asked questions
About the organizer
Temple Fit Health, Inc. provides health education and health promotion for the community. Our mission is to provide faith-based wellness.  
To learn more connect with us at  www.templefit.co/nonprofit.