Sacred Women's Circles Meet Singing in Harmony
About this event
Synchronize. Harmonize. Energize.
Synchronize your voice
Harmonize your heart
Energize your life
Join us!
FREE Intro Class - Feel into the 6-week series and assess whether or not it's a resonant match for you!
(If you are unable to join us live, the class will be recorded and sent out to registered participants)
About the series:
S.H.E. Sings!
A 9-week series devoted to going deeper
October 12, 19, 26, November 2, 9, `16, 23, 30, December 7th
1:00 - 2:30 pm PT
"Thank you so much for this SHE Sings course, Heather! It was so precious to come together with so many other women to learn to harmonize. It was such a beautiful opportunity to dive into the depths of my connection with self, sisters, and song. I am so grateful for having had these reminders every week of our connection and sisterhood, and the joyful presence of singing! This class has helped me feel much more connected, confident and able to to harmonize better! Thank you!" - Emily Boyer
Synchronize — Personal Growth and Sisterhood:
Enjoy weekly check-ins with your sisters (in breakout groups)
Be witnessed, and be a witness to personal growth and transformation
Grow your community of women who love to sing in harmony
Go deeper with yourself, each other, the songs, and the Spirit of Life moving through you — each week Heather will bring different topics of exploration
Keep your videos ON — this will enable us to strengthen our community and help us all feel a deeper sense of intimacy, belonging, and trust
ALL of you is welcome here — bring your grief, your joy, your pain, your fear, your desires and dreams
Harmonize — Sonic Bliss and Skill Building:
Learn the secrets of holding your own part
Build your repertoire of harmony songs that open, inspire, and uplift
Discover the power of embodied listening
Develop better pitch, intonation, and ability to blend
Learn the basics of building chords so that you can begin to create your own harmonies
Enjoy videos and listen to MP3s that Heather has created to help you practice these skills
Energize — Benefits of Circling & Singing:
Let go of negative beliefs about yourself, your voice, and your relationship with women
Get your weekly dose of oxytocin
Feel clear, open, and ignited!
Feel more aligned with your feminine spirit
Experience the power of intention and prayer woven with your voice
Fortify for these bumpy times
Heal yourself, heal the planet
"Heather is a master at creating a safe container for showing up as your authentic self and sharing wherever you are on your life path. Each song is empowering, nurturing, connecting with nature and Spirit, and encourages you to come alive, be in the present moment, dispel your inner critic, and live your best self. This is the class for you if you want to become a part of a community of uplifting women, practice your deep listening skills in a nonjudgmental atmosphere, and share in the beauty of harmony singing." - Anne Woodward
The Basics:
Nine, 90-minute Zoom calls
Weekly check-ins with your sisters in breakout groups
Weekly journal questions around the topics of self-growth and sisterhood
Playlist of this session's collection of songs and chants with parts parted out
MP3s and videos to help you practice harmony singing
A free download of the Sisters of the Moon album
Free entrance to the Sisters of the Moon Full Moon Sing-Along on November 30th
Tuition:
Early Bird ~ One Time Payment: $247
Right on Time Bird ~ One Time Payment: $397
Early Bird Payment Plan: $97 deposit + two payments of $97 (You will be contacted by Heather's assistant, Natalie, to set up your payment plan.)
Right on Time Bird Payment Plan: $147 deposit + two payment of $147 (You will be contacted by Heather's assistant, Natalie, to set up your payment plan.)
We have 5 partial and 2 full scholarships available: Apply Here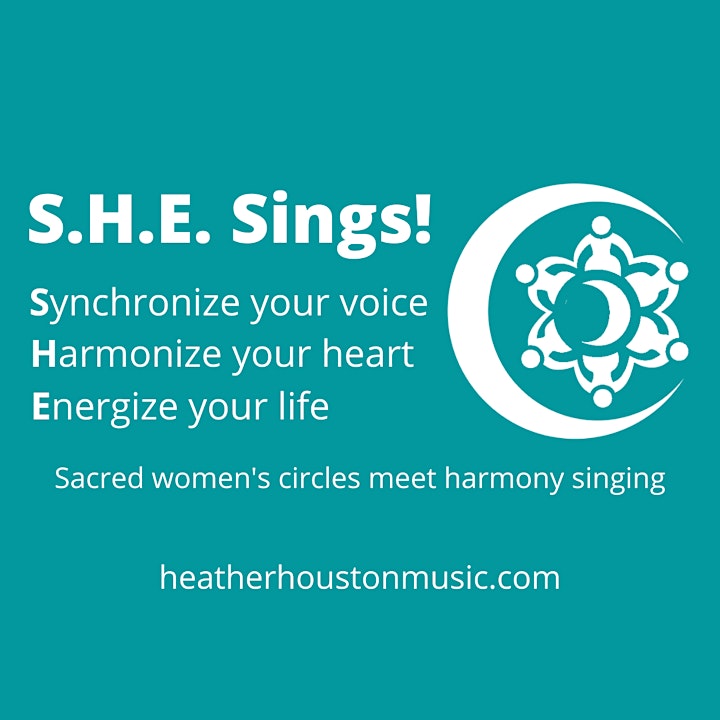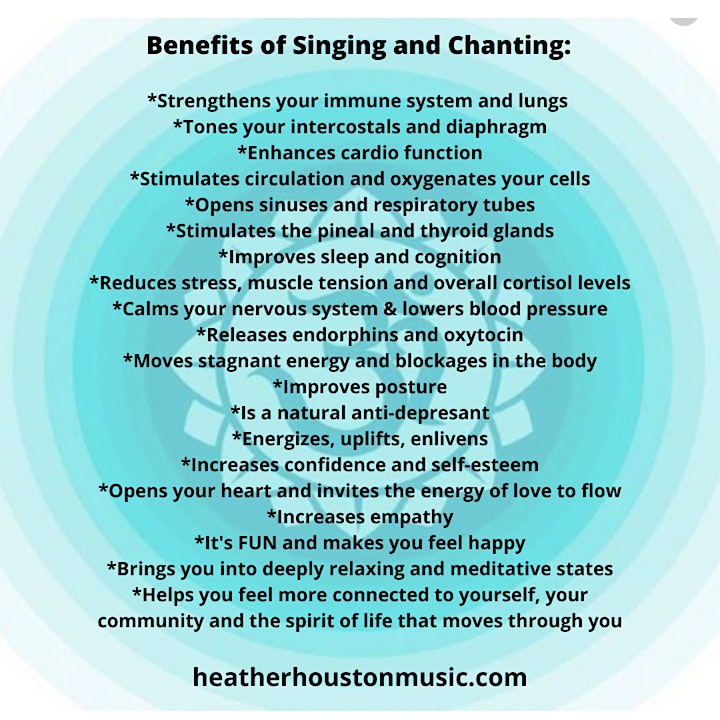 Organizer of SHE Sings! FREE Intro Class
Deeply rooted in Santa Cruz, CA, Heather Houston has devoted her life to uplifting spirits, opening hearts, and freeing voices through singing! She is a spirited song circle leader, dynamic choir director, renowned vocal coach, and acclaimed recording artist known for her soulful voice and passion for community building.
Founded in 2005, her Sisters in Harmony events have inspired thousands of women of all ages and ability levels to open their hearts and set their voices free. Her women's choir, Yala Lati, which organically emerged from these circles, put on two heart-opening concerts a year, as well as offer their voices at community events and Spiritual Centers throughout the bay area. 
Numerous requests for her mentorship have moved Heather to offer a ONLINE classes and events. Please watch for her Sisters in Harmony Song & Chant Leader Training, and her vocal meditation meets vocal coaching course called The Art of Mindful Singing.
She is currently a part of the Specialty Class Faculty at 1440 Multiversity where she takes participants on a transformational sound healing journey with their voices. 
Over the course of her adult life, she has taught over 10,000 private voice lessons, led over 1,000 chanting and singing circles, over 500 choir rehearsals, and over 1,700 music classes for kids! 
You can find Heather's soulful a cappella quartet album SIRENZ, her first solo ZMR top ten album Prayers for the Water, and her latest album Sisters of the Moon on all of the streaming platforms.