Location
M World Club
155 Commerce Valley Drive E
Thornhill, ON L3T 7T2
Canada
She Said Yes - Bridal Social and Wedding Event. An Exclusive Bridal Social, Expert Café and Curated Vendor Show.
About this event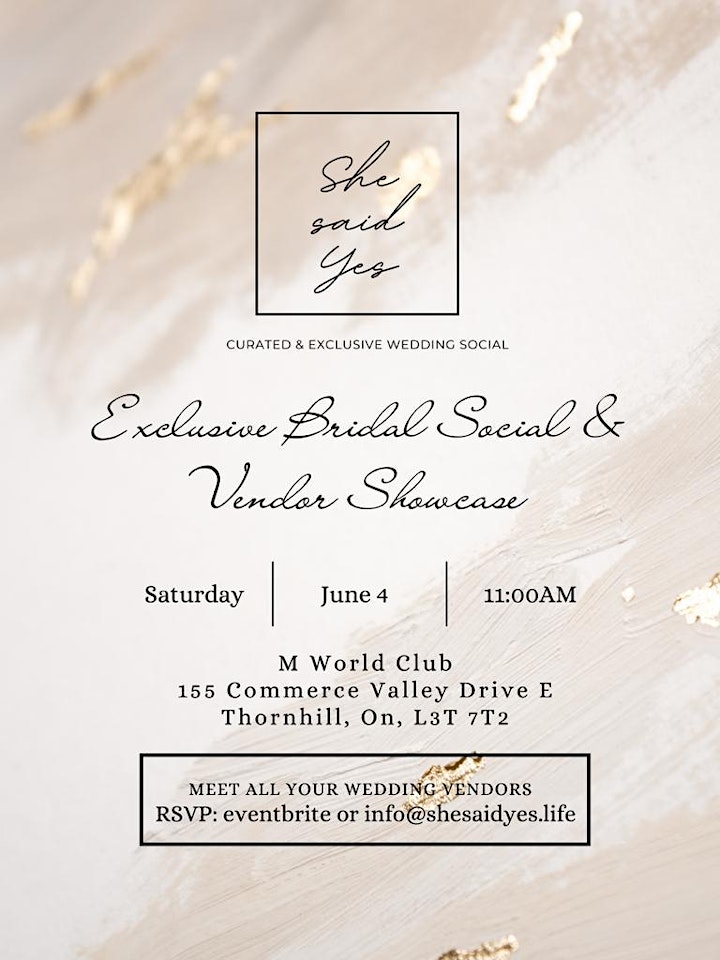 The event will showcase an extravaganza of services including Wedding Planner, Bridal and Wedding Couture, Jewelry, Florist, Makeup Artist and Aesthetician, Wedding Cakes, Marriage Mentor and Happiness Coach, Holistic Nutritionist, Charcuterie Specialist, Mortgage Solutions Advisor, Financial Planner, Photographer and much much more! Admission to the spectacular event is free.
Due to the overwhelming response the venue has been changed to M World Club. Centrally located in the GTA, with free parking. See details on the invite. Be sure to RSVP to attend this exclusive wedding and bridal social.
What: SHE SAID YES - Bridal Social and Wedding Event - An Exclusive Bridal Social, Expert Café and Curated Vendor Show
Where: M World Club
155 Commerce Valley Drive E
Thornhill, ON, L3T 7T2
When: Saturday, June 4, 2022 from 11 AM to 6 PM
Why: Meet all your Wedding Vendors in one Intimate event. Help us celebrate your wedding nuptials and introduce you to incredible experts to make your dream wedding come true
Who: Engaged Couples, Your Bridal party and Your Key Wedding support
Please RSVP to reserve your appointment at: info@shesaidyes.life